While many brands have been quick to extend their sizing, luxury and higher end retailers have been slower to add plus sizes. The reasons vary, but it's generally a combination of a lack of trained fashion professionals who can design for plus and a lack of market research as to whether or not plus size women want to buy luxury clothes (hint: we do).
This is where 11 Honore takes the lead and the help of a powerhouse plus size player, Nicolette Mason.
Nicolette Mason has teamed up with 11 Honore and luxe brand, Veda to give us a little luxe to play with.
Nicolette champions plus sizes in the luxury world, and has been, long before many designers had even thought to add more sizes.
I've been watching her NYFW highlights for years (s/o to Instagram Story), and I've been grateful to know that there's at least one plus size person representing plus size babes on the front row.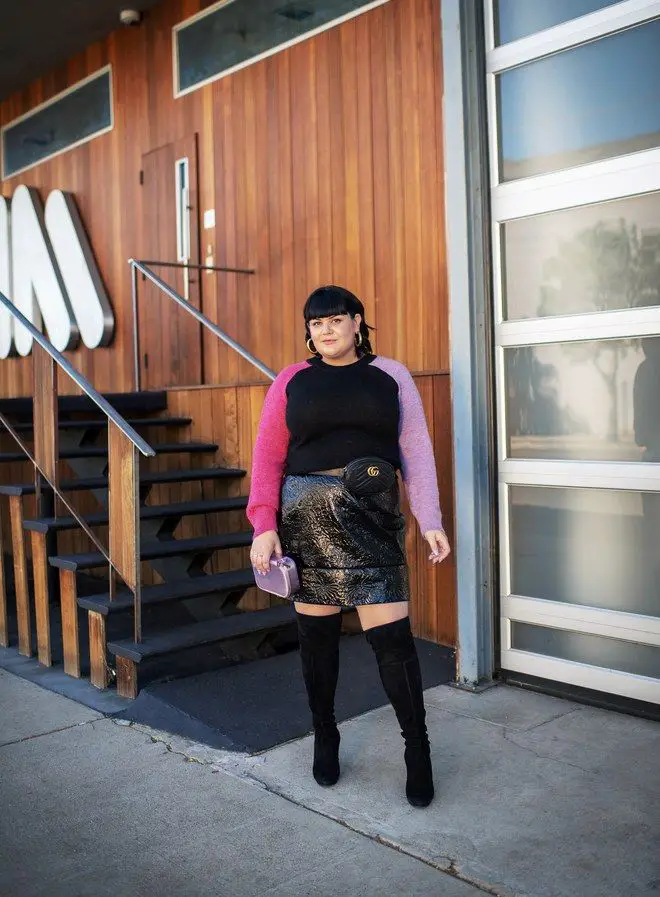 So, it makes total sense that Nicolette would partner with Veda, a luxury brand that got its start in leather and now offers so much more.
Her capsule collection with Veda launched this week, with clothing that Vogue deemed "playful, on trend, and most importantly elevated."
The collection goes up to a size 20, but as Nicolette shares with 11 Honore, "I am very aware of the fact that this selection is being offered up to a size 20 and I'd love for it to be offered to more people too."
Hopefully, this will happen sooner than later, because we all need to experience this lilac leather moto…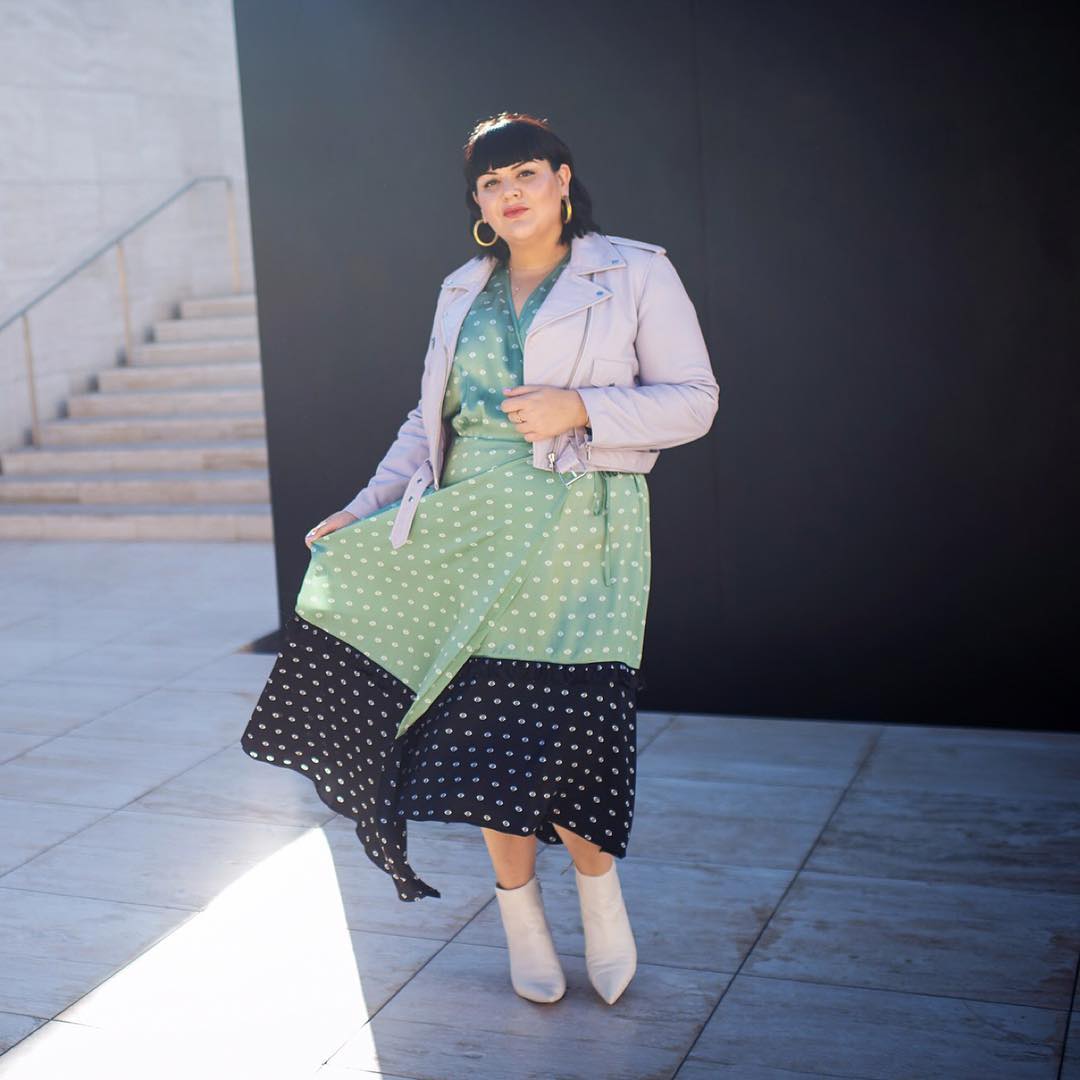 This capsule collection launches with three key pieces that speak to Nicolette's aesthetic, the season's trends, and the versatility of wear with Veda touches. Of course, Nicolette Mason (the Queen of Motos) would bring us a lavender motorcycle jacket.
I'd definitely pair this with a pair of black distressed high waisted pants!
Nicolette shares her obsession with the color lilac and her love of leather moto jackets with 11 Honore…
Lilac is a year-round color which I really love. Veda had amazing purple leathers and red leathers and some metallics as well. I felt like lilac was a very of the moment color and can very easily be incorporated into a wardrobe of jeans and t-shirts too.

It's fun, fresh and very current.

In general, I think leather jackets are a year round trend. I'm totally in denial about weather when it changes, because I think I should be able to wear a moto jacket every day.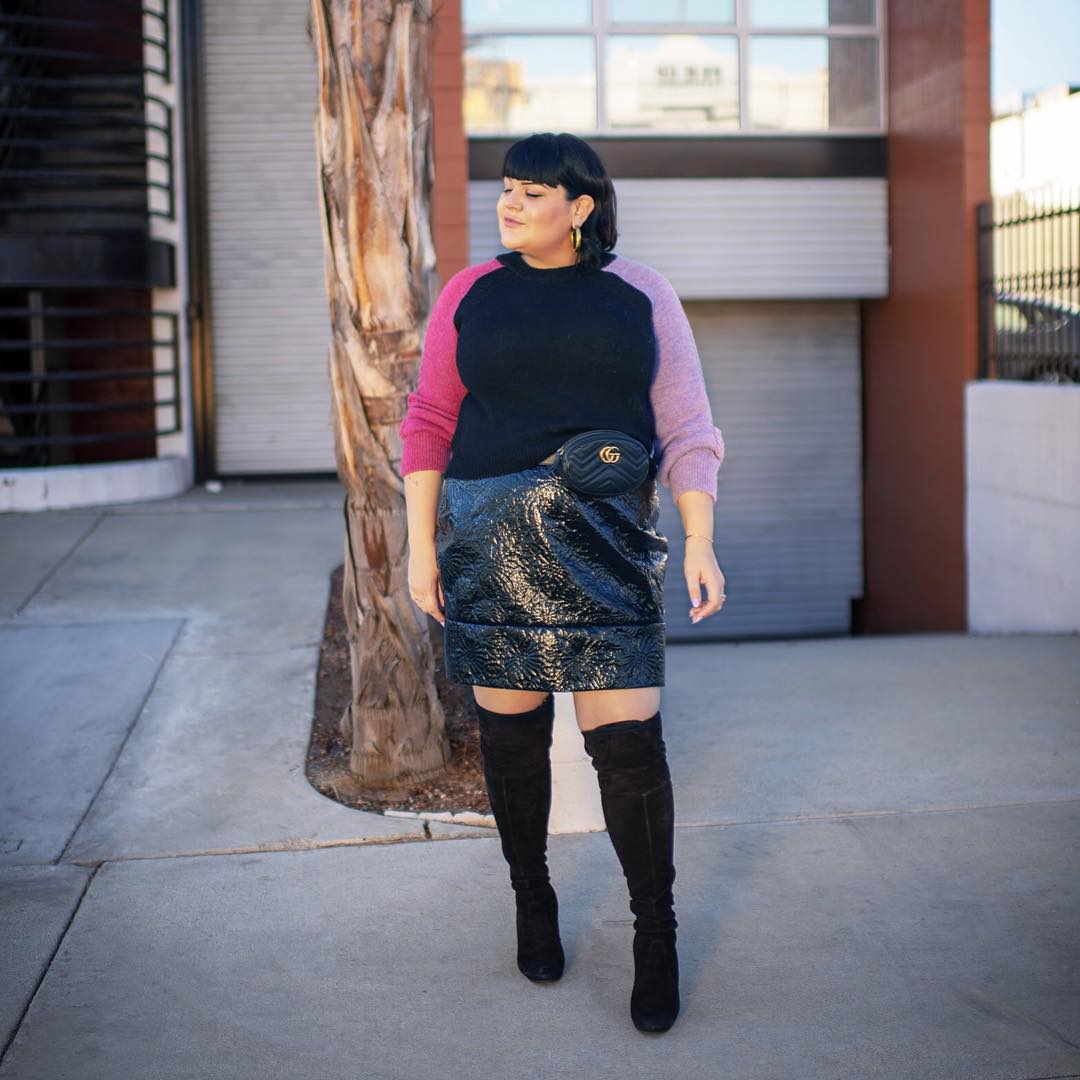 Can we get the details on that skirt, though?
The key differentiation and component to this collaboration is the resources that 11 Honoré leverages and provides. They connect luxury brands with the design talent needed to expand sizing. We hope that this will only continue to grow and bring more luxury plus size fashion to our fingertips!
Thank you…
Shop the capsule collection, NOW, at 11Honoré.com!
If you do not know, 11 Honoré makes it easy to shop for high end and luxury plus size clothing. They break down their site by both designer and size, with some brands carrying up through a size 4X.
Bummed the brand hasn't reached your size? Share what pieces you'd like to take home in the comments!