You have to love Instagram and social media… You do! If you pay attention, you catch little gems and details dropping, especially in the comments and in the hashtags. Such is the case with Anthropologie! Over on Instagram, the "lifestyle brand that catered to creative, educated and affluent 30-45 year-old women," confirmed that they are going to be diving into plus sizes!
With a tip from Rosey Blair, we went to investigate and sure enough, on the post that shines the light on the Jungalow founder, Justina Blakeney, in the comments, Anthropologie confirms plus sizes with its own hashtag, #aplusanthropologie.
Anthropologie Plus Sizes Coming Soon!??!!
Whaaaaa!
So, we went diving and found another post featuring plus size model Candice Huffine giving us a little self-love inspo along with the hashtag!
Fancy that!
For those of you who are not familiar with this brand, imagine Urban Outfitters bigger, flyer, still free-spirited sister who marches to her own beat, loves a little bit of flair and attitude, but is still a little polished. This is what we think of when we think of Anthropologie.
And now?
We will soon have pieces to call our own.
BUT.
On the heels of a launch that fizzled away, Anthropologie, please do not let us down. Quite a few mainstream brands have cracked the plus size fashion code, and you can too, if you pay attention and give us your all. As a matter of fact, I can already see a few ways that you, Anthro, can really knock this launch out of the park, making plus sizes a mainstay in your URBN brand DNA.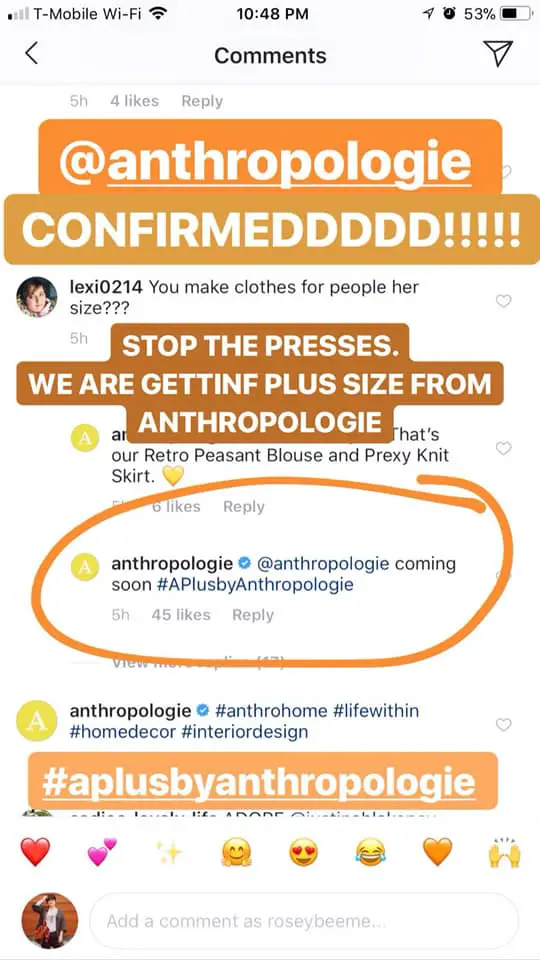 Anthropologie, here are 5 ways to Rock your Plus Size Launch
Give us FASHION. Do not start out with *JUST* staples. We have those and need pieces with attitude and flair. Pieces we cannot get anywhere else.
Include various plus size women of color, shapes, and sizes. You have to do this. VISIBLY plus… okay?
Most plus sizes fall at a standard 24, but listen… if you really want to make an impact, think like Target, Old Navy, ModCloth, and go to at least a 4X- at least.
You would be surprised how many women are still learning about Forever 21 offering plus sizes. YOU HAVE TO INCLUDE plus size fashion in ALL OF YOUR MARKETING. Look books, ads, social media. Do not just give us a splash of visuals. Keep it going.
ENGAGE the plus size media. (PR teams, yes this does exist) This may mean that you bring on a consultant (ahem, hi and hello) to help you identify the magazines, digital platforms, bloggers, and influencers within this space to fully understand the infrastructure of the plus size community- this will only help you. Plus size fashion is grassroots up, not couture down like mainstream fashion. We move differently. Okay?
This is exciting and most of us are cautiously and curiously excited about this news. But if you are going to play in our sandbox, please know that the landscape for plus size fashion has changed and we want and NEED more. And now that we do have more options, resources, and have built our community, we want to help and see you win!
We are geeked and cannot wait to see what happens from here!
The minute we know more, we will share with you what Anthropologie is up to! In the meantime, make sure you follow them on Instagram and follow the hashtag, #aplusbyanthropologie!
What are your thoughts?
Which pieces and looks from the brand would you love to see? Let's discuss and have a little fun with this!