UPDATE- Eloquii is NOW OPEN. Please check out the latest post here- ELOQUII IS BACK.
OMG OMG OMG OMG….
We spoke up and OUT and they heard our cry! ELOQUII is coming back!
I heard whispers and rumors BUT I could not FIND any articles about this so I went to their website and BOOM: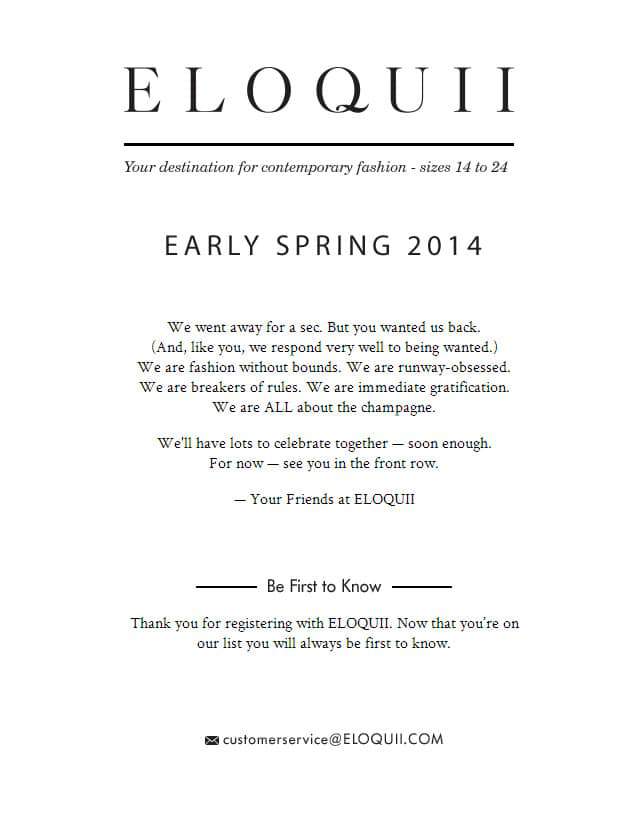 Do you KNOW how happy this makes me? DO YOU KNOW how GROUNDBREAKING this is and was!?!?!
You cannot tell us that there is NO power in the plus size woman's voice and action! They heard us!!!
I know they had to hear us, especially given THIS ELOQUII Post- My Open Letter to Eloquii and YOUR comments!
I really do hope and pray that they take into account a few of our tips and concerns shared here… here are a few:
"You cannot open doors and NOT market the brand. Sorry, "if you build it, they will come," IS NOT a viable Marketing plan. Eloquii, you NEVER advertised. And if you did, you did in a place where the plus size shopper WAS NOT LOOKING. Yes, you may have had an affiliate program that I am part of, BUT even I had to chase you down for this!"
"ONLY one year? You could have given this more time, tested out different partnerships, played around with ADS, OR engaged the community BETTER. In the fabulous world of business, we know that most startups do not turn a profit in the first year."
I am over the moon with excitement here! Can you believe it? Pardon the excitement and the lack of keen detail, but as SOON AS I HEAR more details, I will let you know!
**I MUST ADD**
Eloquii was sold from The Limited Brands, so there is a new OWNER and here's to hoping a new, updated, and better execution of the brand!
How amazing is this!
Will you be shopping once Eloquii returns?
PS. Thank you to Anyanwu for the tip!