When thinking about plus size engagements, most of the time our minds stray to the heteronormative version of a man getting down on one knee and proposing. When it comes to same-sex engagements, there really are no rules. Sometimes just one partner proposes. Sometimes, the other proposes back.
One of the best things about being queer is that we can make our own rules. That's exactly what Chaya and Morgan did.
An Engagement Story with Chaya & Morgan
When the couple first started looking for rings, they had originally gone shopping together and got matching rings from Zales. Morgan had everything planned in her head: She was going to propose in Mexico, on the beach.
But the ring was burning a hole in her pocket and she asked Chaya if she could do it before their trip. Chaya told me, "Morgan's proposal was very quiet and sweet, in the way that we were by the lake, surrounded by trees and nature. It was beautiful because it was so perfectly her."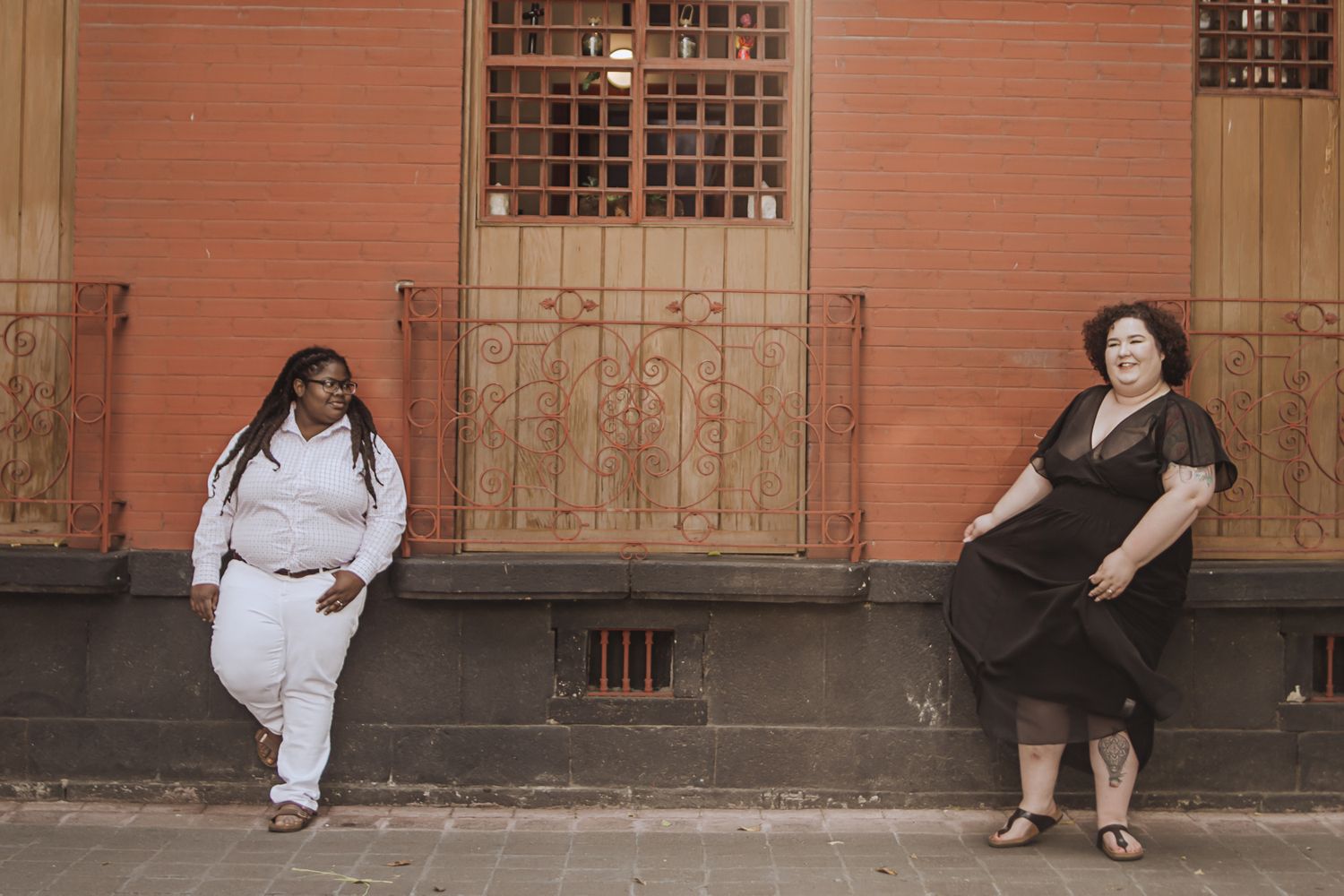 While they had matching rings (because it was both cute and within budget), Chaya knew that Morgan wanted something a little bit more eye-catching. "Though she is the "more masculine one of us," she is the softer one on the inside. We're opposites that way. I wear dresses, but I fix the car," Chaya said.
Morgan loved her ring, but Chaya knew there was a much better alternative. So, she hatched a plan to keep looking for the perfect ring for Morgan that would be the glitter and the glam that she loved and deserved.
A Playful Upgrade to an Engagement
The plan was to tell Morgan they had to bring their rings in to get cleaned, per the warranty statement. Dejected, Morgan took her ring off and let Chaya take it in. That's when Chaya exchanged it for something dazzling.
Chaya then fibbed, telling Morgan the store said something was wrong with the ring and it needed to be fixed. The couple was leaving for San Francisco the next day, and Morgan felt completely heartbroken to have to leave her ring behind.
Meanwhile, this whole time, Chaya had a plan to propose in San Francisco, in the historically gay Castro neighborhood. At the intersection where there was a rainbow sidewalk, Chaya got down on one knee and asked Morgan to marry her with the new ring.
Morgan completely lost it. She was so excited and happy!
"I think it's very important that everybody gets that moment of attention. It's important to profess your love privately, but it's also so important to profess it publicly.

Since some queer people have not been able to do that, I want to show her publicly to show her how much I love and respect her," Chaya said of the flashier proposal.
As for the wedding?
Morgan wanted just the courthouse. Chaya wanted a public display of their love in front of their whole community. So they compromised.
The two are eloping to Indianapolis to get married.
But here's the kicker.
You are ALL invited!
We invite you to tune into the wedding with us–it's going to be the perfect distraction. Who can't use a little love right now?
On the public Facebook invite, the couple says:
"We are opening up our wedding as a form of respite to all of you. A little break from the troubles of the world.

An hour of joy, celebration and tears of course. Come toast out love, listen to our vows and celebrate this momentous occasion from the comfort of your living room."
This way, Chaya said, "It's just the two of us and everybody else all at once." Perfectly perfect — just like the two of them.
Saturday, August 29th, join them online, to celebrate them making their love official!
—
Sara Elizabeth Grossman is a digital communications professional and freelance writer hailing from Denver, CO. She consults under her brand CODE mktg. When she isn't working or volunteering, she enjoys spending time with her girlfriend Emma and their pups, Baxter and Finley. You can find her on Twitter @sosarasaid or Instagram @sosarasaw.