OMG! Today on TCF, I am so excited to talk everything ethical plus size engagement rings with Ashley Catharine, co-founder of Chouette Designs.
Ashley is SO SO passionate about creating beautiful engagement rings in plus sizes. "Most jewelry brands actually don't go beyond a size 8, in fact less than 1% go up to a 12 if you can believe it!" shared Ashley during our interview.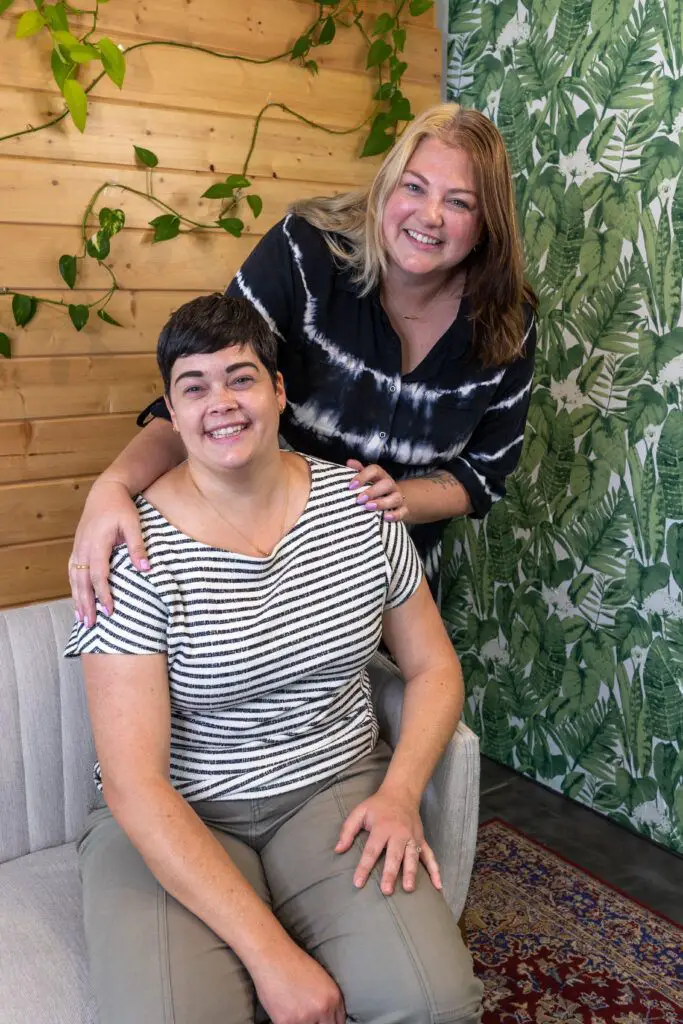 Ethical Plus Size Engagement Rings: Custom Rings
Today, I'm sharing an IN-DEPTH interview with Ashley, giving you a front row seat to EXACTLY what Chouette Designs is all about and how the custom engagement ring process works.
Also, as a member of the LGBTQ+ community, I wanted to be sure to add in super helpful information on how Ashley Catharine and Marine Schmitt (co-founders and wives!), and the team at Chouette Designs is affirming of all genders and pronouns, really providing a beautiful engagement ring process for members of the LGBT community.
You ready? Let's dive in!!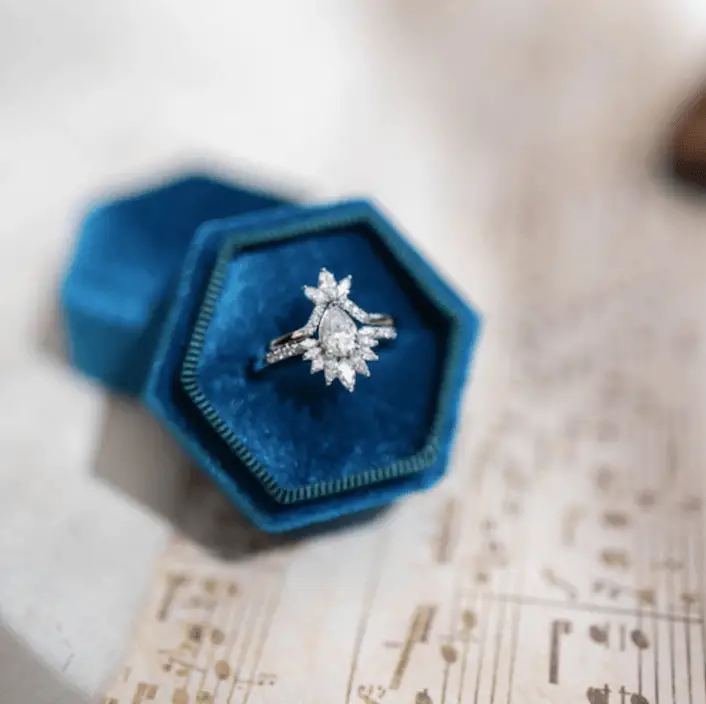 Designing *Your* Dream Plus Size Engagement Ring
Ok, first things first! I know from following (ok, hardcore fangirling) over Chouette Designs online that they have a gorgeous assortment of demi-fine RTW jewelry that make great gifts (bridesmaids gifts and wedding party gifts, anyone?)!
While talking with Ashley Catharine, she was very excited to share the exact step-by-step process for designing your custom plus size engagement ring.
"Customer education is so important to me," she shared, "there's a lot of misinformation out there when people are looking for an engagement ring. We're honored to help our clients design the ring of their dreams, and the design/customization process is really designed to help our clients make the most informed (and fun!) decisions."
How much time does a custom engagement ring take?
Before jumping into the step-by-step guide, it's helpful to know how long the process takes for custom engagement rings. "Longer is always better," explains engagement ring expert, Ashley Catharine, "just in case we need to search for the perfect unique stone that isn't as common as others. Overall, it takes 2-3 months to create a custom engagement ring, from start to finish."
What does a custom engagement ring usually cost?
Something I've noticed as a fashion writer and blogger is that people sometimes pre-emptively price themselves out of a custom piece, because they think it will be more expensive than a big box store option.
Not the case!
Explains Ashley: "At Chouette Designs, a custom engagement ring is around $3,000, and the average American ring purchase $6,000."
Now that's the average cost, of course, so you can go higher or lower! "I've done rings that were right at $1,000," she shares, "and rings that got up to $10,000. It really depends on how many stones you want in your ring, the size, the metal you want to use, etc."
Step #1 Custom Engagement Ring Process: Research!
"The first thing that you'll want to be sure to do when designing your dream custom engagement ring," explains Ashley, "is to go on our website and check out our customs creation page. We're always updating it. Take a look at the styles we've done, and fill out the survey. We'll ask you about your budget (to be respectful of it!), style you're thinking of, etc."
Step #2 Custom Engagement Ring Process: Consultation
"After you reach out via our website, we'll have a consultation. We can meet in San Diego, California, where we're based, or over Zoom! Many of our clients are located all over the USA."
Through the consultation process, Ashley will sketch designs with her client(s), helping to bring their dream custom engagement ring design to life.
Ashley noted that some people know EXACTLY what they want their custom engagement ring to look like, while others aren't sure. "I'm absolutely happy to provide design ideas that incorporate a client's lifestyle and aesthetic in the design," shares Ashley. "Some people aren't 100% sure what they want, and that's ok!"
From there, Ashley charges a small deposit (around $75, depending on the design) that's applied to your purchase. Ashley also has clients sign a contract, to make sure everyone is in-the-know on processes, timelines, etc.
Step 3: CAD Rendering
Now it's time to go DIGITAL! After your custom plus size engagement ring design is finalized, Ashley creates a CAD (digital) rendering for manufacturing.
Step #4: Let's Get This Engagement Ring IRL!
From there, it's time to get your new engagement ring IRL!
As part of the brand's ethical practices, Chouette Designs works with a maker in San Diego and Los Angeles (depending on various design elements and details), to make the custom engagement rings in the USA.
During our interview, Ashley Catharine wanted to be sure to include that the demi-fine pieces (the ready-to-ship options from Chouette Designs) are made in a factory in India, which Ashley Catharine has vetted through close industry contacts.
We love transparency!!
Step #5: You've Got Your Ring!
You're almost finished! When your custom plus size engagement ring comes back from the maker, Ashley adds finishing touches and packaging. From there, your ring is ready for the big moment!
Should designing a custom engagement ring be a 100% surprise?
While talking with Ashley Catharine about the custom plus size engagement ring process at Chouette Designs, I had a burning question:
Does the proposing partner*** keep the ring design process 100% secret? Or is everyone involved in the process?
While I'm a gal who LOVES a surprise, I think I'd want to be in-the-know about my custom engagement ring, lol. But I know some people want to be surprised!
Ashley Catharine took that question in stride with a smile, saying, "It's totally normal to have both or all partners involved in the design process," she shared. "We're happy to make it a 100% surprise as well. Sometimes, a couple will meet with me together to design the custom engagement ring, getting a majority done. Then, the proposing partner and I will finish the design, to make sure the final ring design is a bit of a surprise."
I love that!
And, the proposing partner can be a bit sneaky and surprise their love with an "extra" to go with the custom wedding engagement ring. "We can design coordinating earrings, a stacking band to the engagement ring, etc. We have ways!" shares Ashley with a mischievous twinkle in her eyes.
We love surprises!
LGBTQ+ Custom Wedding Engagement Rings
Something that I LOVE about Chouette Designs is that the jewelry company is lesbian-owned. As an LGBT blogger myself, I knew it would be SO helpful for members of our community to dive in deeper with Ashley on how she works with her LGBTQ+ clients.
Below, Ashley shares how the brand incorporates inclusion into everything they do:
Pronouns & Gender Identity Support: "The wedding industry can be very gendered," shared Ashley. "We are proactive about using the right pronouns and language to celebrate our clients."
Ring Size: "We have had some clients be told that they're 'lying' about their fiancé's ring size" [at other retailers]
Language: "Some of our client's are excited to be a "bride" or 'groom,'" she shares, "so we use that language. Others prefer different terms, which we're 100% on board with."
During our interview, Ashley also gave The Curvy Fashionista an exclusive insider sneak peek, saying, "We're also excited to be offering customizable masculine wedding bands or engagement rings," she shared. "There are more options than a large stone or plain band! So stay tuned on that front!"
Ethical Custom Plus Size Engagement Rings
Ok, now that we've talked about budget, process, and LGBT-inclusion — let's talk about ETHICS.
Many people in 2023 do not want to use conflict-diamonds, and there are a few ways to get your custom dream engagement ring, in a more ethical manner.
You ready to learn how?! Let's go!
"I'm very proud to say that we use both natural and lab-created stones. What's really important to me in stone origin and being confident on where that stone comes from," explains Ashley.
Sometimes for a particular stone, it's not an option to source it ethically. But Ashley and the team at Chouette Designs are not to be deterred!
"If there's no origin information for that stone, I opt for lab-grown at that point. If a client wants a particular shape, color or size, and I can't find it naturally with origin information, then we opt for lab-grown."
Interesting Inclusions
An emerging trend for 2023 is the intentional use of stones that aren't 100% perfect. Explains Ashley, "In the jewelry world, the focus has always been on a flawless white diamond. If we're about being ethical and more mindful, I as a designer can use a stone with interesting inclusions, like a salt and pepper diamond. This allows a client to have a diamond, but use a unique stone that the jewelry industry would discard or consider scrap."
What stones shouldn't be used for a custom engagement ring?
After Ashley educated me on what a "salt and pepper diamond" is (a diamond that has inclusions or darker specks that kind of look like pepper), I asked Ashley, "What stones aren't a good fit for an engagement ring?"
Ashley instantly had an answer, saying, "The biggest issues are opal and moonstone," she shared with a sigh. "It breaks my heart a little to break my client's hearts, when I have to talk them down. Or let them know 'If you have your heart set on an opal or moonstone, be prepared to replace it!'"
I love that Ashley and Chouette Designs are all about educating their clients, and also encouraging them to find their most exciting custom engagement ring.
Swap Out & Upgrade Your Engagement or Wedding Ring
Speaking of replacing rings or stones, Ashley made a great point during our interview about "swapping out' your ring. It can be stressful to try to design a ring you'll love forever — and you don't have to!
"Everyone thinks we're supposed to love our engagement rings our entire lives," shares Ashley. "Instead, maybe you can plan for in 10 years we'll upgrade it to do something different. That's ok, too!"
She adds with a smile, "It's a lot of pressure to act like you'll love the ring you got at 30 or 40 or 20!"
While I'm not married, my mom has definitely upgraded and changed up her wedding ring over time (love ya, Mom!), so I really love this idea!
What's Next for Chouette Designs?
Ashley and the team at Chouette Designs have a LOT planned for the rest of 2023. "Something we're very excited about is releasing our first anklet! We're starting with a S, M, L, (8 inch, 10 inch, 12 inch). As we grow and get feedback, I want to be sure we have the right sizes for anyone who needs them, and do custom pieces."
Shop the latest in ethical plus size engagement rings at ChouetteDesigns.com!
I personally love the Chouette Designs TikTok — it's so fun!
If you have questions on the ring process, or you know EXACTLY what you want your custom engagement rings to look like, sound off in the comments!
*** Note on language: You may have noticed that we intentionally did not use words like "bride" or "groom" in this piece! This is because not everyone likes to use those terms, and sometimes a bride may propose to her groom! As a lesbian-owned company with many clients in the LGBTQ+ community, Ashley wanted to be as inclusive with language as possible — which I was totally on board with, of course! 🙂