Each year, during Full Figured Fashion Week™, a contest is held for one lucky lady to be crowned as the FACE for Full Figured Fashion Week™ representing the week's event, helping to redefine the face of beauty for plus size fashion.
Last year, Rosie Mercado held the title and announced last week, was the GORGEOUS Nina Taylor.
I had the pleasure of being able to chat with our newly crowned FACE of Full Figured Fashion Week: Nina Taylor. Please read on to learn more about this beautiful, intelligent, and passionate woman!
What outfit and designer are you rocking today?
I love ASOS curve, Monif C, Kiyonna, eshakti, Calvin Klein and I newly discovered the designer of RicLamarClothing who has AMAZING designs with a message. He is definitely an up and coming designer to watch out for and an extraordinary person.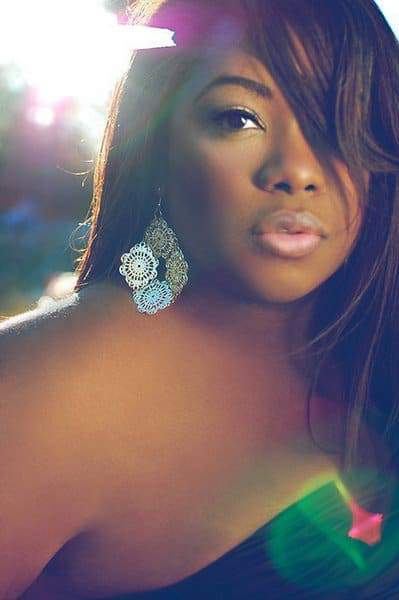 Growing up, were you a plus size woman?
Yes I was, at age 12 I was a size 12.
How did this shape your perception of beauty?
I think it is extremely difficult to shape a perception of beauty in your teens. It is literally an awkward phase in life where you are really starting to understand self discovery.
What shaped my perception the most was the validation I received at home. My father even as a single parent took interest into whatever my brothers and I were interested in.
I knew I was loved and I knew I was beautiful because he told me so and beyond that showed me with his actions.
I knew I was different than my friends but I also knew I had qualities in me that were rare.
Do you remember that moment when you felt comfortable in your skin as a plus size woman?
I was in undergrad and I was on the softball team, coaching the dance team and in theater. I was the largest girl on the entire softball team, coaching a dance team where the largest girl was maybe a size 12 and had the courage to get on stage and dance and sing.
My size did not stop me from achieving my goals and it didn't keep me held back in any way. As a plus size woman I still hustled, did all of the softball drills, choreographed some of the hottest dances for the team and used my curves to my advantage on the stage.
I became comfortable because I realized that I wasn't less than my thinner friends and that the only person that can hold you back from your full potential is yourself.
What motivated you to apply for the Face of FFFweek?
Timing motivated me to apply, I absolutely talked myself out of applying last year, mainly because I did not feel as if I was 100% ready to take on the responsibility.
Being the face of an organization of this magnitude requires you to be extremely dedicated, it's a huge time commitment and you have to be ready to take on the responsibility to be the ambassador for those women who walk their own personal full figure runways daily.
I felt that this year was my year to start giving back to a community that has given me so much direction and acceptance.
Have you been to FFFWeek before?
No, but I followed the blogs, tweets, facebook updates, youtube, etc. So I guess you can say I successfully social media stalked the event. Haha!
What or how do you think this event impacts the plus size community?
It is perfectly designed to cater to the plus size community. Just looking at the list of events it not only focuses on the fashion and fun, but it also enhances our community by bringing us together to discuss issues within our circle.
With FFFweek every year there is growth, a new idea is sparked, a fresh new designer is inspired, a new blogger or vlogger is discovered and I believe FFFweek sets those creative wheels in motion.

Have you modeled before? What interested you in modeling?
Yes I have been modeling for about 2 years in the DC area. I started out as a makeup artist at a photo shoot and a photographer needed to test light and wanted me to step on set. He shot a few frames of me and told me they were all great.
He said that my place was in front of the camera not behind it.
Since then I have been getting work here and there and using modeling as my creative release. This experience also taught me that sometimes people see things in you that you do not see in yourself.
When it comes to fashion, where do you get your inspiration from?
I love black and white movies, I pull a lot of inspiration from the ladies of old Hollywood. Their style and the lines in the clothing were very clean and chic. I also get inspired by blogs and following the trends within the curvy fashionista's circle.
Quick Round- give me the first answer!
Gold or silver : Diamonds
Chocolate or Vanilla ice cream : Vanilla
Stiletto or wedges: Stiletto
Adele or Jessie J: Adele
Singing in your car or Dancing in your room: Dancing in my room
Lastly, what does Curvy.Confident.Chic. mean to you?
It's a fabulous lifestyle. Be your number 1 fan and you will never go wrong.