Welcome to Plus Bridal Week! over the next two weeks, we will be covering all things plus size bridal! Over the years, we have shared some options to shop online for bridal wear, like Eloquii Bridal and although online shopping might be your jam for everything else, it may not be what you're into for your wedding dress. Guess what boo, I feel you!
As the blushing bride-to-be, you want the full wedding dress experience and even cooler? We have just the awesome roundup for you. We were able to find quite a few plus size bridal boutiques specializing in plus size bridal.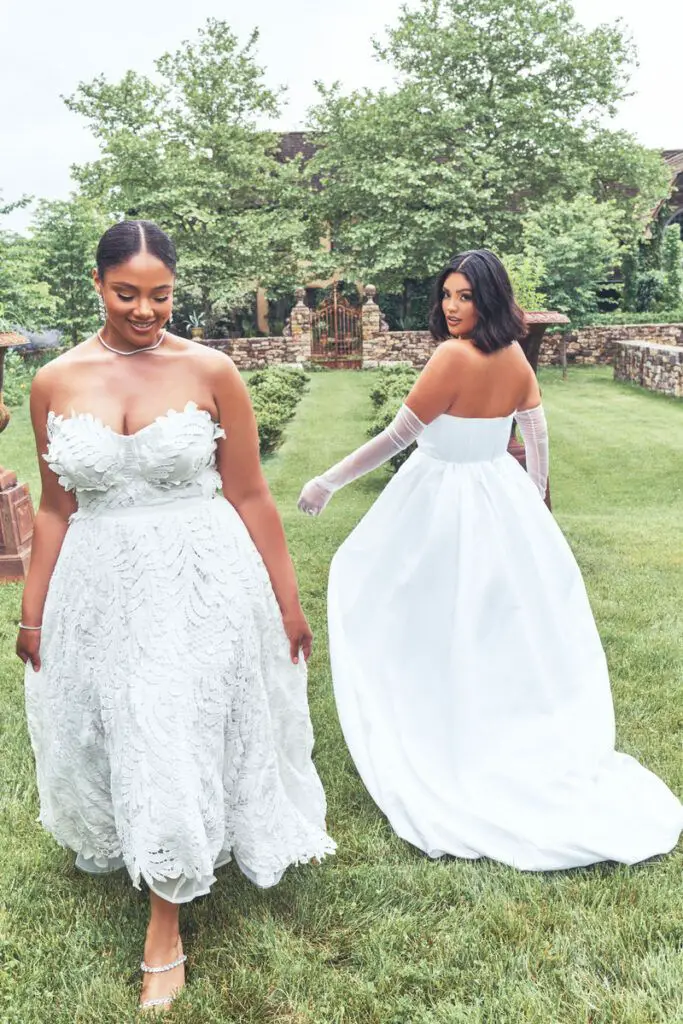 You know, the plus size bridal boutiques that are and have been created for the bride-to-be? Yes, those do exist! While there may be the trusty David's Bridal, there are a few more specific options!
There may not be a gazillion of them, but they are popping up, serving up the delectable designs, and fulfilling the many needs of the discerning plus size bride!
Here are 10 Plus Size Bridal Boutiques, JUST for the Curvy Bride!
A Touch of Class
Santa Rosa, Ca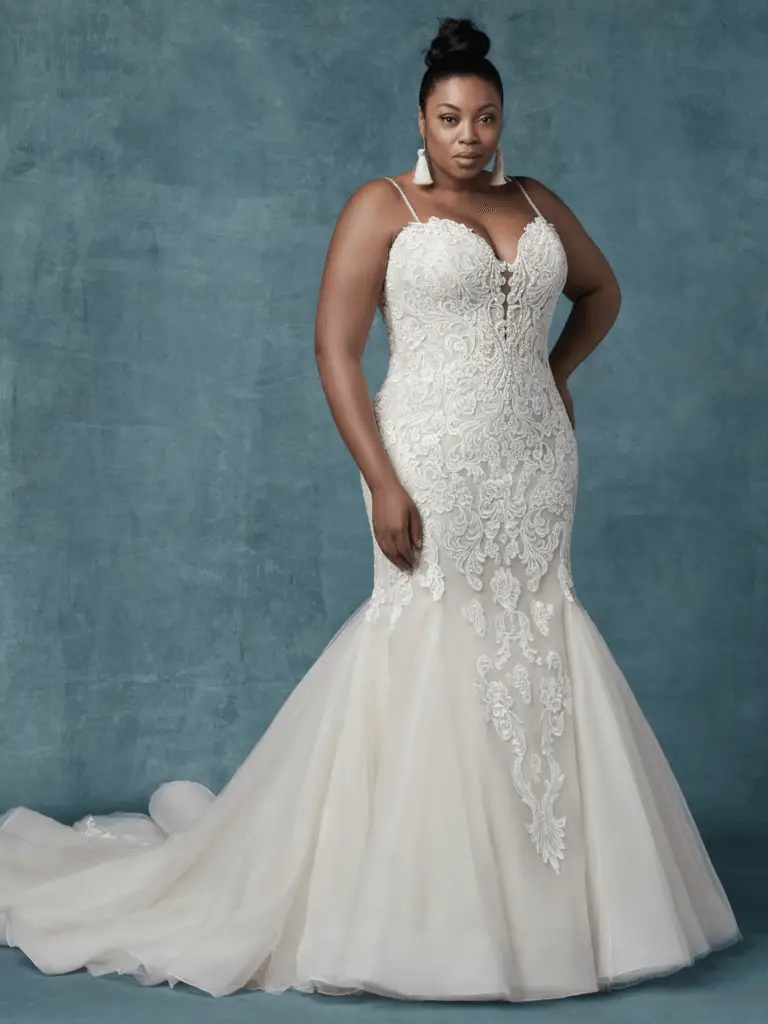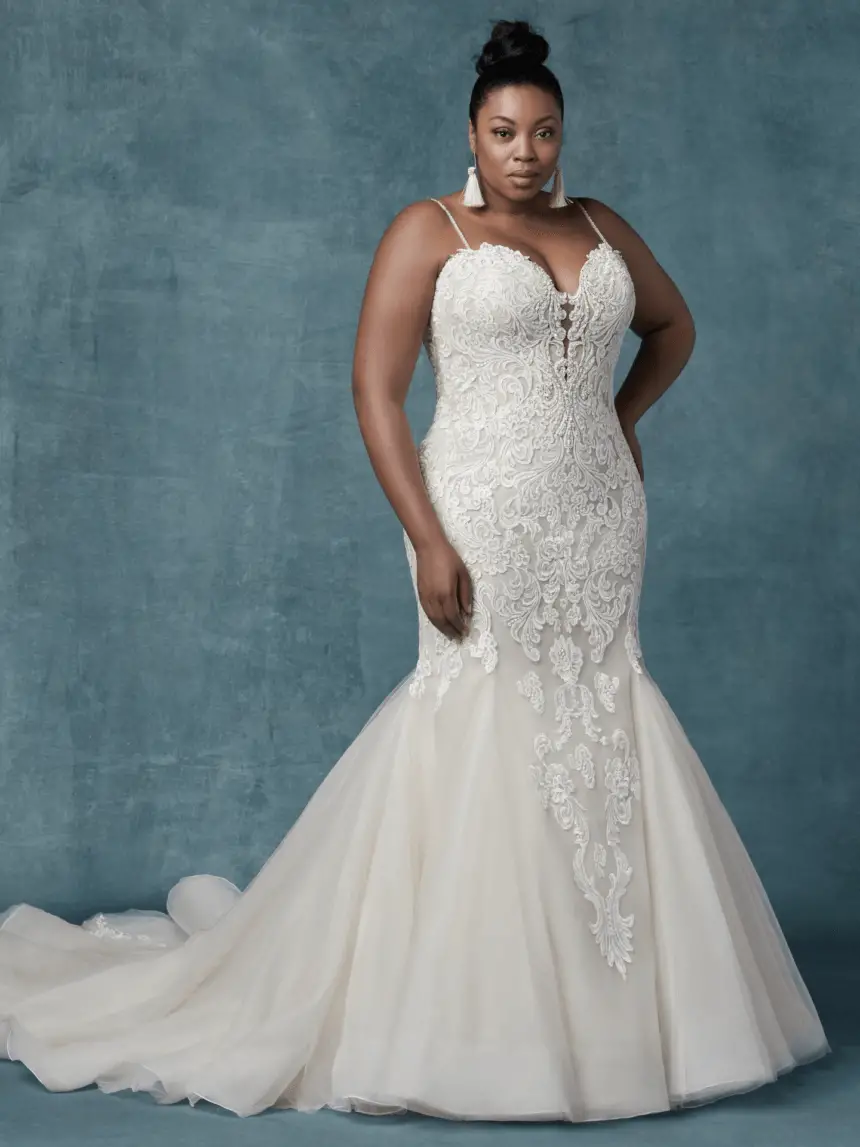 A Touch of Class Bridal is a "creative bridal outlet that has your bridal party in mind! It is hard to ask friends and family to spend money on one of the most important days of your life, but you want them to be a part of it!"
Address: 802 Coddingtown Center, Santa Rosa, CA 95401
Phone: (707) 545-5008
Website: www.atouchofclassbridal.com
St. Clair Shores, MI
Owners Amanda and Amy, are both curvy girls who get it. They're Michigan's ONLY bridal gown boutique specializing in curvy and plus size brides! "We are dedicated to providing an amazing dress shopping experience to each and every bride we meet."
Address: 27887 Harper Ave St. Clair Shores, MI 48081
Phone: (586) 294-7280
Website: bombshellbridal.boutique
Columbia, Maryland
Curvaceous Couture believes that every woman's wedding dress selection experience should be as joyful and fulfilling as possible, but the more shapely bride is forced to face disheartening challenges. Not anymore!
"Located in the Baltimore Washington Metropolitan area, just 10 minutes from BWI airport, Curvaceous Couture is the first designer bridal boutique to feature a complete collection of full-figured and one-of-a-kind wedding gowns for the bride with discriminating taste."
"Featuring sample designer gowns from all over the world, our dresses will fit size 12-44. These bridal stylists are committed to personalized service and attention to detail, giving our brides the very best experience."
Address: 9130 Red Branch Road, Suite T Columbia, Maryland 21045
Phone: (410) 740-7052
Website: curvaceouscouture.com
Tarzana, CA
Della Curva is Southern California's first plus-size bridal salon exclusively catering to curvy brides sizes 16-32 . Don't wait, make an appointment today!
Phone: (818) 344-1444
18663 Ventura Boulevard, Suite 230 (2nd floor) Tarzana, CA 91356
Website: dellacurva.com
Embrace Bridal
Seattle, Wa
Known as Seattle's Only Exclusively Plus Size Bridal Store, Embrace Bridal Boutique caters specifically to curvy brides size 14 and up! Over 150 unique samples to try on in store in bridal size 18-32.
Designers include Sincerity by Justin Alexnader, Allure Romance, Allure Couture, Evie Young, Madi Lane, Wilderly and Belaire.
Address: 2920 NE Blakely Street, Suite A Seattle, WA 98105
Phone: (206) 566-6996
Website: embracebridalseattle.com
Minneapolis, MN
"We Want Brides To Celebrate Their Curve"
At Luxe Bridal they offer the largest selection of wedding gowns designed especially for the curvy bride, size 12-32. With an "intimate, fun and warm setting, your visit to Luxe will be unlike any other bridal salon experience!"
3918 Cedar Grove Parkway, Eagan, MN
Phone: (651) 600-3015
Website: luxemn.com
Indianapolis, IN
Family owned and operated, Brides by Young was born from the idea that every woman, regardless of her size, should experience the joys of finding her dream dress.
Brides by Young is a specialty bridal salon carrying sample sizes between 14-28 in over 100 different wedding dress styles. Contact us today to try on your affordable, plus size wedding dress!
Address: 5252 East 82nd Street Suite 202 Indianapolis, IN 46250
Phone: (317) 550-1558
Website: bridesbyyoung.com
Strut Bridal Salon
Long Beach, Ca & Phoenix, Az
"Strut Bridal Salon is the Southwest's best wedding dress store for size inclusive wedding dress shopping. For your convenience, we have wedding gowns in stock in sizes 6 – 38 for custom orders or to purchase off the rack. You'll find your wedding dress shopping to be a memorable experience with Private, Deluxe and Champagne Bridal Appointments available."
"With so many Southern California brides visiting our Arizona bridal boutique, we realized that our neighbors to the west were underserved, so we opened our second location in the Los Angeles, California area. You'll find our bridal salon in Bixby Knolls, a quaint neighborhood in Long Beach, California."
Address: Arizona: 2388 N Alma School Rd, Chandler, AZ 85224
California: 4264 Atlantic Ave, Long Beach, CA 90807
Phone: Arizona 602.252.4414; California 562.612.1884

Sparkle Bridal Couture
Sacramento, Ca
"SPARKLE bridal couture is a Plus Size Bridal Salon that is solely dedicated to chic plus size bridal and stylish special occasion gowns sizes 14-30+. For curvy brides that means you have an entire showroom of gowns in your size, just for you!"
"No more embarrassing "nothing fits nightmares" or limits on styles you can actually try on. At SPARKLE, curvy brides have an entire showroom filled with the most unique, exclusive bridal gowns that you can try on in your size. Trusted expert stylists will help you with the best fit, design, and styles for your curves."
"With the largest selection of unique plus size wedding dresses, curvy brides from all over the country visit our showroom to have their very own "SPARKLE Experience.""
Address: 3200 Folsom Blvd @ 32nd St. Sacramento, CA
Phone: (916) 538-6615
Website: sparklebridalcouture.com
Manalapan , NJ
"Ladies, are you tired of walking into bridal salons and not being able to try on the dresses you love beause they only carry samples up to a size 12 or 14? Well look no further, welcome to The Curvy Bride. We carry designer sizes 18 to 32W, and have private appointment and viewing areas."
Address: 357 Route 9, Manalapan , NJ
Phone: (732) 536-6100
Website: CurvyBrides.com
Are you feeling the love for plus size bridal fashion this week so far? Personally, this is one of my favorite themes to share and chat up, because we all know the Curvy Bride Comes to Slay On Her Wedding Day.
That is why the dress is so important and finding the perfect dress can be so dang STRESSFUL for the plus size bride.
Where do you go shopping? Which plus size bridal boutiques are near you? Did you set your appointment yet?
Let Us Know! Sharing is Caring!
All images from each boutiques' respective sites
Are you looking to shop at more plus size boutiques, with physical locations? Make sur you check out our plus size resources for you!