Have you been tuning in to our FB Live Series, Speaking of Curves? All about showing support and love to various plus size businesses, we are on a roll! So, listen, have you been looking for a few new indie plus size designers that serve up and push the envelope in fashion? Then you need to watch this latest interview with Brittany Jade, the designer behind Beautiphull!
Brittany Jade sought out to build a brand for the curvy women with boldness and high class. And let me tell you, she succeeded! She started designing jeans and shirts for friends and family, including handbags and backpacks, at the age of 13, until she was given her first sewing machine.
The rest is history!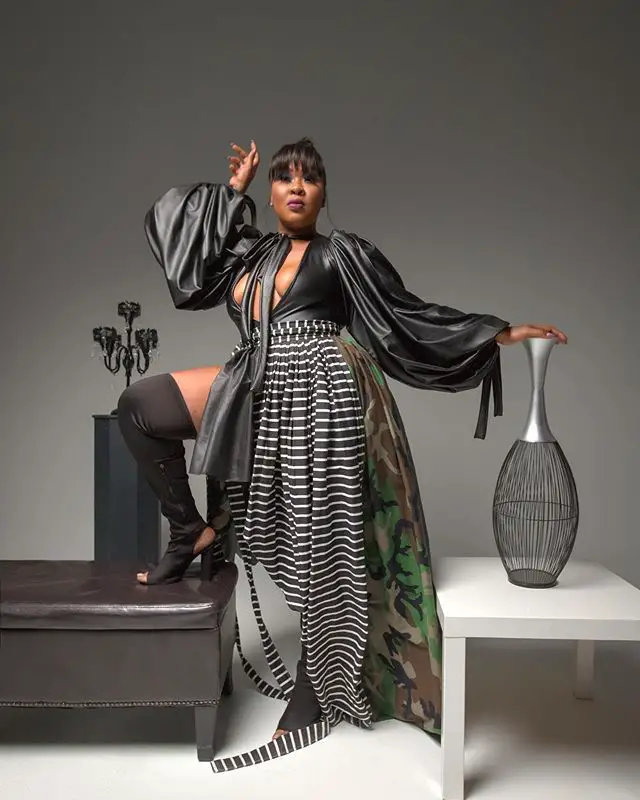 Beautiphull, is a Florida-based plus size fashion label created to "intrigue our clients with fashion forward extravagant casual pieces."
In our latest interview on Speaking of Curves, get to know the designer behind the brand, her journey, and how you can support (and shop) the collection! You see, this series is all about how we can support the various businesses in the plus size fashion space!
We are soooo excited to bring another small business owner that you can support, right now.
So, if you missed the live, make sure to pull up a seat to get to know a little bit more about the creator behind Beautiphull, Brittany Jade!
Meet Indie Plus Designer, Brittany Jade of Beautiphull
How much fun was this interview?
Born and raised in Fort Lauderdale, Florida, Brittany Jade grew up surrounded by extremely professional and stylish women in her family. These women inspired her from an early age to pursue her dream to be a designer!
That inspiration has given us quite a few fun options to play in.
If you missed it, Beautiphull offers custom-made, hand-sewn garments! Yes, custom-made. You do NOT have to worry about IF an item will fit. Through Zoom consults, you can get a custom piece, specifically tailored to your curves!
Even cooler?
They also offer styling services and garment rental services for clients who would like to wear Beautiphull custom extravagant pieces to their events and special occasions on a budget.
You can learn more and see the full collection at Beautiphull.com!!
We will continue this series as there are quite a few businesses and brands that you can support and shop.
Make sure you also follow the brand at @Beautiphull on Instagram!!
Talk about supporting and helping small businesses, right?
It is even MORE important to support those small and indie businesses, to make sure that they make it through this!
So, listen. Our Speaking of Curves series has been on a roll! We've interviewed Erica Watson, Liris Crosse, Timothy Snell, See Rose Go, Secondhand Curves, Chante Burkett, Honey's Child Boutique, Chic & Curvy, Christian Omeshun, Haute & Co Bridal, and Z by Zevarra!
Among quite a few others!
You can catch Speaking of Curves LIVE on our FB page, Tuesdays and Thursdays, at 12pm EST.
In the plus size fashion space, indie business owners are the backbone of our community. These brands, designers, and businesses challenge status quo and push the envelope.
We are all feeling the shift and many of these businesses are pivoting to stay afloat.
Which designers would you love to see interviewed on our series?
If you are an indie designer, store owner, influencer who would love to be featured, book your spot here!