H&M U.S. has been one of the retailers who have consistently included plus size options online. But today, they acknowledge the "industry-wide challenges that prohibits size inclusive change" and is taking much-needed steps to address this and make H&M more inclusive for both the plus size and big & tall community. This news is curious, exciting, and impressive.
For starters, they are bringing plus size and big & tall options up through a 2x, in-store. Online, they will offer up through a size 4X and a 3X for big & tall. This size inclusion gives H&M U.S. the chance to have "an explicit focus on offering a more comprehensive and diverse assortment of sizes for all body types."
Not only will we see this expansion of size accessibility offline, H&M US has tapped Tess Holliday who joins the brand as Size and Inclusivity Consultant, tapping into her "extensive knowledge of the industry and personal experience as a plus size shopper to advocate to affect change within the company."
"Fashion should be accessible & inclusive." Said Tess Holliday. "Throughout my career I have strived to make impactful changes to the plus size industry in real, lasting ways. Together with H&M U.S., we are democratizing the fashion industry here in the U.S., creating a runway for customers to experience shopping that's an equalizer, not divide. I'm thrilled to step into this role and continue showing everyone that plus size fashion doesn't mean sacrificing style."
Tapping someone from the community and of the community makes all the difference in a brand's success. This is why this partnership is impressive. This is something that we have called out that various plus size brands and retailers who sell plus size clothing, to do and leverage. Take a look at how Dove has teamed up with NAAFA with its campaign to address size discrimination with Campaign Size Freedom! Brilliant.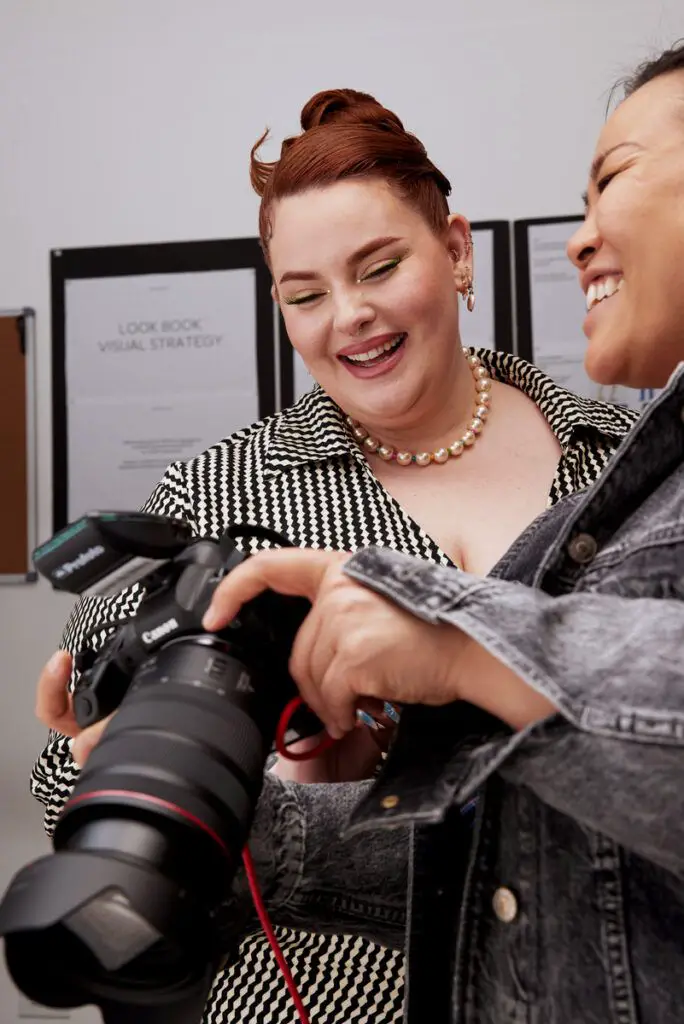 The plus size community is ripe with experts, marketing specialists, professionals who understand and intimately know the plus size audience and its nuances we possess.
Tess Holliday was consulted to "ensure H&M U.S. is equipped with the tools, information, education, and support to help mitigate bias, improve inclusion and promote diversity – from design ideas, product development, marketing and communications."
The ways that H&M U.S. has leveraged Tess's knowledge is exciting. For the past few months, H&M U.S. and Holliday have worked closely together behind-the-scenes to identify specific areas of improvement. Not only did they recognize and acknowledge the unique positioning that someone from the community can bring, H&M U.S. brought in Tess Holliday to H&M's local U.S. Content Studio.
Here, Tess Holliday provided valuable feedback during model castings and on best practices for photo shoots while making a significant impact on ensuring extended sizing styles were not only wider ranging in size, but also stylistically so the garments are flattering in fit.
"H&M embraces inclusion as a business imperative. H&M's evolution and progress on extended sizing reflects our commitment and focuses on challenges faced, progress made and more progress to come," said Donna Dozier Gordon, H&M's Head of Inclusion and Diversity for Region Americas. "We are proud to be working with Tess, who has been instrumental in helping us ensure we are delivering an inclusive customer offering and experience."
You can shop the plus size newness at H&M U.S. at HM.com!
Hopefully, other retailers and brands take note of the opportunity of tapping INTO the community. We are always more than (insert whatever descriptor brands have used to dismiss the possibility of plus size people being experts in this space) and if brands wish to make a serious impact in this industry, you will HAVE to connect WITH the community.
When we look back at the various brands who have come and gone, it is curious to wonder if they had spoken to, listened to, and respectfully worked with the experts in this space (myself included), would their fate have been the same?
We are at an interesting space in plus size fashion and as brands take informed risks and steps, we will continue to celebrate and showcase the brands who are doing it right and who are listening to what the community has to say! With that, good job, H&M U.S. for tapping Tess Holliday and for actively applying her feedback and advice.
What do you think about this step? Are you excited and curious about what steps the brand has taken to make impactful and lasting change?