Ever since seeing Cinderella's fairy godmother "bippity, boopti, boo" a ballgown out of thin air, I've dreamt of my own magical fashion moment. Unfortunately my experience shopping for plus size clothing has left me desperate for some pixie dust. We need a fashion fairy godmother!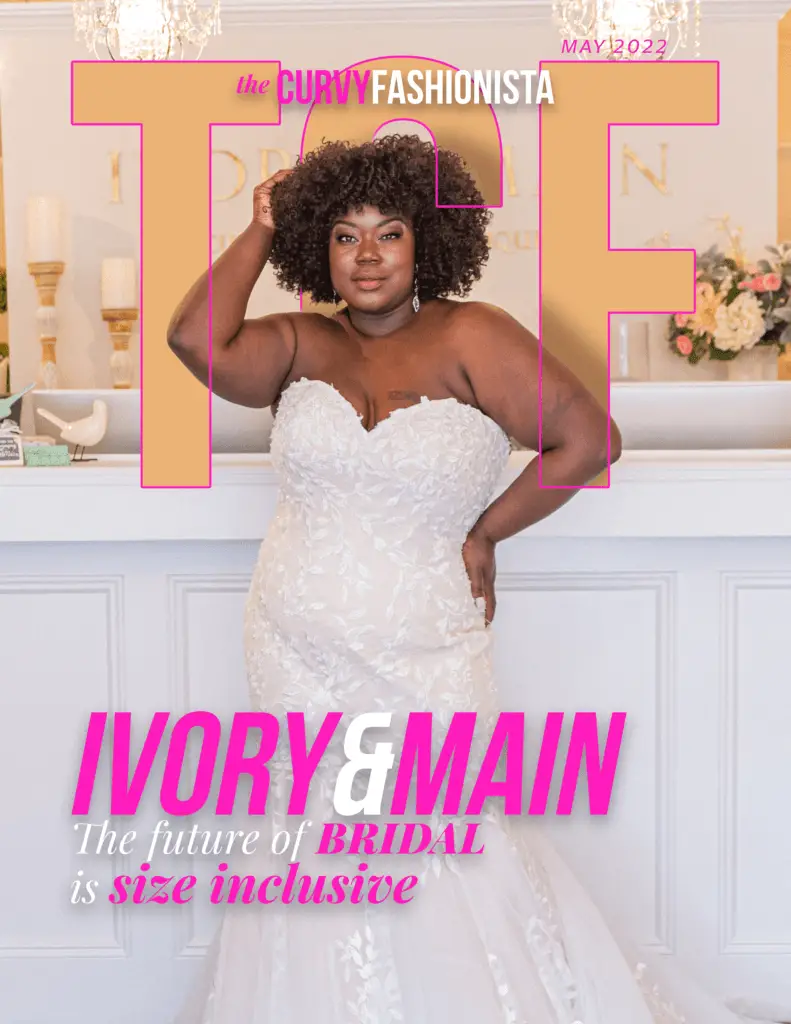 Meet Curinne Polizzi, plus size bridal expert, "Curvy Godmother" and owner of the only, exclusively plus size bridal boutique in New York state – Ivory&Main. As a plus size bride herself, Curinne struggled to find a wedding gown she loved in her size, without traveling to another state.
Knowing she could not be the only bride struggling to say yes to finding her wedding dress, Curinne and fiancé Paul postponed their own wedding to open Ivory&Main.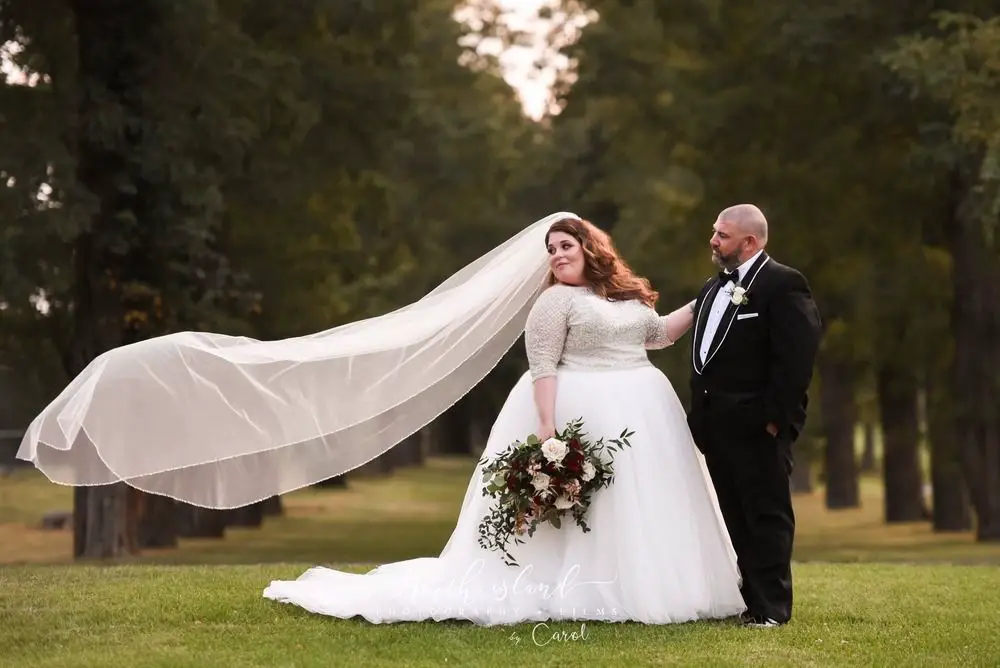 Ivory&Main opened their doors in 2018 with forty plus size gowns in store, with a goal to give brides over a sample size 8 their own magical gown moment.
Fast forward to May 2022 Ivory&Main has expanded from its original location, with over 500+ gowns in store today including bridal, occasion dresses and the Ivory&Main lingerie line.
Ivory&Main is beyond a store, it's a movement
We sat down with Curinne to discuss everything from the future of bridal, why brides travel to shop at Ivory&Main and what's next for our "Curvy Godmothers"
Q: Curinne! Owner of Ivory&Main, plus size bridal expert, all the above..let's talk Ivory&Main. Let's start at the beginning. You were a plus size bride looking for a wedding dress, when was this?
Curinne Polizzi: 2017. I was already engaged and I was sort of not looking for a wedding dress because I didn't want to look. I was nervous about trying on dresses as a plus size bride because I thought nothing is going to fit me.
I had severe anxiety about it, so for years I was putting our engagement off because I didn't want to shop. Then when we really started planning in 2018 and I was like "you know what, there probably is a plus size bridal shop, there has to be" and that's when I found out there wasn't one in New York State.
The closest plus size bridal shop to me was Maryland.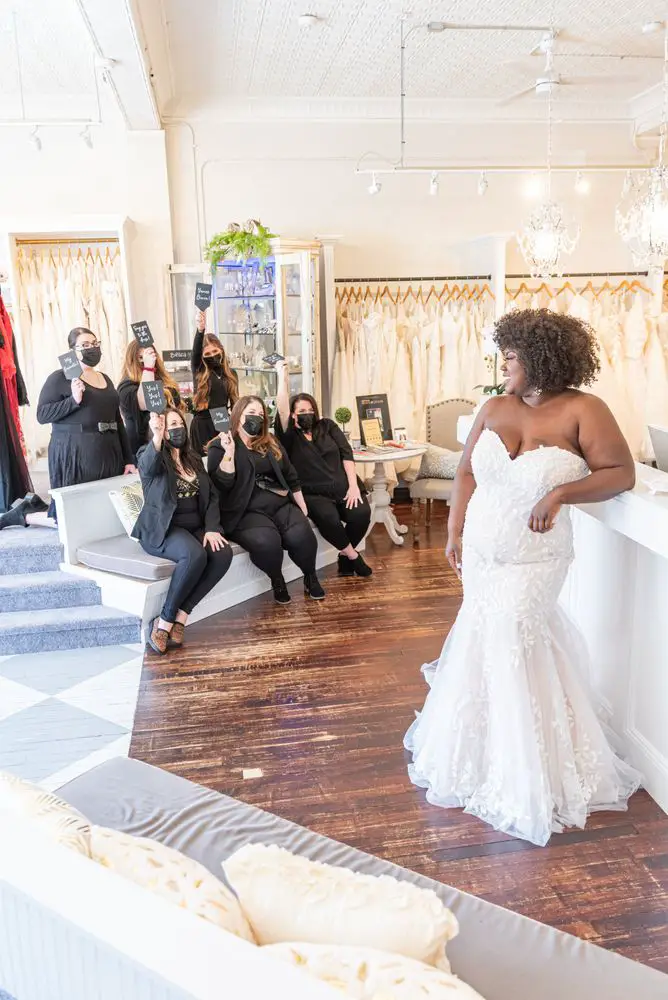 Q: So you postponed your own wedding to open Ivory&Main?
C: I went to Paul, my fiancé and I was like listen there is no plus size bridal shops in New York. I really think we should open a plus size specific bridal shop. He was like "you're crazy, we're not doing it" and then I found industry stats and made a business plan. 65% of brides wear plus sizes, it's insane that there are not a lot of plus size bridal shops in the country.
The deeper I got into it, the more Paul said "okay maybe this is something." We took all the money we saved for the wedding, plus more and we put it towards starting to get the ball rolling.
What happened was originally I had a plan to open the shop within a year. We really started talking about it in Nov/Dec of 2017, by January 2018 I had already found the store location. It went from we're just talking to me signing a lease. I knew nothing about the industry, zero.
I was doing this all blind.
It was so nerve wracking. We got the keys on March 15th and by May (2018) we opened with 40 gowns. It was crazy!
Q: How many gowns are in the store now, four years later?
C: Almost 400! That's only plus size bridal gowns. If you count all the occasion dresses and mother of the bride/groom dresses it has to be well over 500 gowns in store.
Q: That's the one thing about Ivory&Main, you cater to even mid size brides. What sizes do you carry in store?
C: In store, our sample sizes are all in the mid 20's. We have clipped women who are size 0 or 2 into gowns.
Q: Bridal sizing is so different. Do you find that most brides who come in know about bridal sizing?
C: The size means nothing. In bridal the sizing is by the inches. We're fitting you in the dress that fits you. If you typically wear a size 22, we would fit you in a size 26 bridal gown.
The number sizing is different from standard sizes and who cares. No one is going to be at your wedding like "hold on sister what size are you." No one is doing that.
The bridal dress is the shell and it will be altered and taken in, perfectly for your body.
If you need a 28, get a 28.
"No one is going to be at your wedding like "hold on sister what size are you". No one is doing that"

Curinne Polizzi
Q: I think that's why people love following Ivory&Main on social media and coming to experience the shop, you keep it real. People now travel from all over the world to come to Ivory&Main because of your amazing social media, huge Tik Tok audience and you are the plus size bridal expert! How far have people traveled to come to Ivory&Main?
C: We've had people travel from Texas, Florida, and Georgia. We have a lot of international requests which we can't do. We've had people fly in from Puerto Rico.
It's awesome! We have brides come from all over.
I'm fine with being the only plus size bridal shop in New York but there are only a few plus size bridal shops in the country so we have to share on social media. Half of our business is from out of state and the majority of brides find us on social media.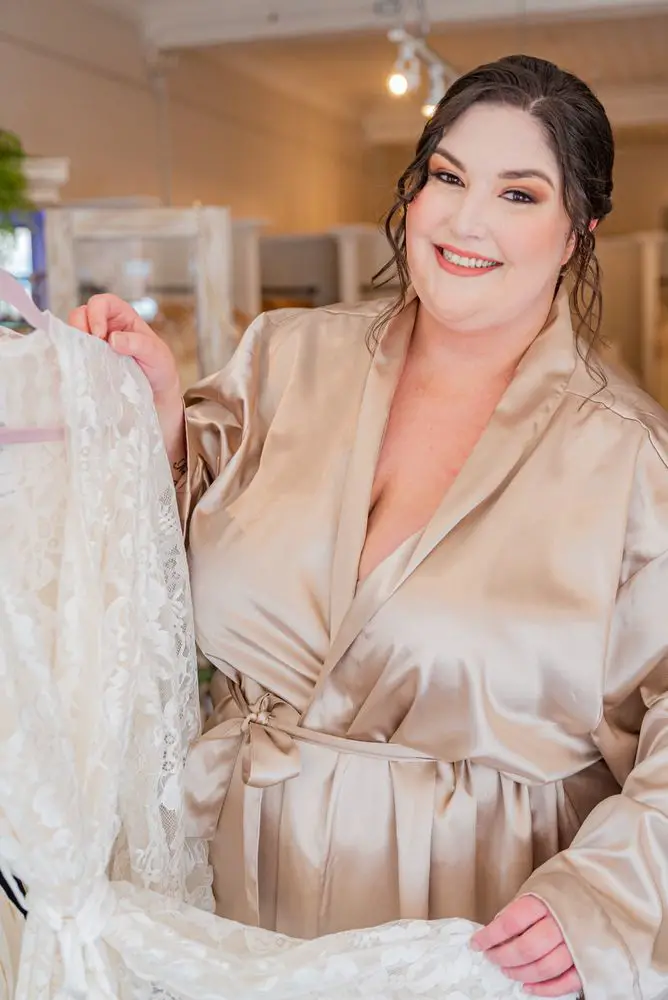 Q: I have seen so many comments from women all over the world, who are so relieved to know Ivory&Main exists because just like you they felt they couldn't find a wedding gown that they would love in their size. The comments are amazing. Ivory&Main is beyond a store, it's a movement.
C: Even if the girls dont come to our shop, at the end of the day not everyone can travel to Long Island to get their dress and I'm okay with that. We send the message that there are places you can go as a plus size bride and find the gown of your dreams.
We've sent tons of people to Della Curva in Los Angeles. There is a plus size bridal shop in Germany. We want to give girls peace of mind that there is something, don't give up, you might have to travel a little bit but plus size bridal shops exist.
We have a lot of women who are already married who follow us and they always tell us they wish we existed when they got married because they struggled to find a dress they loved in their size.
Q: As a plus size shopper I feel like we always get jilted. We never get to have that "Say Yes to the Dress" moment, where we have hundreds of options. I think that's why people travel for the Ivory&Main experience. What would you say is the Ivory&Main experience?
C: For us it's important to have our brides not be pressured into a sale. Customer service is the most important thing for us. We have had women come to us who don't end up buying but write us amazing reviews because ultimately we want your bridal experience to be incredible.
I never want anyone to leave our store and think, "Wow I feel worse than when I walked in"
I opened Ivory&Main for women like me and I always want to keep that in focus. I wanted to help plus size girls. That's our main goal, to make our brides feel good and feel confident. I think that's something that people don't realize, it's not bad that you're plus size or curvy or midsize.
This is who you are, we want to help you embrace that and love that because you're beautiful.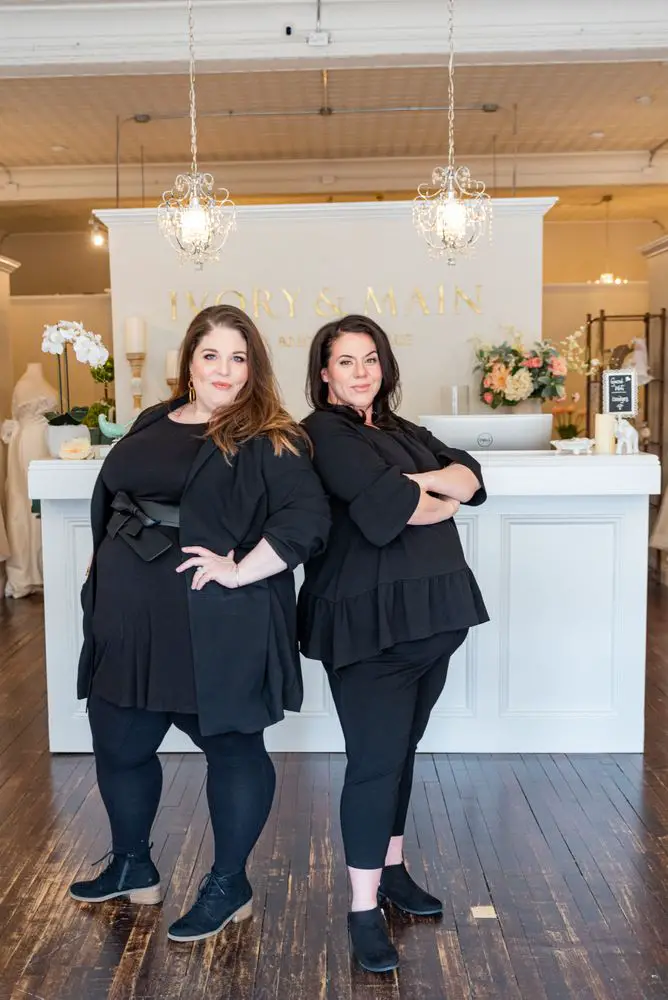 Q: What do you think as the curvy bridal expert, is the future of bridal?
C: I'd like to say that all designers will be size inclusive. I dont think there is enough representation of size and color in bridal. I see it everyday when I receive designer lookbooks for each new season's styles or on the runway, I think there is a long way to go.
I think bridal is getting there. I get infuriated when I see designers only go to a bridal size 24, which is like a standard size 20. That's not plus size friendly. Here's the thing, I pull in specific gowns.
My bride is looking through magazines, she's looking through Pinterest, she wants fashion in her size. We carry the same styles in bridal magazines in plus sizes. I think that's important
"I opened Ivory&Main for women like me and I always want to keep that in focus. I wanted to help plus size girls"

Curinne Polizzi
Q: Let's talk more about "Curvy Godmothers", you have millions of views on Tik Tok. What is the "Curvy Godmothers" series?
C: Curvy Godmothers is us two curvy women (Cassidy Wilkinson and Curinne Polizzi) giving tips for brides. Whether that be more serious, like what to wear as undergarments or silly things like what not to do at your bridal appointment.
Don't bring a pizza, by the way that actually happened! We're taking our real life experience as two plus size brides who work in the wedding industry, people think we make this up!
It's us giving tips to girls and making it light, funny and relatable.
Q: You and Cassidy are the plus size bridal experts. Both of you are plus size brides, Cassidy is a wedding coordinator turned bridal stylist at Ivory&Main. You are the owner of Ivory&Main, there are no two better people!
C: Cassidy and I always say we're soul sisters and we feed off each other. We have such a great time together so I think that comes through in our Curvy Godmother videos. People are like these two are nuts and we legitimately are nuts.
Q: It's hilarious because Ivory&Main brides always want to remain friends, so many past brides get used for photoshoots, runway events or work in the shop!
C: Cassidy is one of three past brides who turned into bridal stylists at the shop. The girls come in and we become friends with them! It really is amazing how many brides we stay in touch with, who become family. Amazing, amazing girls. We really care about them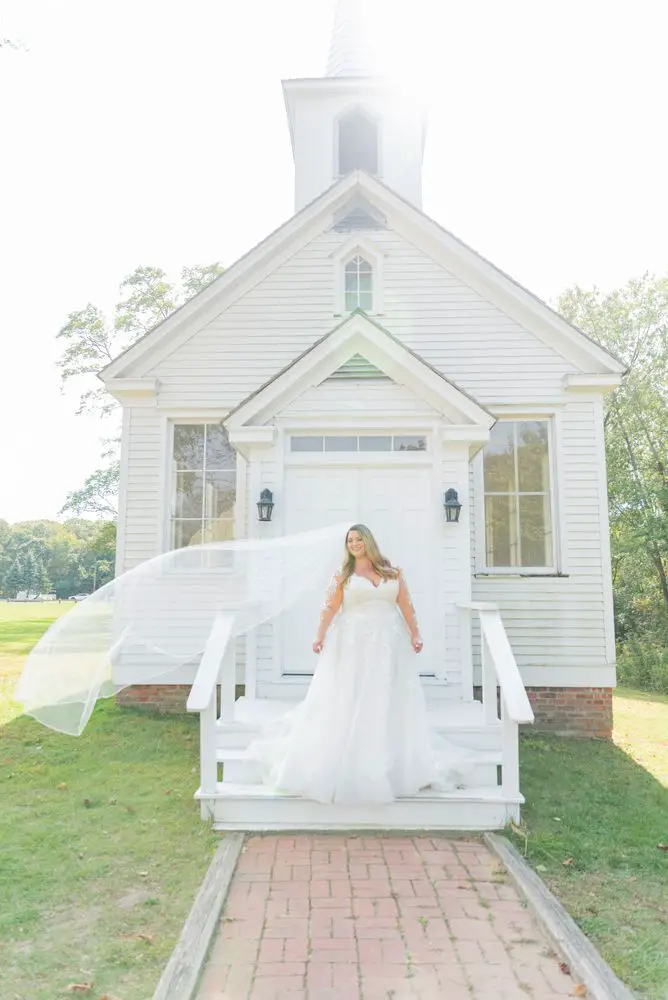 Q: Ivory&Main makes all original content for social media, creating gorgeous plus size bridal images? Was there a need for that?
C: I think it's important. It goes back to what we were saying before about diversity and representation in the industry so we felt like we needed to create it. It didn't really exist outside of wedding photos or photos from designer catalogs.
I think this had to do with why people follow us on socials too because people were like "omg that girl looks like me!" We want to represent our brides.
Girls need to see themselves.
Brides come in all shapes and sizes.
Q: Ivory&Main has been approached for TV shows, opportunities in magazines and you just announced you're starting a podcast!
C: Yes we are! We're so fricken excited about this, it's ridiculous. So the podcast is going to be a continuation of "Curvy Godmothers." Cassidy and I will be hosting, talking about all things curvy bridal.
This will be on Youtube too!
Q: Let's do some fire round questions. What is the most popular bridal style in store?
C: A-Line
Q: What is the style you wish more brides tried on in store?
C: Fitted or Mermaid
Q: What is your most asked question in store?
C: When should I buy my wedding dress!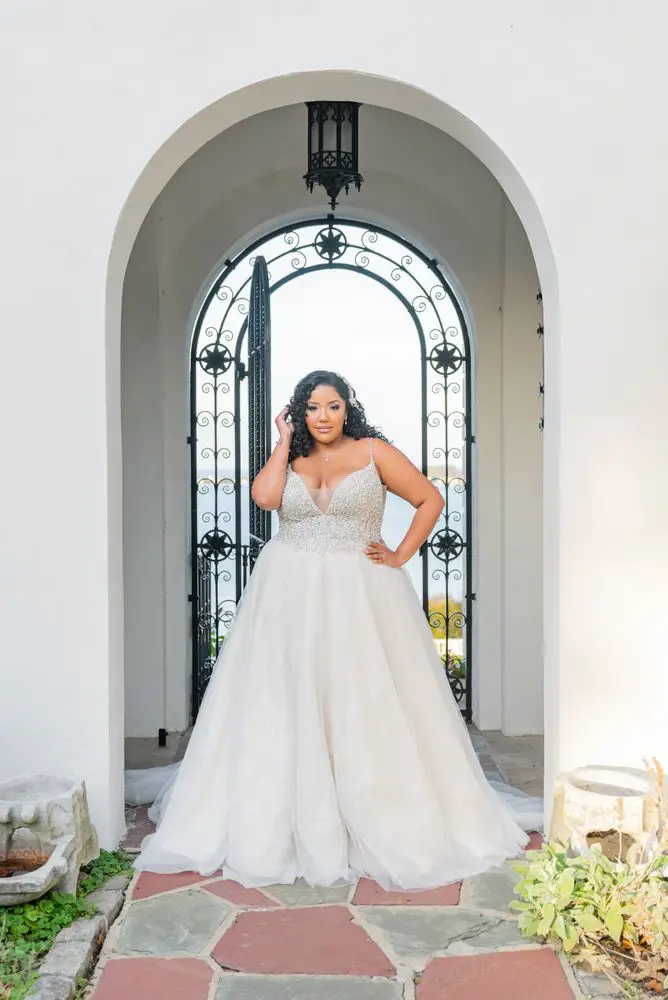 Q: What is the timeline for bridal gown shopping?
C: We tell girls to shop 12 months out. You should be purchasing your gown 12 months before your wedding. I wouldn't go sooner than 18 months, that is too far out, trends change and things get discontinued.
Especially because of the pandemic we say 12 months, because there could be things outside of our control like delays, shipping issues, whatever it is. It's peace of mind too. Order the dress with plenty of time.
Q: Where do you see Ivory&Main in the next 5 years?
C: I would love to have another shop location. We've been talking about that for a long time. I would love to have a line. We have our lingerie line but I would love to have a clothing line.
Q: You have now dressed hundreds and hundreds of brides. Did you have your wedding?!
C: Yes! Paul and I got married in 2019, right before the pandemic! Thank god!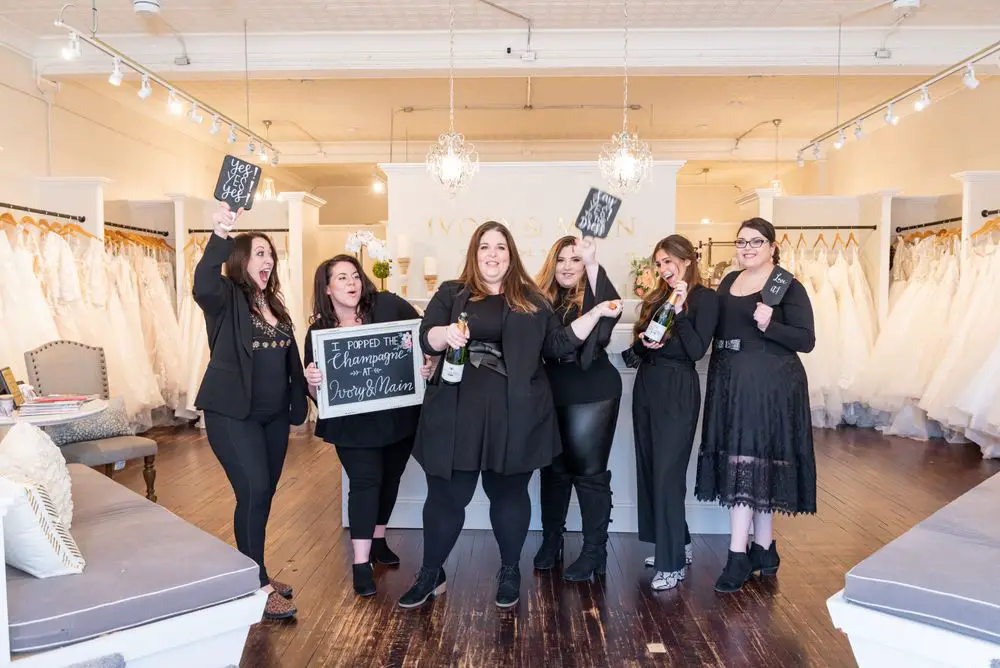 You can shop, visit, and learn more at IvoryMain.com
With a viral Tik Tok series called, "The Curvy Godmothers," garnering millions of views, in four years Ivory&Main has become the go-to destination for everything plus size bridal!
Have you been to Ivory & Main? How was your experience?
Where are you shopping for your plus size bridal needs? Sharing is caring… let us know!
Cover Credits:
Photographer: @photosbysiobhan_
Model: Shenelle LaPierre @_shen.elle_