Will all the Black plus size models, please stand up!
We're currently living in a time where the model industry is being dismantled, and marginalized bodies, who have been generationally excluded from print and runways, are stepping in to claim their space.
In 2021, there are so many different ways to be a plus size model, and it's thankfully a new realm with a wider audience, bigger representation, and a grander stage.
Trailblazing Black Plus Model Moments
I remember being younger and literally craving any version of plus size or "full-figured" model, but they were so far and few in between.
I remember Mo'Nique launching a reality show, Mo'Nique's FAT Chance, centering on discovering a fat model and doubled as a beauty pageant specifically catered to plus size women.
On Tyra Banks' long-running reality show that searched for America's Next Top Model, there was only a handful of plus size models that made the cut; these models included Cycle 3 contestant Toccara Jones and a later Cycle 10 winner Whitney Thompson, who became the first full-figured winner of the show.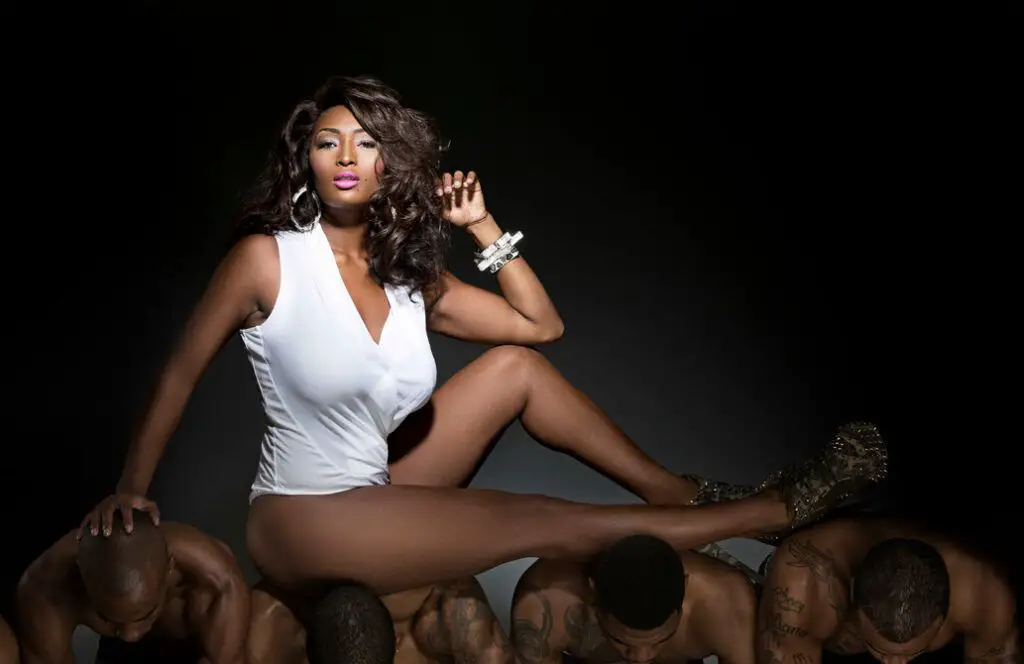 Even though I found so much representation in Toccara, watching how they treated her every episode was traumatic, to say the least.
I would later grow older and realize these models were size 8's and 10's and being treated with such disregard, and I couldn't imagine how actual fat models would be treated in the industry.
Those early 90's and early 2000's were all too triggering!
Can I get an amen?
Current Black Plus Size Model Inspirations
Fast forward to today, and I can jump into my Instagram and witness the sacral energy and glory that is Black plus size models kicking ass and taking names. We are no longer asking for our walks on their runways but instead are creating our own spreads and walking our own walk!
We have Kellie Brown pioneering the industry and claiming space for fat bodies in high-end fashion with her now popular hashtag, #FatAtFashionWeek!
And, we also have Jore Marshall, famously known as one of Beyonce's curvy Beychella background dancers, now signed model to Storm Models!
ASOS model and all-around badass Jazzmyne Jay is building a unique platform and centering diversity and inclusion.
Brand influencer and model Meshia Ferguson, a freelance model, creates the sultry and everyday content we need from Black plus size models.
One of my favorite plus models who isn't only taking stunning photos but redefining what it means to be a fat Black woman on the internet is Ireanna, also known as mynamesireanna.
Ireanna is represented by the btwn; a Body Diverse Talent Agency + Lifestyle site.
Also represented by the btwn is Aspen Cristi, a bold face, SavagexFenty model, and Pretty Little Thing showstopper!
Black plus size models all have a spark, but there's something so refreshing about Naomi Native for me. From her body type (which favors mine) to her brand and style, it is like being underwater for a while and coming up for that first breath of air.
It's not just the bomb pictures; it's the liberation of all fluffy bodies for me! Naomi is signed to Mustard Models and doing big things every day!
Last but never least are two bosses that are always serving face, looks, and content for days! Olivia Campbell, also known as Curvy Campbell and Fashion Nova Curve ambassador Daquana White!
Daquana allows us into her brand and is the go-to girl when you're in need of a good fashion haul.
Olivia is a plus size model who is always reminding the girls to step outside of their comfort zones, own the skin they're in, and to not be afraid of our sexy. A little skin ain't never hurt nobody!
I don't know about you, but there's enough inspiration here to last us a lifetime and then some…..And I love to see it!
Who are the Black plus sized models you're watching on the rise?
Where are you getting your Black plus sized model inspiration these days? Let me know in the comments below!