They Said #BussIt & Plus Size Baddies Answered! Another week, another social media challenge! This week Black women of all shapes and sizes took to Instagram, Twitter, and Tik Tok to show off just how well they could #BussIt in the latest #BussitChallenge.
The Erica Banks' song "Buss It", which released back in 2019, has taken on new life and has everybody throwing off their frumpy-wear or hella chill lounge wear and putting on their best Hot girl fits.
2021 has started off with quite a few road blocks to say the least but of course it didn't take long for social media to gift us something to numb the pain if even for just a while. Black girls showed up and made the internet pop again and gave everyone something to do while at home.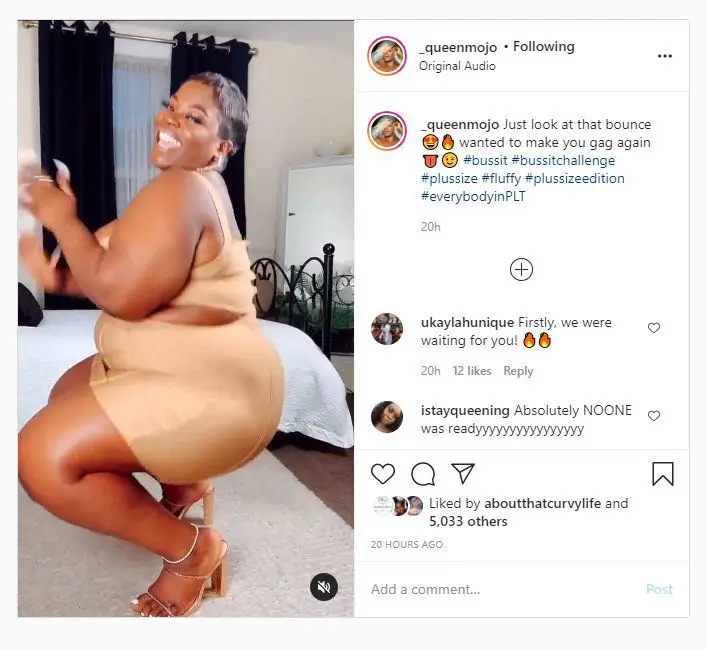 During this now 11 month-long pandemic, participating in social media challenges has been a sure way of a pick-me-up and the #BussItChallenge is no different.
The song starts with a mix of the classic Hip Hop record by St. Louis rapper Nelly, "Hot In Herre" and then transitions into the newly mixed song that Erica Banks, a Dallas rapper signed to 1501 Certified Entertainment, is responsible for.
During the challenge, the idea is that you transform from your "stay at home aesthetic" into your then "glowed up" version of yourself all while, bussing it (aka twerking, whining, etc.)!
What We Loved from the #BussItChallenge? The Plus Size Girls Gettin It!
When I was scrolling my socials, at first I didn't see enough plus size folks taking on the challenge, which of course encouraged me to participate as well. But all of a sudden, I was scrolling through my Instagram one morning and my feed was filled with so many plus size influencers and fat acceptance activists claiming their rightful place in this challenge series.
Keep scrolling to see a few of my favorite videos from the "Buss It" challenge and be sure to tag us if you decide to do your own! If there's a favorite you have that you don't see here, drop the link in the comments as well.
And of course, myself!
I've seen plus size folks in faux leather mini dresses, two piece sequin and denim sets, swim suits and bikinis, and every club fit in between.
It was the slayage for me!
Did you participate in the #BussItChallenge?
Let us know and drop your links in the comments below! We want to celebrate you in all of your glory!