Over the past few years, we have seen an increase in diverse representation in the media. Shows like Dietland and the new Badass Bitches of History on Comedy Central, showcase plus size creative babes doing their thang! And some are even showing dope LGBTQ couples–really increasing their representation.
And, after seeing Frances McDormand's speech at The Oscars about the importance of Inclusions Riders, I realized that I needed to be doing something to celebrate the intersectional identities of people in the plus size and fat community.
So, today, we're sharing some of our favorite plus-size and LGBTQ couples. When I opened submissions for this roundup, I encouraged submissions from LGBT and queer people in a relationship, where one person was plus size.
This post does use some vocabulary from the LGBT community, so if you get lost, there's resources at the bottom. Special note before we start: Gender identity is not equal to sexual orientation. A transgender person is not gay just because they're trans. A transgender person can be 100% straight!
1. Alysse & Giovonni
Okay, so real talk: Alysse is one of our favorite plus size bloggers, and when I saw her start posting photos with a super cute guy, you can bet I texted her ASAP.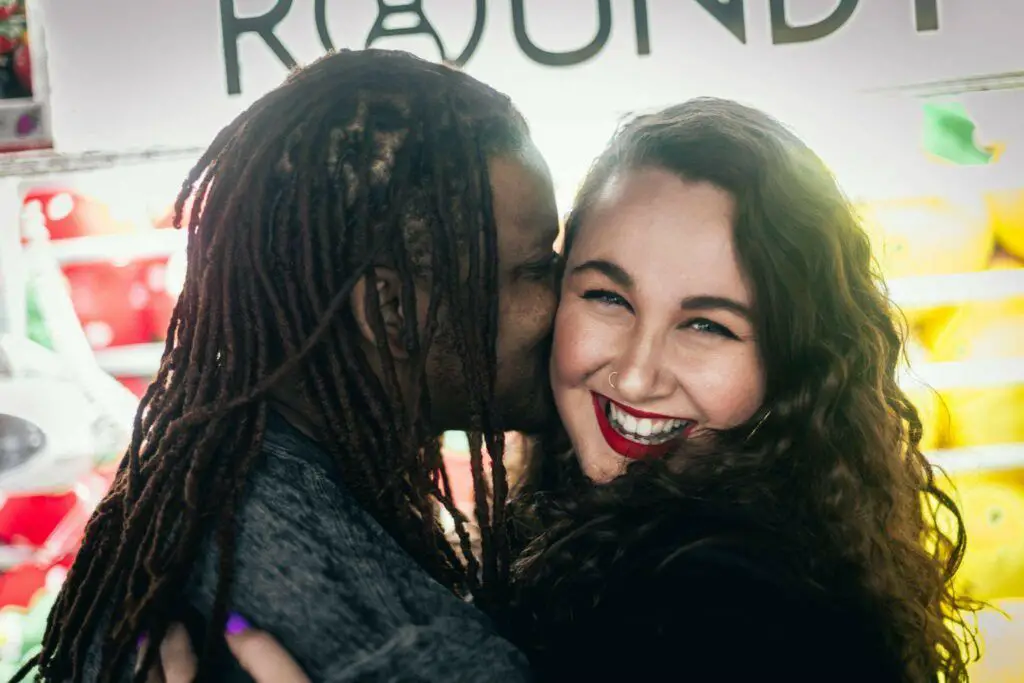 "The guy" is her boyfriend, Giovonni Santiago, a transgender man who runs META Center Inc, a nonprofit for transgender people and their families. "We met at a networking event for PLEXUS which is the Northeast Ohio LGBTQ Chamber of Commerce," Alysse told me. "When I saw Gio arrive at the event, I made a bee-line for him and tried to find a way to strike up a conversation. We ended up chatting all evening. He asked me out that night. We went out two days later and have been basically inseparable ever since."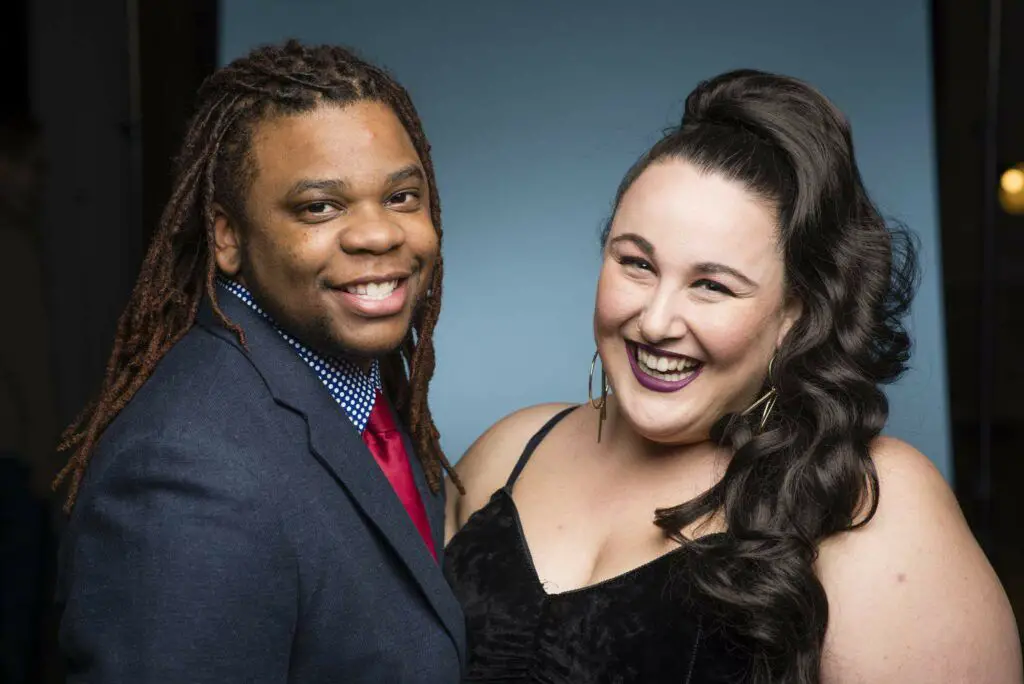 Um, this is SO CUTE. Also, fun fact: Alysse's mom is the one who strongly encouraged her to go the networking event. In my book, that means she can take full credit for the two of them hitting it off.
I asked Alysse to pick her favorite thing about Giovonni, and she (of course) had trouble picking one thing. "My favorite thing about him is his passion. He is a tireless advocate for the trans community. In addition to running his own non-profit, META Center Inc, for transgender youth, he regularly speaks to students, fellow veterans, and business professionals both locally and across the country. No matter who is speaking to, he approaches everyone with kindness and compassion. When my dad first met Gio he said, 'That is a man who is going to change minds just by being himself,' and I couldn't agree more!"
2. Chaya &JodyAnn
I met Chaya at a queer networking event, and soon after I met her partner, Jodyann. The two are complementary opposites, where Chaya is super outgoing, Jodyann prefers to be more of an observer (the kind who shares super witty comments, but you haven to pay attention to catch them!).
Chaya is a blogger and manager of a mechanic shop in Brooklyn, and these two lovebirds met in NYC – totally by chance!
Chaya explained, " I was getting my nails done when someone asked me if I wanted a free ticket to the circus. Although this was super last minute I accepted (because I was raised orthodox I had never been to the circus). Morgan was working security at Barclays Center and saw me walking through the magnetometer. Although I did not see her she later that week found me in a queer Facebook group and reach out. After a few canceled first dates and some nerves we were inseparable."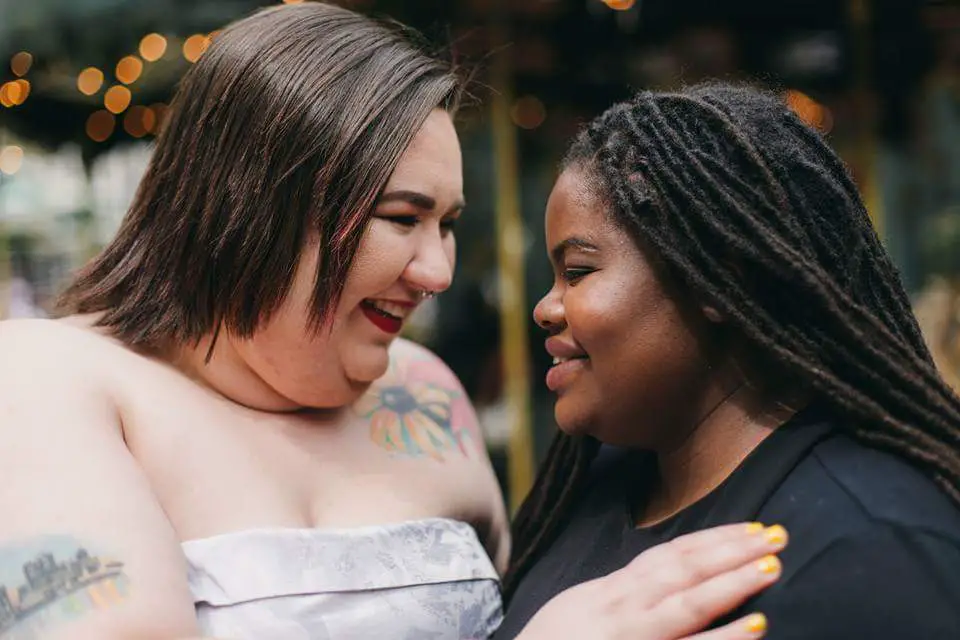 Okay, Jodyann, I see you playing the long game!
3. Corissa & J
This couple is one of my favorites, because they're so tender with one another. Corissa (Fat Girl Flow) and J (Comfy Fat) were internet friends (online community ftw!), who eventually started talking more when J became an admin of Corissa's community account for Fat Girl Flow. J joked, "It was love at first DM!"
And, J's favorite thing about Corissa? "I'd have to say it is her sense of humor. Every night before bed we lay next to each other and just talk. We have some really wonderful conversations. We love each others company. And we always end up laughing."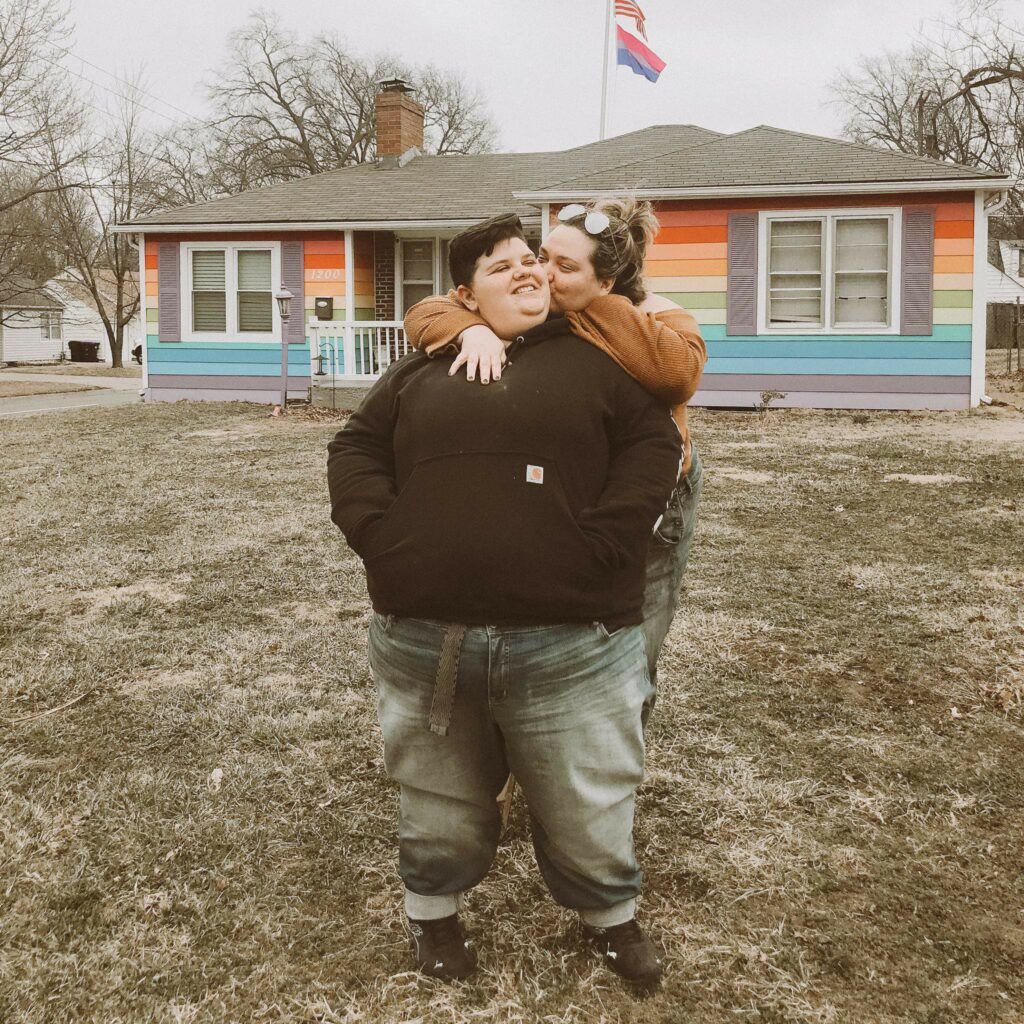 4. Tammy & Deandra
Deandra and Tammy have been together for 9 years, and I gushed over photos of their Harry Potter themed wedding. They met at a bar in Illinois, when Deandra saw Tammy dancing by herself. "She's super cute, so I went up to her, tapped her on the shoulder and told her I liked her hair. Tammy said, 'Thank you!' I asked her if she was at the bar with anyone (she wasn't!), and then I asked her to dance."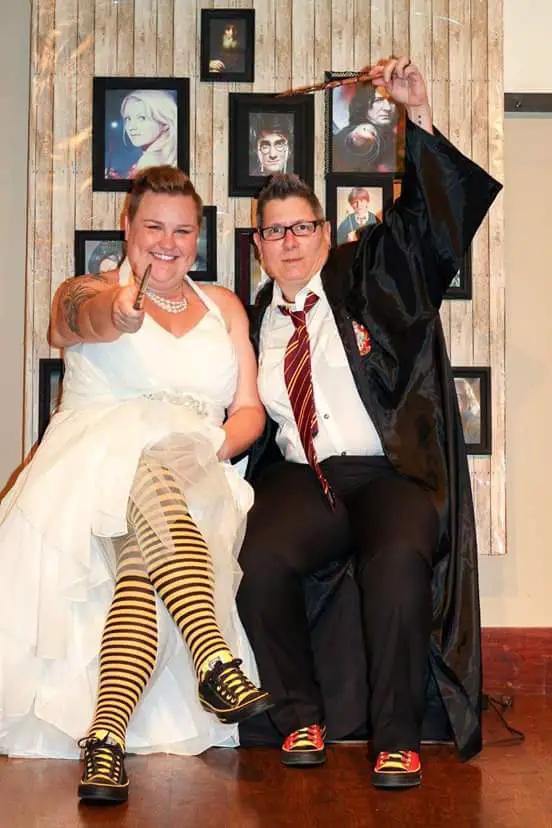 Deandra still loves Tammy's hair (it is pretty awesome), but her favorite thing about Tammy is "how she lights up when she talks about something she is passionate about."
5. Jeana & Collin
In my humble opinion, this couple is #OOTDgoals. Jeana shared that they met at a fundraiser, Collin held at her café (Byways Cafe) for LGBT rights in Oregon. "I was the Executive Director at the time and I went to the cafe to meet the owner and say thank you for supporting the cause," Jeana told me over email.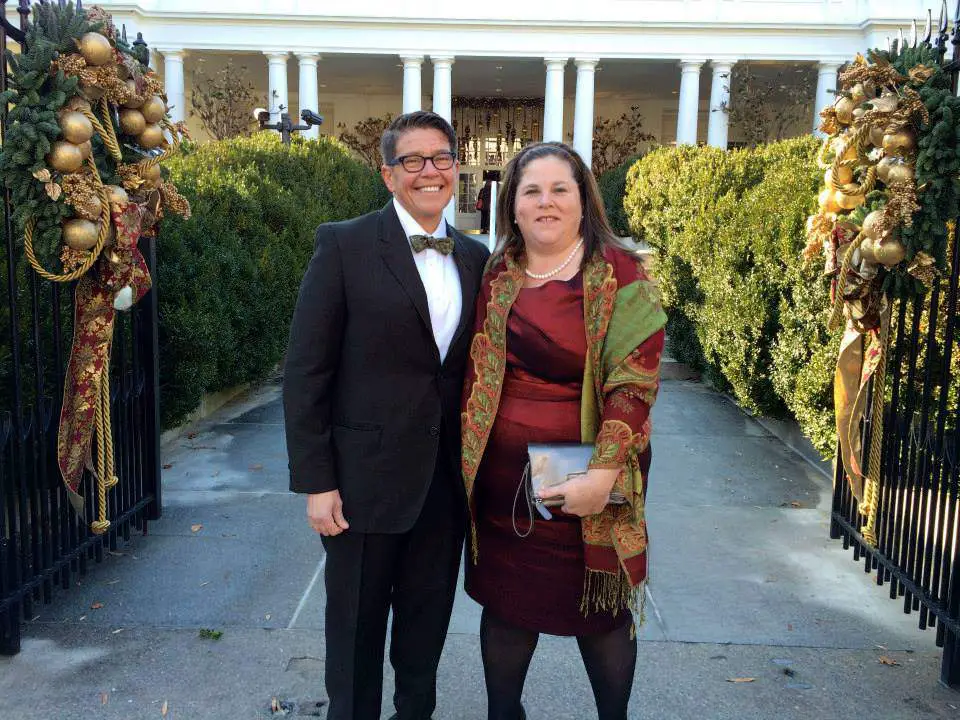 "When we met it was like an electric current ran between us. We had our picture taken and posted to Facebook, so we have a sweet memento of the very moment we met! It took us two year before we had our first date."
The two were eventually married, and that electricity is still there. When asked about her favorite thing about Collin, Jeana said, " Collin is so fun-loving. We always say that we bring out each other's inner teenage girls. We have such a good time together, she makes me laugh and any stress I'm feeling just melts away."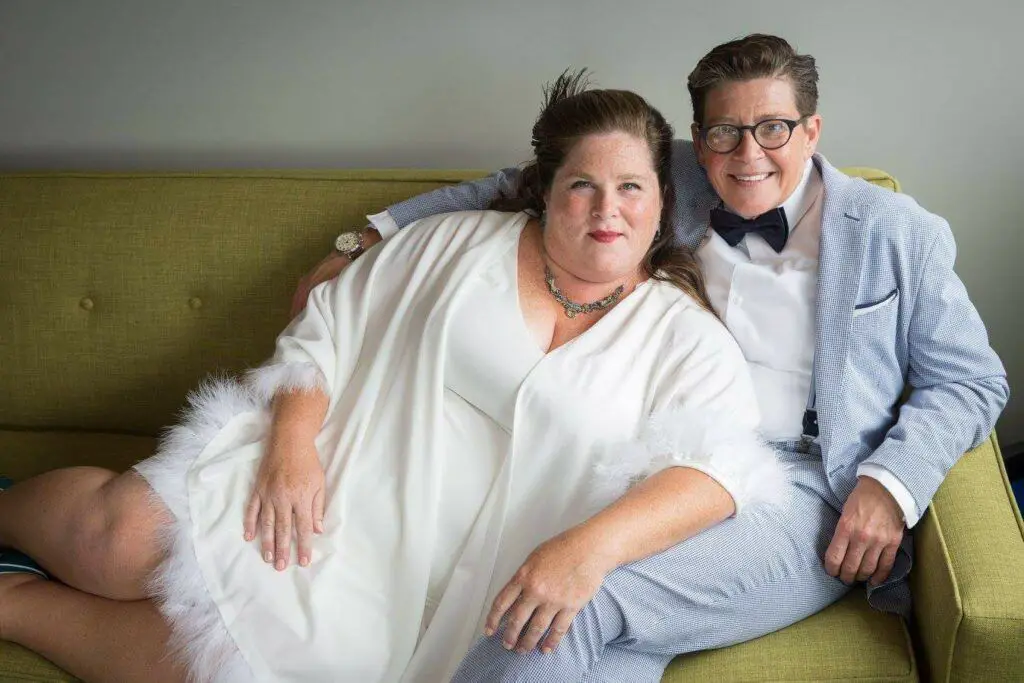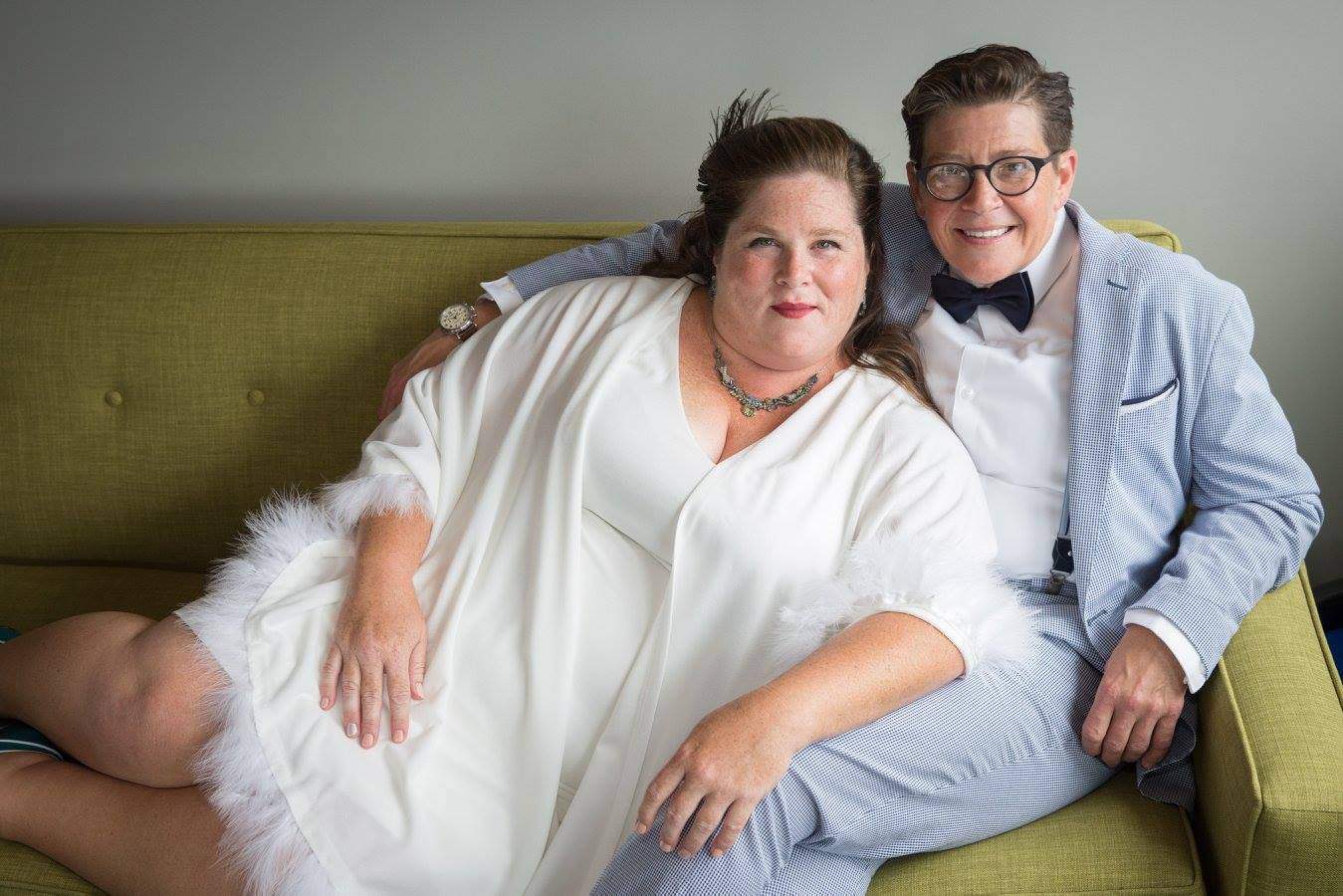 6. Danielle & Robert
Y'all, I have sworn off OkCupid, but Danielle has me thinking that I may have done it too soon.
Danielle met Robert on the website, "after I had just decided that I would no longer actively pursue dating menfolk after a few bad experiences. I also turned on my profile setting of 'Don't let me see/be seen by straight people.' We matched and he messaged me and we quickly setup a coffee date.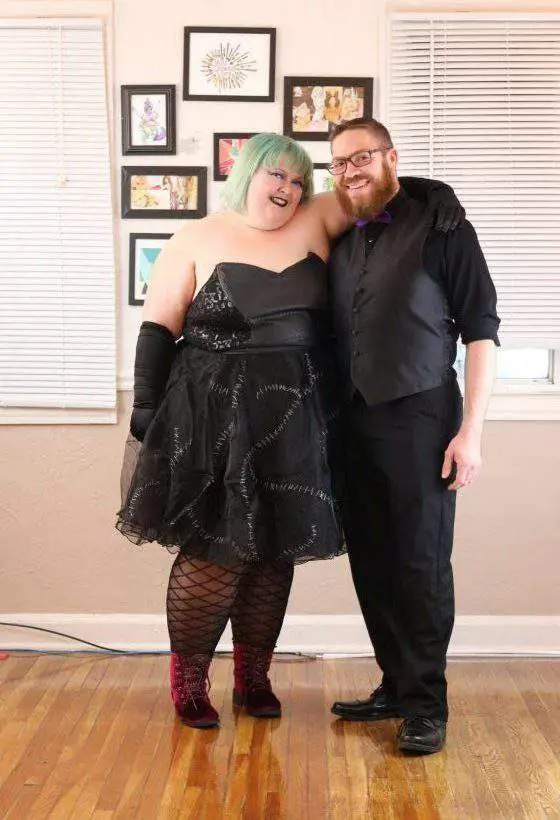 "My favorite thing about Robert is that I don't have to be the strong one," explained Danielle. "I love being there for people and being supportive, but sometimes I need to have a break down too. He checks in on me and wants to hear about it if I'm not okay. This makes me feel really seen and loved.
7. Dese'Rae L. Stage & Felicidad Garcia
Dese'Rae is the founder of Live Through This, a nonprofit that tells the stories of suicide attempt survivors, as told by those survivors. Felicidad is a college professor, and they recently added a baby to their family, Gus!
The two met on OkCupid, and instead of messaging back and forth, Dese'Rae asked Felicidad out for a drink. "Felicidad countered with a lunch date, so she could leave if things got awkward. But, our date lasted well into the evening. Neither of us were looking for anything serious because we were both healing from breakups, but here we are, nearly six years later, still madly in love, married, and now mommies."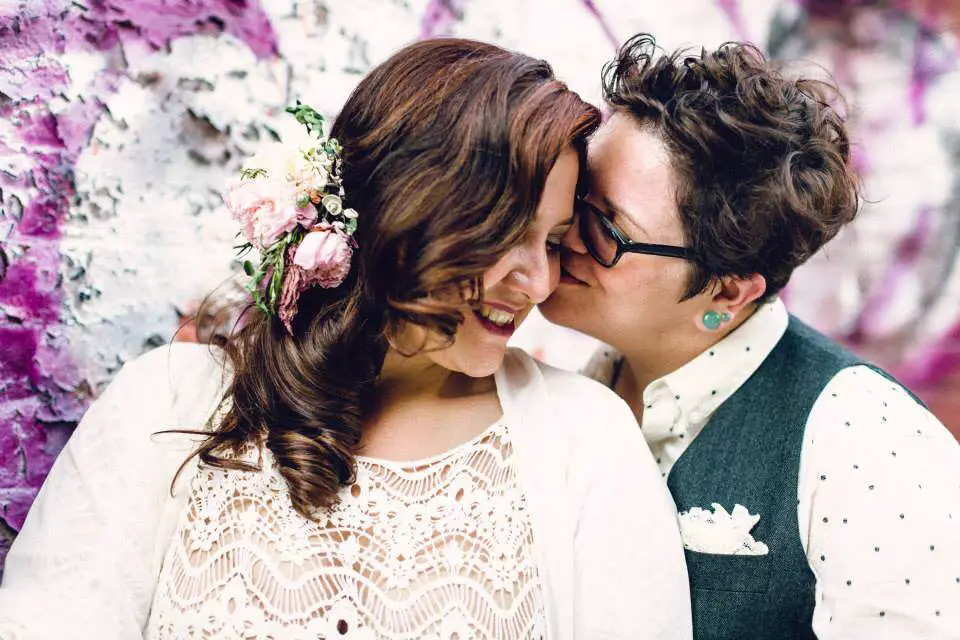 Dese'Rae refused to pick a favorite thing about Felicidad, saying, "Everything about her is my favorite thing. She's funny, smart, kind, absolutely gorgeous, and even-keeled. She's my favorite person, and we're as comfortable with one another as we are alone with ourselves."
Wow, anyone else feeling mushy about this post? I know I sure am. If you're part of a plus-size and LGBT or queer couple, drop a link in the comments!
8. Caitlin & KC
This couple has an AESTHETIC, and I am here for it.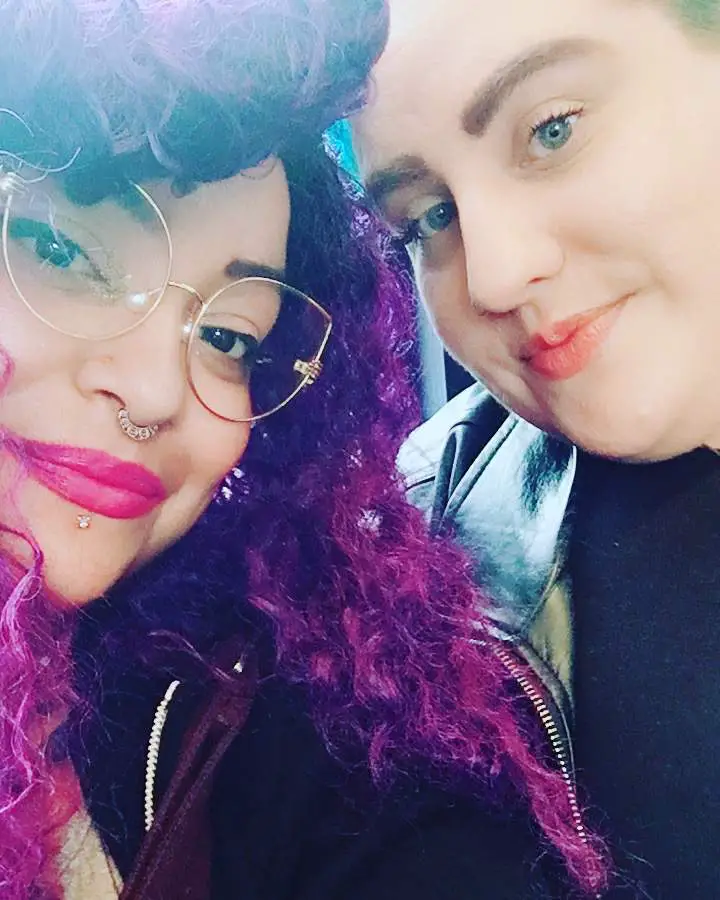 From Caitlin: "We originally
met
through a former partner of mine that attended seminary with KC; we kept in touch but we only started dating after KC posted on
Twitter
asking who would like to make out with them and I replied!" Honestly, I'm HERE for this. State your needs and get them met!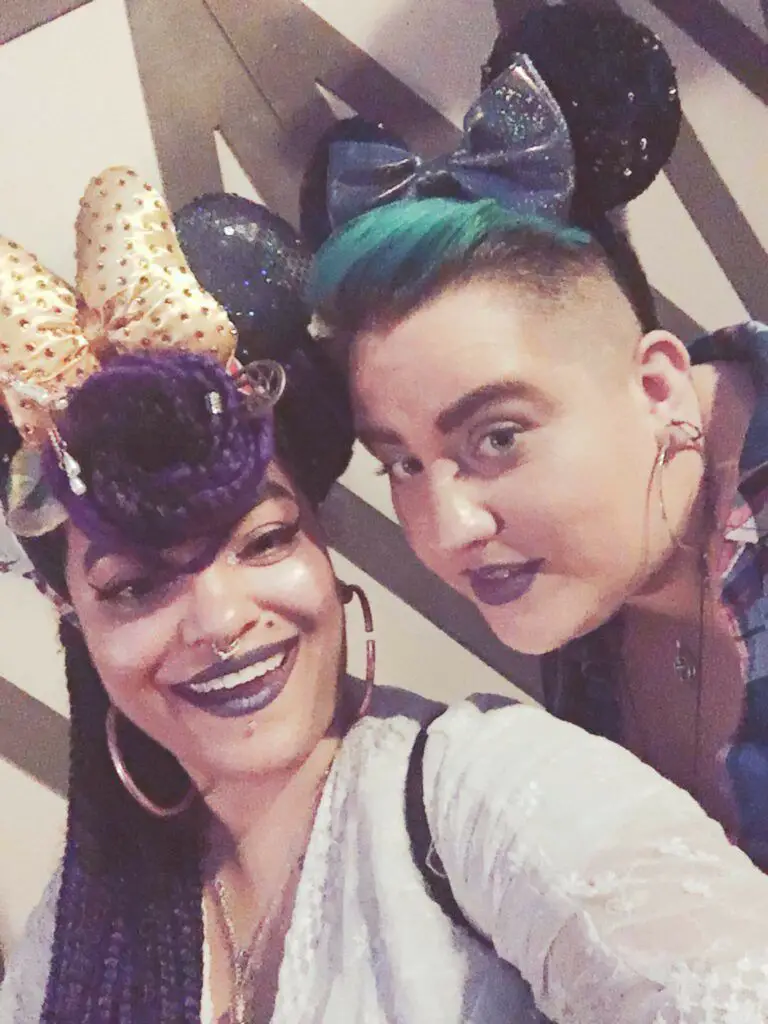 Caitlin continued, "My favorite thing about KC is their amazingness, haha! If that doesn't work, I love love love the way KC rocks fabulous colors and prints and their great, passionate heart."
So often we see plus size men and women in media as not being the love interest but baaaaby these couples are changing that narrative in a major way!
Are you and your sexy other a LGBTQ couple? Tag #TCFxLGBTQ on Instagram for a chance to be featured and share your love story!
Resources