British bloggers are killing it! You can catch up with Londoner Isha if you missed her last week, and this week, we're spending some more time in England with Georgina of Fuller Figure Fuller Bust. Georgina is an amazing resource for you bustier ladies. She will help you determine your proper size and to find bras and lingerie that will work for your figures. Blogger,model, designer…Georgina does it all! Have you heard of the Lady Voluptuous clothing line?
Georgina helped start this UK vintage reproduction line in sizes 16 to 32!! Looking for a snark-free zone to talk fashion, food, fitness, beauty, and more? Let Georgina be your go-to!!! She is a plus size blogger YOU NEED TO KNOW!!!!
Meet Georgina of Fuller Figure Fuller Bust!!!
Blog: Fuller Figure Fuller Bust
Age: 28
Height: 5'7″
Location: Surrey, England

How long have you been blogging? My blog will be 6 in May!

What or who inspired you to become a fashion blogger? What led you to it?
I started the blog after entering a few fun competitions and realizing that I really like repping the bigger busty babes! I had heard of blogging, and it just seemed like a really great way to almost model items and show other women with similar shapes and sizes as mine how clothes and bras might look.

Do you blog full-time, for fun, as a hobby? Share your evolution!
I have been blogging full time for almost two years now! It started as a hobby, and somehow it picked up traction and readers, and so I worked part time to keep up with everything. I tried to go full time about three years ago, but at that time I wasn't getting enough work. I then took the leap once more, and happily was able to get enough work from the blog and modelling!
What is your favorite asset? Your legs, arms, waist? How do you play that up?
Probably my bum! I try to wear things to show it off, because when I was younger I was embarrassed at having such a large behind, so it's definitely time to embrace it!

What are the challenges, if any, you face regarding being plus size?
Back when I was waitressing, I was known as "the fat girl with the pretty face," constantly asked and told I was fat and needed to lose weight. I never struggled to find clothes as I have always been that in-between size – still able to shop on the high street, but also shopping for plus size clothing. But I definitely didn't feel I looked good next to my slim peers and friends. Now, I tend to dress for me and ignore people who want to tell me how to live my life. And I am the pretty girl with the fat face, and that's ok with me!

What's your favorite thing about being plus size?
Less variety of clothes! If I weren't fat I would probably be broke!

What's your favorite thing about being a blogger?
My readers. They are absolute angels, so lovely and sweet!

Who/what are your favorite designers/brands?
Collectif, ASOS Curve and Lady Voluptuous.

Describe your personal style.
Vintagey, figure hugging and bright!

Which bloggers inspire you? Plus or straight size! Any bloggers currently on your radar?
I love Girl With Curves so much! She always looks amazing! And I am currently loving Luziehtan.

What do you think about where plus size fashion is today versus a few years back?
It is just amazing! People are getting more daring, there is so much choice and it can only get better!

What do you think or hear from readers, is one of the biggest myths about plus size fashion?
Probably that they can't wear bikinis! I personally wear mine with high waisted bottoms, and the world hasn't stopped turning! And I can hopefully encourage others to also just wear what makes them happy 🙂

Are you working on anything or have anything to share?
I am off to Greece in a few weeks, so expect allllllll the bikini and poolside babe photos!

Anything else you want The Curvy Fashionista's readers to know?
Your body is ready now. Your life starts now.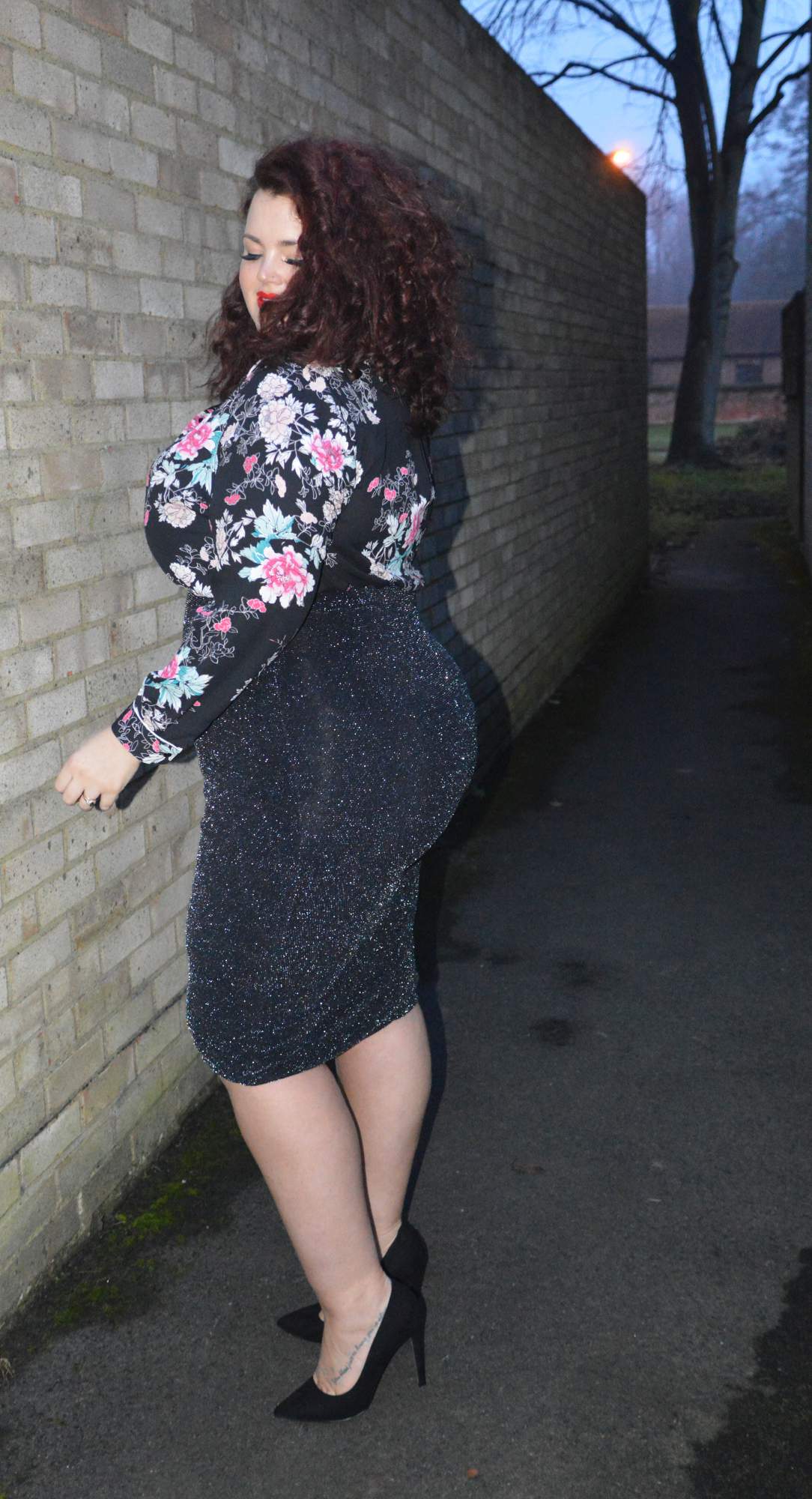 Lastly, what does Curvy.Confident.Chic mean to you?
Don't let the way you look mean you can't live your best life and feel amazing.

Do you dig the style of Fuller Figure Fuller Bust? Which look is your fave? Let's talk about it below!!
Want to be featured?
Make sure you fill out your deets here,
so that we can feature you!
Looking for more plus size blogger style inspiration?
Make sure you check out all of the other plus size blogger spotlights!