Who is ready for some more cool spring plus size fashion news? We are always ready, I do not know about you… LOL So, on the heels of a great blogger collaboration with Girl With Curves, Lane Bryant has announced their newest blogger collaboration! Are you ready for this collab? The Beauticurve x Lane Bryant Collaboration?
Today's is the day I'm able to share the biggest news of my Career! "cue the ?" I'm so excited to finally announce that my first ever design collab will be a 10 piece collection with Lane Bryant! It will be available online and in over 100 stores!
The next blogger collaboration is with Arkansas-based blogger, Rochelle Johnson of Beauticurve! The Beauticurve x Lane Bryant is about to drop for Spring 2019 and we are geeked and hyped for her!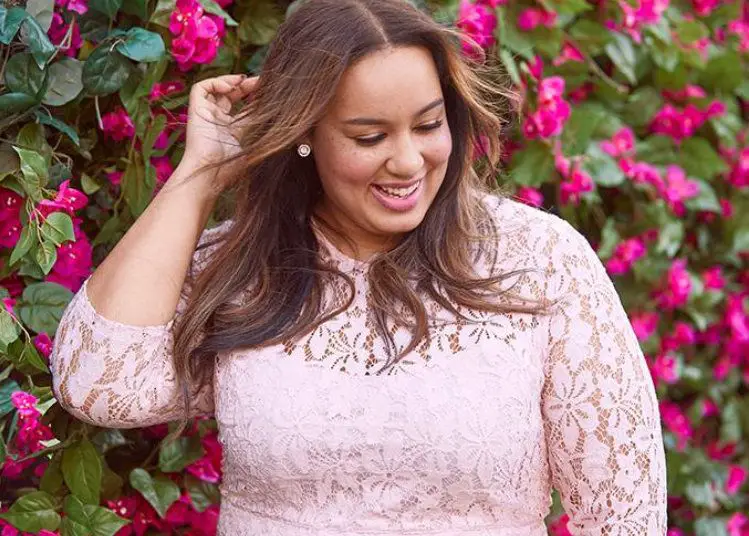 There is nothing more exciting than seeing a fellow blogger turned empire builder taking next level steps! Following the steps of GabiFresh, Girl with Curves, Nadia Aboulhosn, Zelie for She, Kelly Augustine, and Chante from Everything Curvy and Chic, Rochelle takes her brand to the next level with her own collab!
The Beauticurve x Lane Bryant Collaboration Deets
Teasing us over on Instagram, Rochelle lets us know all the news about this collab: with a cool video, giving us a sneak peek into what the collection will entail.
Rochelle shares on her Instagram announcement: This is such a full circle moment for me and the tears won't stop flowing ? my love for fashion was fostered when my 19 year old self started working at a Lane Bryant store while in college! I never in my life would have imagined that I would be in the place that I'm in today, coming out with a collection at the same place I started.
The 10-piece collection full of the perfect spring themed dresses and a playful jumpsuit, is set to release for Spring 2019 and will be available in in store and online.
Are you excited? Does this sneak peek have you curious and geeked?
Better yet, are you ready for a little pattern play? Then for this collection, just think prints – there are stripes, animal print, florals, dots, you NAME it!
If you are a lover of prints, then this collection is sure to whet your fashion appetite.
In the meantime, make sure you keep your eyes peeled for more deets here and over at LaneBryant.com!
As more details drop, best believe that we will be sharing allll of the news with you!