BAACAL Founder and Designer Cynthia Vincent is launching BAACAL SHAPES, a brand new collection series featuring exclusive brand collaborations that will drop throughout the year. Launching Saturday, January 22, 2022, the series kicks off with model, influencer, and new mom, Maxey Greene.
If you arent familiar with the plus size high-end sustainable brand, they should definitely be on your radar! Sustainability, inclusivity, and ethical practices are the foundation of the BAACAL brand. In fact, 80% of BAACAL's limited-run collections are made in Los Angeles, using upcycled, vintage, and existing materials. The standard size range for the brand runs from 1-4 (10-22+), but with the new SHAPES collection, they will expand to a size 5 (26+).
Introducing BAACAL SHAPES + MAXEY GREENE
The BAACAL SHAPES + Maxey Greene collection features the "Maxey," the brand's signature wrap dress in three eye-catching prints – Wildflowers, Birds and Bees, and Vintage Paisley. 
For the first time, through the BAACAL SHAPES + Maxey Greene collaboration, the brand will also be offering customers a size 5. While the brand traditionally runs sizes 1-4 (10-24), it was imperative for Maxey to expand the size offering, allowing the collection to be available to plus size people from sizes 10-26, and founder and designer Cynthia Vincent couldn't agree more.
"We love everything Maxey stands for. Maxey consistently creates beautiful and relatable content that exudes inclusivity, warmth, and positivity. We couldn't think of anyone better to kick off SHAPES,"

-Cynthia Vincent
Vincent believes "collaboration is the way forward. With all that is going on in the world, collaboration is an incredible way to stay connected and be inspired by each other. "By being connected with our customers through social media and our platforms, we have been able to listen to what they have been asking for: creative expression, more diverse size range, and more accessible price points," says Vincent about the new SHAPES series. 
Ready For a First Look At the Collection?
Head to BAACAL.com Tomorrow January 22nd, To Shop BAACAL SHAPES + Maxey Greene!
Join Us In An Exclusive Conversation with Model Maxey Greene and BAACAL Designer Cynthia Vincent!
Want to learn more about this new collaboration directly from Maxey Greene and Designer Cynthia Vincent themselves?? Mark your calendars and be sure to tune in this upcoming Wednesday, January 26, 11:30 PST/2:30 EST for an exclusive Instagram live with The Curvy Fashionista's editor in chief Marie Denee for an intimate conversation with them both, and learn more about this epic collaboration!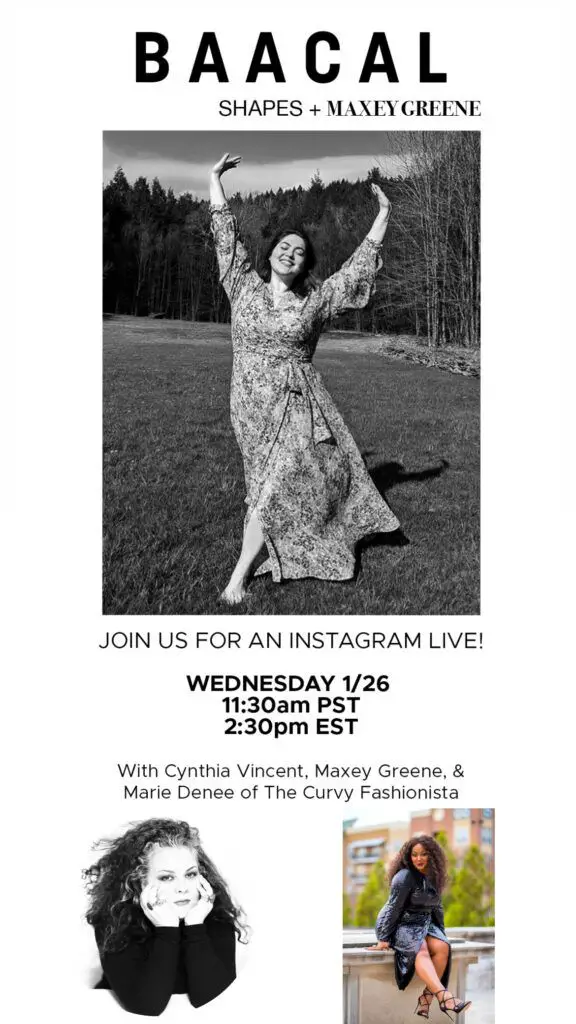 See you on the Instagram live!