Renee's take on the Playtex Makeover challenge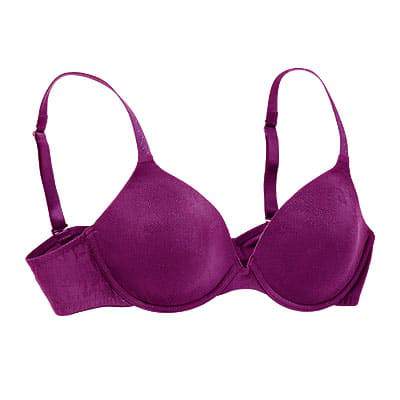 From the first time we slipped on a training bra as a little girl we knew we were entering a rite of passage into womanhood.  For some it took longer for their breasts to develop and if you were the chunky kid that I was you had no problems with development at all.  Let's face it, breasts are flattering.  The right amount of cleavage to accentuate a dress or blouse can turn an average outfit into something very sleek and sexy if tastefully done of course.  However, this can not be mastered by wearing a bra two sizes too small or entirely too big.
Wearing the right sized bra gives you total breast support which takes the strain off your back, neck and shoulders believe it or not.  If you are wearing the right bra there should be no abrasions on your skin or that dreadful underwire mark that feels like the pinch from hell.  As a fuller figured woman, it is even more important to get fitted for a bra and for us it can often become a strenuous task because the average store is not carrying our cup alphabet.  Additionally, the sales clerk may not be skilled in measuring you accurately as I have seen in some of the top plus-size stores.  She's eighteen years old and looking at me like, "I think this is how you measure it," as she takes a deep breath before trying to put the tape measure around my full frame.
One of the other things I have noticed is the selection of bras is also depressing.  Does every full figured chick have to wear black, brown and beige?  I like pinks, canary yellows, gold and green but if I am able to find those vibrant colors, chances are I am squeezing into a 44 D when I am really a 48 DD.  And like so many women, we think what we are feeling is normal because you may have been wearing the wrong size bra since your breasts inception.  It is only when you get a correct bra fitting from a tailor, knowledgeable sales clerk, bra-ologist (yes, I made that word up), or the good folks over at Playtex, that you experience what a real bra should feel like when your "girls" are happily seated in the First Class seat of bras!
I was fortunate enough to be the New York correspondent for The Curvy Fashionista at the Playtex Showroom in NYC last month, where I discovered that I had been wearing the wrong size bra.  So in my bold and rather daring video with all my fullness exposed, you will witness the difference between a good bra and a horribly wrong bra.  So I took one for the team and put all my business out there so that other plus size women like myself, can run NOT walk, to the nearest Playtex distributor or whoever you choose but with one goal in mind: Getting the Bra of Champions!
Renee Jennings on the Scene with Playtex

What do you think?
For more bra tips and bra makeovers visit, Playtex Bras.