Wait…do you see that on the horizon pumpkin spice latte, chunky sweaters, crisp autumn air, and cute booties? Maybe not yet but it's definitely time to start considering what your fall wardrobe is missing and craving, including fall accessories.
You know the saying, "You don't have to get ready if you stay ready." Accessories are always a great start because they enhance your style with little hassle and effort. Who doesn't love an effortless style?
15 Fall Accessories that Will Elevate Your Wardrobe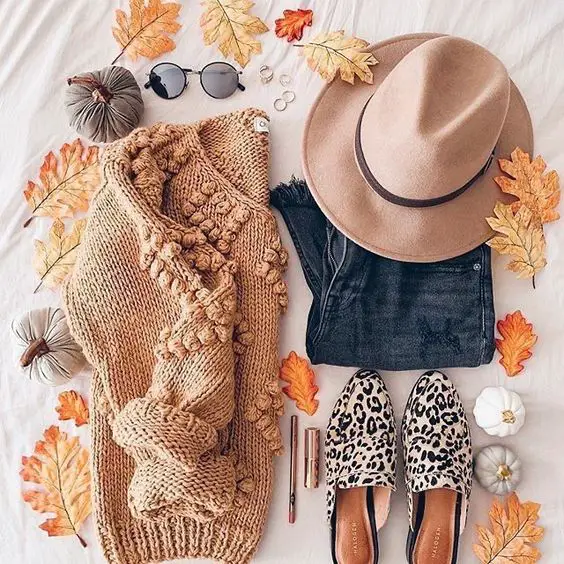 How does elevating your accessories look and how can you do without breaking the bank? Start with inspiration from your favorite influencers, Pinterest, celebrities, and magazines. This is always a great start to finding out what you want your style to resemble. Window shopping brings me so much inspiration, I can see what's in style while giving me new ideas and enhancing my own wardrobe.
how Does elevating your fall accessories look?
Staple accessories are items that every woman must have in their wardrobe. These accessories grow with your wardrobe throughout the years. It's important spend a little bit more money on staple pieces. You want them to have longevity. (Handbag, shoes, hats, sunglasses, scarves, belt, and earrings)
You may have a variations of black in your wardrobe but try adding a little color. Whether it's with your shoes or handbag. I promise you it will elevate your wardrobe.
Texture is fun and adds personality. Furs, pebble leather, houndstooth, quilted, and tweeds. They just don't scream fashionable with style and you aren't afraid to step out of your comfort zone.
Prints are extremely easy to insert in your wardrobe. A fun printed scarf with elevate your LBD. They are also a way of expressing your style. Who doesn't love a silent fashion killer? She doesn't have to say anything about her style but you can feel it and see it without words.
Let's do a little online shopping for fall accessories that will elevate your wardrobe and style. This list is perfect for the fashionista that as everything and the woman who is still wondering who she is style wise. You know we got you.

15 Fall elevating accessories
Fall Accessories that Will Elevate Your Wardrobe
Accessories are the toppings of your style. Who just wants a plan piece of cake with no frosting?
Photo Credit: www.coachoutlet.com
Signature Vintage Rose Print Oversized Square Scarf
Signature and vintage this scarf is simply perfection.
The Lulus Brimming with Confidence Brown Wool Fedora Hat will confidently complete any look! Soft wool shapes this essential fedora with a semi-structured wide-brim (with grosgrain trim) and a traditional tear-drop crown. Matching grosgrain ribbon band. Internal drawstrings allow for a perfect fit.
Photo Credit: www.asos.com
Mules have made a comeback and they are here to stay. They are the perfect addition to your wardrobe. These are available in wide width.
Photo Credit: www.zara.com
A quilted bag prefably in abright bejeweled color with bring your fall wardrobe to another level.
Photo Credit: www.target.com
I know some of us are tired of leopard print because it's literally everywhere in women's plus size fashion. This skinny belt will definitely change your mind. Just a little leopard print to pair with your skinny jeans or mustard dress.
A huge accessory trend are layered necklaces. Custome jewelry is perfect if you don't want to break the bank.
Every women needs a classic pair of sneakers for their wardrobe. A pair they can be worn to work, date night, hanging out with the girls, or just chilling. Stan Smith are perfect for dress up and down.
Photo Credit: www.missoma.com
Hoop earrings are a staple for your accessories. Have fun with different sizes and shapes. Wear them with EVERYTHING!
Photo Credit: www.fossil.com
Are you looking for the perfect work/travel bag? Look at this beautiful suede tote bag
The chunky platform heel and tailored tassel details bring extra style to this Franco Sarto contemporary lug-soled loafer and take menswear-inspired tailoring to chic new heights.
Photo Credit: us.princesspolly.com
This lux bucket hat will add that much needed style to your wardrobe effortlessly.
Photo Credit: Nordstrom.com
Keep your look timeless in a sleek leather bootie balanced by a square toe and tall block heel.
Photo Credit: www.diffeyewear.com
The change in the season means heaveir glasses, wider frames, and bejeweled colors.
Photo Credit: www.jayley.com
One of the biggest trends of 2021 fall/winter accessories are fur handbags. This is the definition of letting your accessories speak for you. Pair this bag with cream knitted dress, and a cute pair of booties.
Photo Credit: www.ulta.com
Your nail polish is where you can be expressive and show off your sense of style. It's an understated accessories. This Essie color is one of the top fall hues.
There are many different ways to elevate your accessories, one of my favorite ways are with my nail color and design. You can literally change them every 3 weeks and there is never any long term commitment.
Your accessories are also a moment to insert colorful hues and bold prints. When elevating your accessories step out of your comfort zone, try new things, and don't be afraid to standout. I know it's easier said than done but do yourself a favor and try it.

Let's chat: Have you done any fall shopping yet? What's on your list? Did you see anything worth adding to your closet? I can't wait to hear all about your fall list and which accessories are you craving?