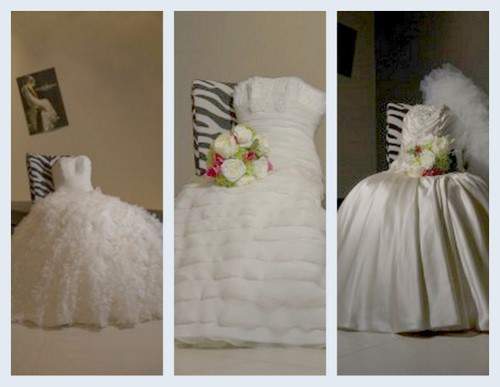 It Happens, you fall in love with the person of your dreams, rings are chosen, cake is tested, flowers are arranged- BUT before your big day, as a plus size woman, heck as a woman…
You look for the.perfect.dress.
However, where does one go? If you want a specialty, designer, or the dress experience- chances are that the sample is not in your size, the options are bland, or service is quite unfortunate- right? However, there are retailers, designers, and boutiques popping up across the country that are catering specifically to the Plus Size Bride. I promise!
Enter in CurvyGirls Bridal!
CurvyGirls Bridal is a full service bridal boutique nestled in Fairfax, Virginia that gives the plus size bride to be a place where she can fully experience bridal dress shopping where her size is not an issue! The gowns are not tucked away or hidden under garment bags, dressing rooms are nice and spacious, and the selection is carefully curated- bringing you the best in plus size bridal options in sizes 12-32, from couture to contemporary, with prices ranging from $600 to $8000!
Here are a few of their plus sized brides to be size 12 and up!
While CurvyGirls Bridal carries sizes 0-10, plus size bridal is their specialty! A 5200 sq. ft showroom ensures this! From traditional to ultra-trendy, demure or sexy, with hundreds of samples!!!!
"We've got exceptional styles for brides of all sizes to actually try on and zip.. All of our Bridal Gowns have been personally selected to fit and flatter your curves.  Whether you like the Spanish influence of La Sposa by Pronovias, the stylized silhouettes of Manuel Mota, the whimsical elegance of Allure, the timeless beauty of Pronovias, or the classic sophistication of Sophia Tolli…you'll find it here!"
There is so much information on this site, seriously! From plus size jewels to the tuxedos for the groom, down to suggested vendors, to testimonials, CurvyGirls Bridal is definitely a place to keep at the front of your mid should you be getting wed anytime soon!
Q. Are you a plus size bride to be? Where did you or are you getting your dress? Do you look forward to dress shopping?
I want to know!