Create fabulous fall looks with these plus size sustainable finds! The Fall season is amongst us, and I bet you wonder the most cost-friendly, fashionable, and sustainable way to transition into the Fall season looking and feeling my best. Am I right?
When it comes to transitioning from one season to the next, consider shopping directly from your closet, heading to your local thrift store, or shopping online vintage or thrift selections at your fingertips to help you feel ready to take on the Fall season.
3 Key Tips for Styling Fall Looks with These Plus Size Sustainable Finds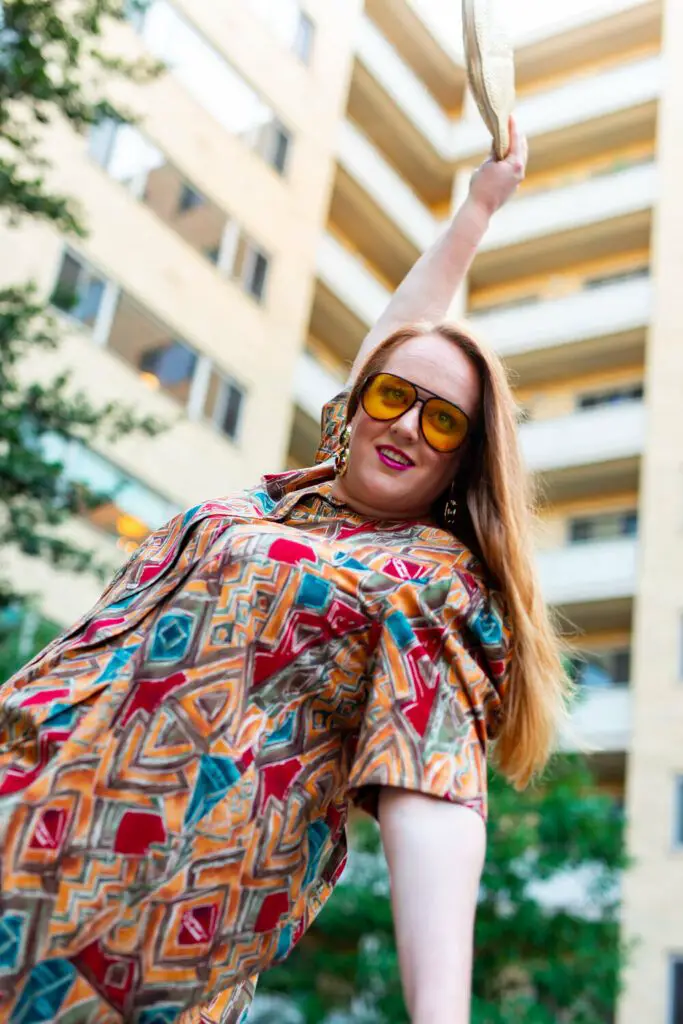 #1 Plus Size Sustainable Finds for Fall: Put A Spin on the Fall Season with Statement Button-Down Blouses
I do not know about you, but I live in Washington, D.C., where the temperature can be pretty mild one Fall day and crisp the next day. When it comes to transitioning the seasons from Summer to Fall, button-down blouses are chic statements for pairing with any selections and transitioning all year around. Of course, when you think of button-down blouses, you probably think about neutral blouses such as white. Still, as you transition into the Fall season, I'm here to challenge you to consider bold and colorful button-down blouses that make a statement on their own.
Consider statement colors such as fuchsia pink, lime green, baby blue, royal purple, and canary yellow. For reference, check out this Sunny Checkered Statement Blouse on More Than Your Average. Also, consider button-down blouses with a bold pattern such as leopard, polka dots, stripes, and other fun statement button-downs that are easy to pair and simple statements for the Fall.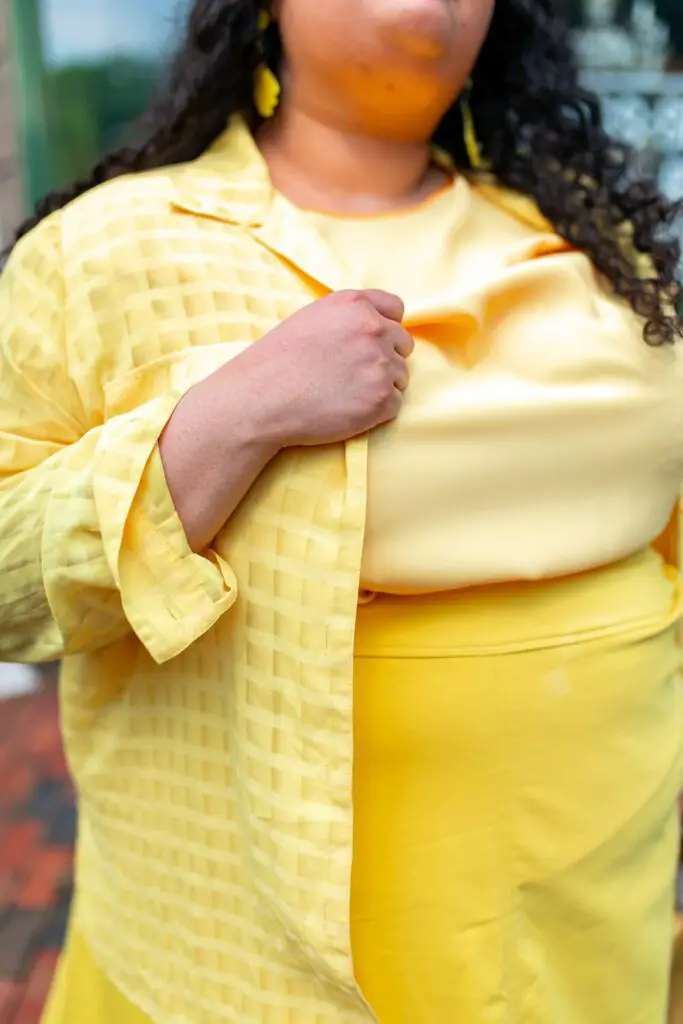 #2 Plus Size Sustainable Finds for Fall: Bring on the Statement Blazers that will Make a Bold Statement on the season
Whether dressed up or down throughout the season, blazers can quickly become your go-to statement, and I think it is safe to admit that we all have that favorite statement blazer that will remain a lifelong piece in our closets? When considering blazers, you already own or adding to your wardrobe, consider a handful of different options such as solids, patterns, or bedazzled. If you are leaning toward solid statement blazers, feel neutral (e.g., brown, blazer, navy blue) or colorful ones (e.g., canary yellow, cherry red, seafoam green, turquoise).
For patterned blazers, consider stripes, leopard print, or checkered. While this is just a shortlist of some of my recommendations regarding colors and patterns, do not be shy about shaking it up with your closets throughout the Fall when it comes to 'blazing the season!'. To shop plus-friendly statement blazers for the season, head over to More Than Your Average to check out this Bold Nautical Vibrant Blazer.
#3 Plus Size Sustainable Finds for Fall: Put Your Mark on the Season with A Combination of Patterned Dresses
So, we have talked about putting your mark on the season with statement blazers, but have we talked about doing the same with dresses? The number one rule I have always lived by is that dresses are fabulous for quickly transitioning from summer to fall. Do you want to know why? Dresses can be paired with a combination of different selections, such as button-down blouses styled underneath, such as a sleeveless dress, or a blazer paired as an additional layer with the dress.
Either way, dresses are effortless when it comes to making your mark on the Fall season and are highly sustainable for transitioning even beyond the Fall. If you're looking for an inspired look to transition into the Fall season, check out this Bold Retro Neutral Designed Puffy Sleeve Dress.
No matter if you are transitioning into the season with a statement blazer or button-down blouse, there are many sustainable selections to consider. Begin with pieces that may already be available in your closet and go from there when figuring out key styles you would like to showcase throughout the new season.
Comment below with your favorite tip(s), and feel free to drop a few more!