Are you a budding fashion blogger? Ever thought of starting your own venture into fashion or wanting to get to that next level? Ready to cut the chains of the 9-5 and don't know where to start to make your mark? Well, join me on Tuesday, November 5th for the Intel USA hosted #TechYourDream twitter chat hosted by ME!
It's time to dust off the business idea you've had hanging out in the back of your mind for years and find a way to make it happen!!! Myself, along with Intel USA are hosting a twitter chat to share tried-and-true advice for budding fashion bloggers and entrepreneurs. (You know I have my MBA right and teach marketing in college? I am a big nerd, yes.)
@IntelUSA #TechYourDream Twitter Chat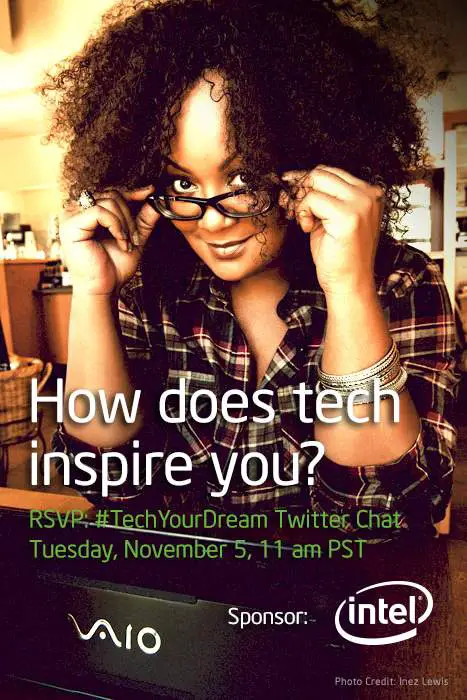 So, at 11am PST/2PM EST, hop onto twitter to talk business, fashion, and tech! Follow me on twitter at @mariedenee and Intel at @IntelUSA and use the hashtag, #TechYourDream to join the conversation! Tweet your questions with #TechYourDream and I'll pick my favorites to answer during the live chat.
But what is a twitter chat without prizes? Well, I have a fabulous one for you! If you're in the market for some new tech to power your venture, we'll be giving away an Ultrabook plus recommending a couple devices that are perfect for helping get a great business idea off the ground.
Do you remember the posts I have done about my love for my ultrabooks? You can see here and here!
To join the conversation and for a chance to win:
Users must tweet with #TechYourDream during the Twitter chat hosted by me, @MarieDenee on Tues., Nov. 5 from 11 am – Noon p.m. PST. The winner will be chosen by random via the @IntelUSA team and I will announce on Twitter! Once the winner is chosen, I will DM them for their deets!
Will you JOIN ME? I will see you Tuesday, on Twitter at 11 am PST/ 2 PM EST!!!
This is a sponsored chat and all opinions and excitement are my own.
PS. A special shout out to Inez Lewis who shot my photo here! More on this project soon!