We are back with another fun interview from our FB Live Series, Speaking of Curves! This series shows support and love to the various plus size businesses who need a bit more love, especially now. Today's latest guest is serving all the unapologetic boldness. Get into Sheeek by Bee!
This Dallas based designer is bringing the edge, boldness, and unapologetic vibes with her clothing line. Started in 2014, this designer has been making a few fun statements. From plus size swimwear (do you remember that feature?) to all the rich auntie feels, this designer is one to know.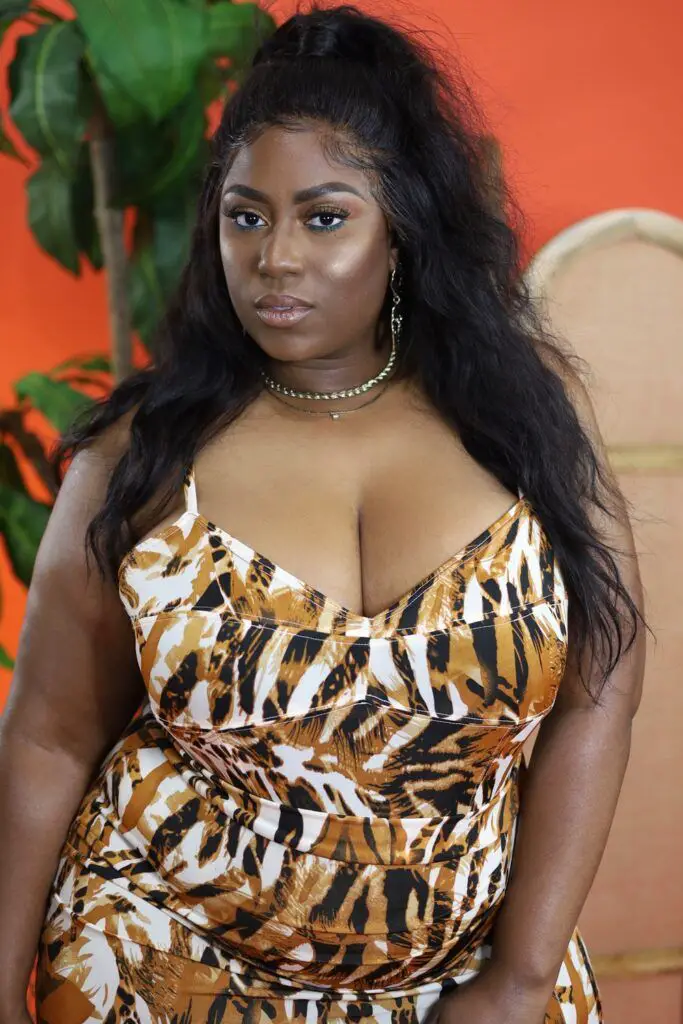 In this series, we've interviewed Madelyn Brene, Liris Crosse, Secondhand Curves, Gwen Devoe, Honey's Child Boutique, Chic & Curvy, Christian Omeshun, Haute & Co Bridal, and Z by Zevarra to name a few! Every Tuesday and Thursday, we invite various brands and plus size businesses to share their journeys and pivots and we share with YOU how you can support them…
And if you want a little flash and are not afraid to show a little leg, then you need to get into Sheeek by Bee!
Bold and Cheeky with Plus Size Brand, Sheeek by Bee
If you missed the live, no worries! Pull up a chair and get to know a little bit more about Brittany Calvin and her brand!
What did you think? Did you see a few things to play in and with? Could you see yourself in that sequins duster? The sheer maxi dress with the split?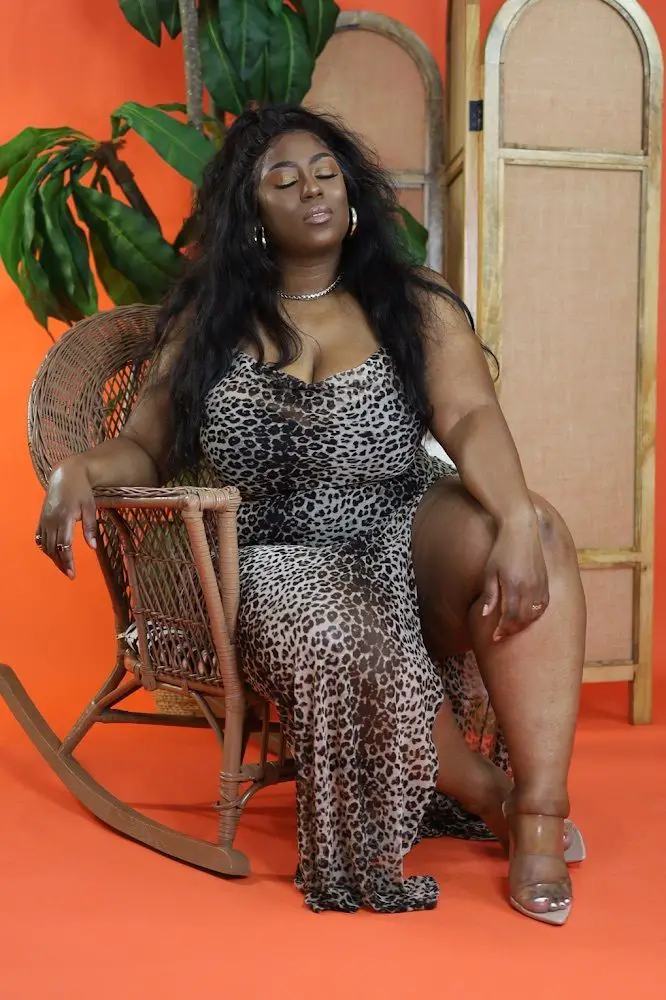 What we appreciate is how Brittany took it upon herself to solve her own style frustrations. From there, the 28 year-old, self-taught designer, gave us Sheeek by Bee.
And we are here to support her.
A bit more about Sheeek by Bee:
Plus size women were once told to hide our curves as it wasn't appeasing to the eye of society. We were always pushed to the back of stores in small sections filled with non-flattering clothing.

This is what fueled the beginning of Sheeek By Bee.

In September of 2014, Sheeek By Bee was created to consistently cultivate the fashion industry with trendy, fashion forward designs made for plus size women. Inspired by the true essence of a full figured body, garments are constructed to accentuate each curve with bold, UNAPOLOGETIC, chic designs hence the name "Sheeek" By Bee.
What do you think about this collection? Could you see yourself in a piece or two?
Take a peek at her full collection and shop SheeekbyBee.com!!
Make sure you also follow her at @SheekByBee on Instagram!!
If you are new to our series, Speaking of Curves is all about how we can support the various brands and influencers in the plus size space. Whether it is signing up to their email lists, shopping with them for all YOUR needs, we are introducing you to a few to know!
You can catch Speaking of Curves LIVE on our FB page, Tuesdays and Thursdays, at 12pm EST.
In the plus size fashion space, indie plus size designers are the backbone of our community. These plus size brands, influencers, designers, and businesses challenge status quo and push the envelope.
We will continue this series as there are quite a few plus size indie designers, businesses and brands that you can support and shop.
If you are an indie designer, store owner, influencer who would love to be featured, contact us!