2015 has brought a year of huge growth and exposure for the plus size fashion community. From Tess Holliday's modeling contract to Ashley Nell Tipton's Project Runway win, the mainstream fashion community finally started to shine a light on a community that's been thriving for years.
Personal style blogging has been one of the major ways that plus size fashion has continued to grow. Bloggers help to challenge style norms and inspire others to mix up their own style. And 2015 has brought us a whole new crop of breakout bloggers. Although I have a list of my personal favorite style bloggers that's a mile long, I wanted to take the time to ask some of the industry's style veterans who've been through more years in the game than myself who they thought really made an impact this year. These are the 10 breakout personal style bloggers of 2015 as selected by Marie, our Editor in Chic, and four major plus size fashion vets, Madeline Jones of Plus Model Magazine, Alissa Wilson of Stylish Curves, Essie Golden and Rivkie Baum of Slink Magazine.
15 Breakout Personal Plus Size Style Bloggers of 2015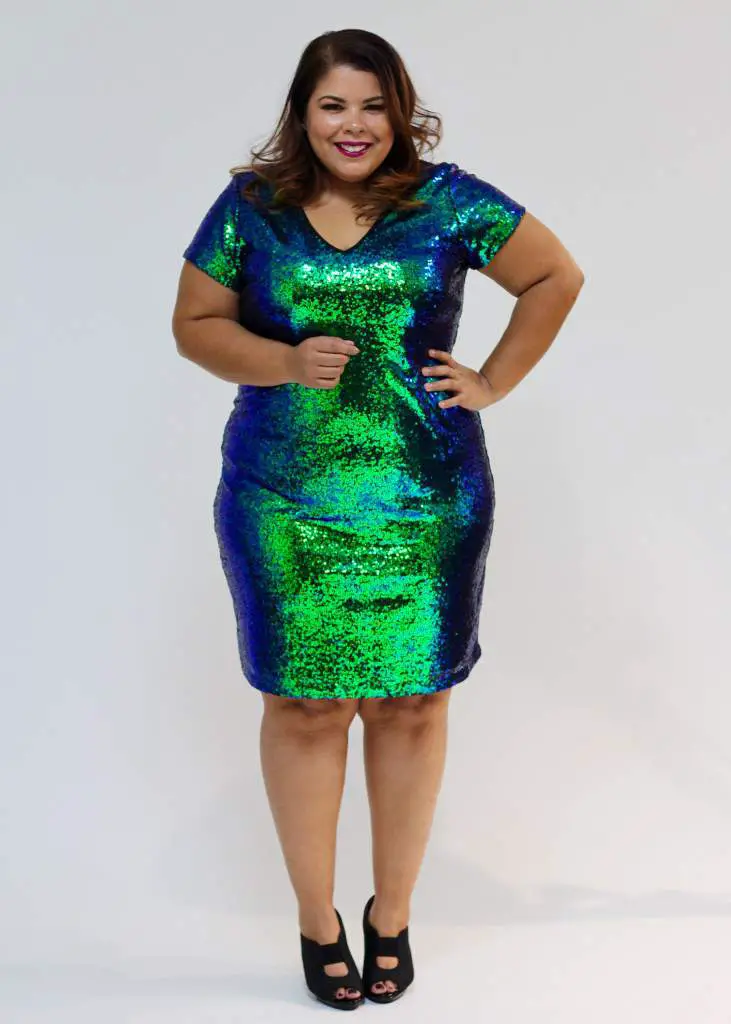 Suits, Heels & Curves is a fashion blog dedicated to the plus size corporate professional. Lopez has been killing it with stellar content all year-round and in December, she modeled for Modamix along with Sandra of La Pecosa Presiosa showing off their resort collection.
Plus Model Magazine Editor-in-Chief Madeline, Maddy selected Lopez saying, "I love her style because she is a petite plus size woman who makes current trends work for her. She is a career woman so it's interesting to see how she navigates work wear with the current trends."
How Kate Does Fashion is the UK-based personal style blog of Kate London James. You can count on her blog to have lingerie reviews, stellar OOTDs and a really well-placed meme to tell her story. Her style is alternative and a little goth in the best way possible.
SLiNK Magazine Editor Rivkie Baum picked James saying, "I just love the way Kate really gives a nod to trends but definitely has her own gothic twist to everything. Kate always looks really put together but it never comes across over thought it feels really natural."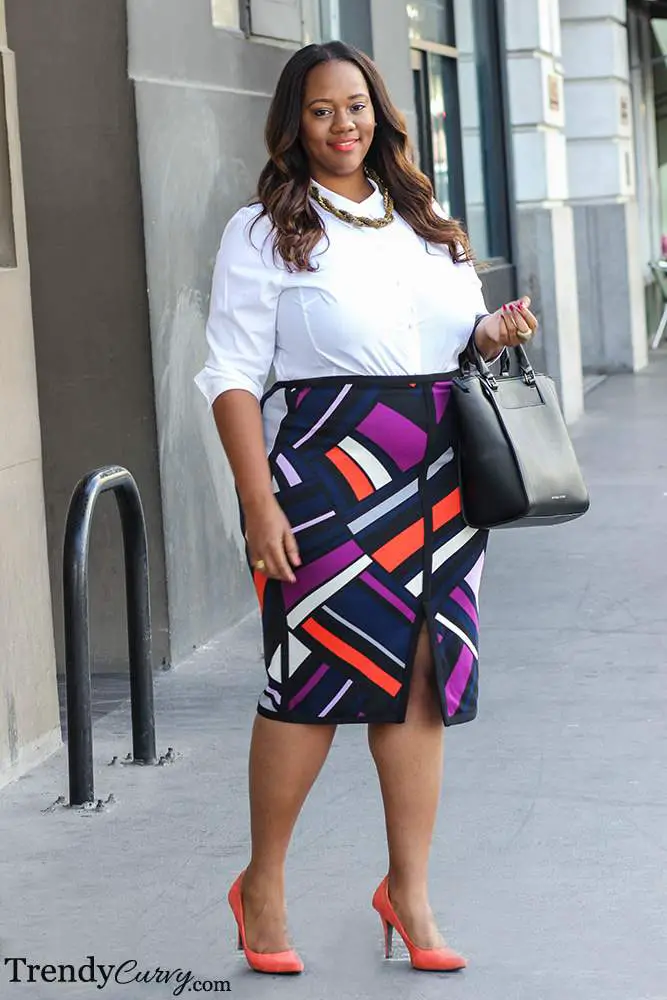 TrendyCurvy is one blog that I saw everywhere in 2015 so it came as no surprise to me when blogger vet Alissa Wilson of Stylish Curves named Kristine of TrendyCurvy as one of her breakout faves. Kristine is based in Southern California which makes for some gorgeous backdrops to her posts that show off everything from swimwear to eveningwear. She's been featured in Essence, Glamour, Vogue Italia, and People Style Watch.
Sawsan of Curvy Mood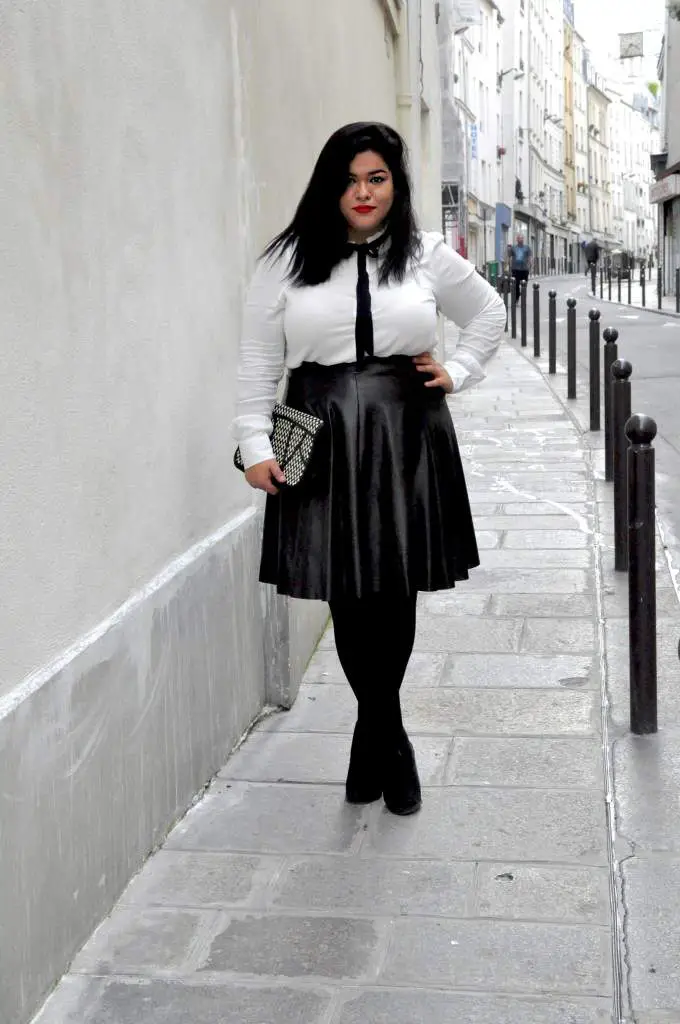 I actually wasn't familiar with Curvy Mood until Rivkie selected her and once I looked at her blog, I could totally see why she was a breakout star. This Parisian blogger does preppy plus size very well and mixes textures flawlessly.
"I love Curvy Mood super chic and and stylish, she rocks colour with ease and has a great selection of pencil skirts! Definitely a little bit of Parisian magic in the plus style world," said Rivkie.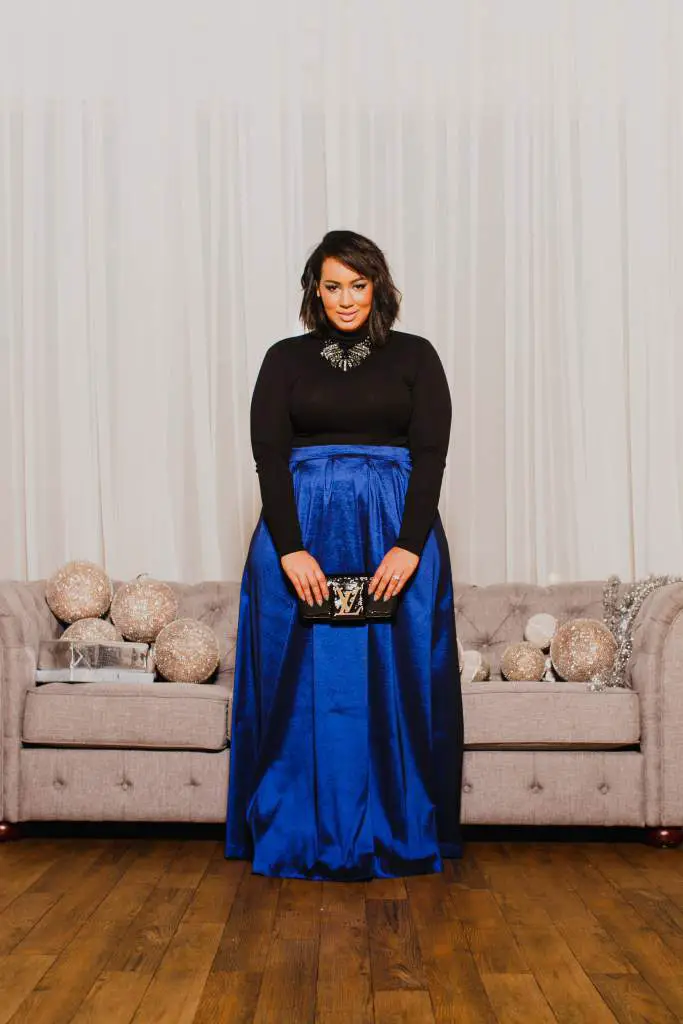 Beauticurve was totally one of TCF's Breakout Plus Size Style Bloggers of 2014 but when Alissa selected Johnson for this year's list again it made total sense to me! Beauticurve has had another great year of growth and contributions to the plus size community. Wilson selected her for her versatility and one look through Beauticurve shows you a glimpse at the glamour that readers have come to expect from Johnson.
O'Reilly is a plus size international model and her blog showcases her own love of fashion brilliantly. Her blog been awarded 'Best International Fashion Blog' by Cosmopolitan UK 2013 AND 2014 but Rivkie called 2015 a year of recognition for her.
"Louise isn't new but has definitely had a breakthrough style year as I feel she has really been recognised by the industry this year. I basically want to copy all of Louise's looks pretty much always. She is a total fashionista and is great for showing this season's trends but on a curvier figure," said Baum.
Dipo has been blogging since 2009 under a few different name changes before sticking with Road to Fashionable. She has a clear knack for putting together looks and the fact that she's also a freelance makeup artist and does her own hair just shows her full depth as a blogger. Blogger and plus size model veteran Essie Golden picked Dipo's blog as her fave breakout blog with no hesitation.
"Her style is so chic and fun. She's really stepped into her own this year. She's fun, edgy and chic. I love it," said Essie.
Lovely in LA is a destination blog for all things contemporary plus size fashion. Rachel shows off her wide range of personal style along with her travel adventures. She's been blogging since 2012, but has seen a number of big name features in 2015 including Redbook.
"Her style is classy and elegant. She can make a pair of $20 jeans look like a million bucks! There is something so unique about how she translates style to fit her personal aesthetic," said Maddy.
When Alissa picked Fab Four Fashion as one of her selections, I was wowed to see that this was a collaborative personal style blog consisting of four different Toronto-based women with four distinct body types: slim, tall, curvy and plus size all sharing their style inspirations. Wilson selected this blog because it shows everyday girls how to get dressed. I love how one blog could weave together four individual styles so seamlessly. It's definitely a blog to keep your eye out for in 2016.
Becky Barnes of MrsBeBe Blog
Becky Barnes is a 30-something UK-based personal style blogger who has an edgy sense of personal style. She's far more likely to be caught in jeans, a jumpsuit or a leather jacket than a bodycon dress and I definitely love her for that. Rivkie noted her androgynous style as one of the reasons she selected her.
"I know Becky isn't new new but I still love how she does it for all the non girly plus size women. Becky completely slays the androgynous look – something I just can't pull off but there is no woman I know who rocks a duster coat and a boyfriend jean in quite the same way. I think often plus size women are pushed into the whole hour glass and skater skirt look – which I love – but totally appreciate that it isn't for everyone, so for me Becky still shows that the best," said Baum.
11. Mo Handahu of Miss Lion Hunter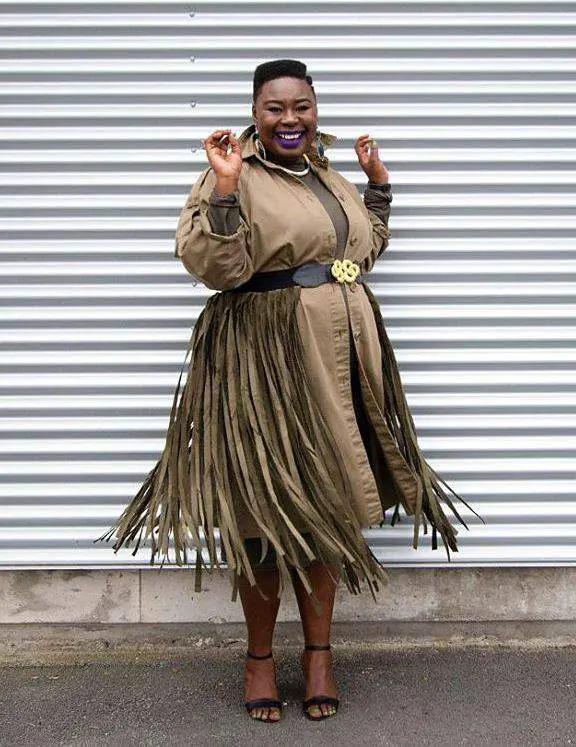 Lion Hunter is a Canadian based fashion, style, and all around style inspiration and destination for all things plus size fashion. In addition to curating her blog, Mo creates custom skirts and bags, she is a Digital Influencer for AIRMILES Canada, contributes content to Huffington Post Canada Style and The W Dish and she is the Style Panel for FASHION Magazine!
"I love how she marries her culture with modern styling! She has so much edge and polish. I love the way she mixes and matches prints!," Marie shares.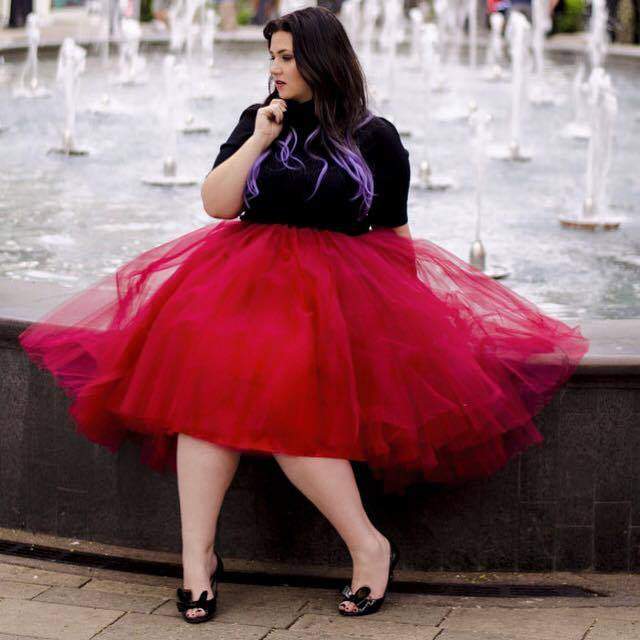 Sometimes Glam is one of those bloggers who feminin style and love of life is always expressed in her photos and style. Always giving you a bit of glam, Crystal is one of those whose signature style is always stirring up a bit of inspiration. You can always count on this self proclaimed "Phoenix-based, jet-setting plus size fashionista, blogger, photographer, model, entrepreneur, tea-obsessed lady to serve you fashion for moments that call for a little GLAM!
"Her style is always sweet and playful and whimsical. I am always smiling with her style choices and consistency in style!" says Marie.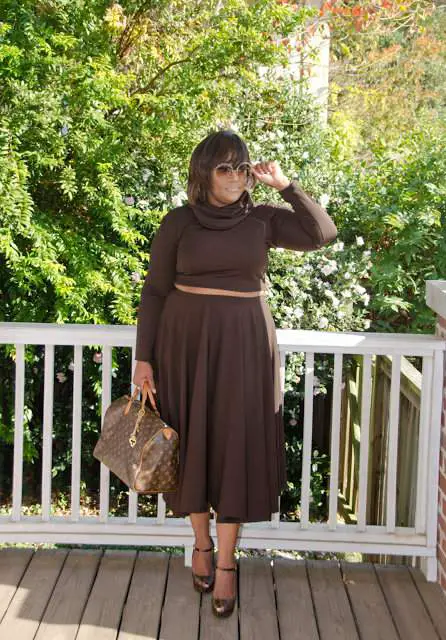 Nikki Free Style is a not new to the style game but is definitely newer to blogging, with her blog being just under a year old, her style has quickly been recognized across the internet, landing her on the cover of Redbook!
Marie says that "I chose Nikki Free because she always rocks an edge, polish, and moxie that inspires me to step out of my box. Add to the fact that she is awesome and sweet only makes her overall style and essence so inspiring!"
14. Cynthia Ramsay Noel of Flight of the Fat Girl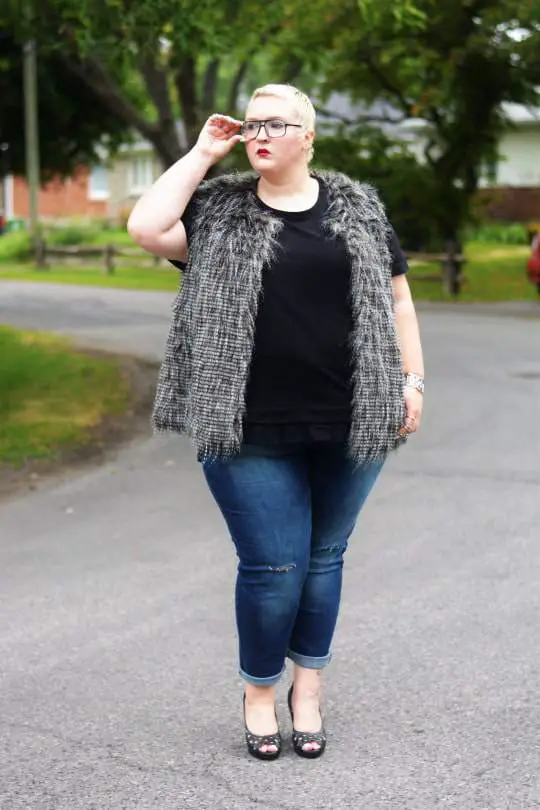 Flight of the Fat Girl is a Canadian based plus size blog that stays giving style inspiration and is leading the fashion charge up north. Her steady flow of plus size style and fashion has landed her partnerships with Penningtons, StyleZoo, and a variety of other brands!
"Rocker. Unapologetic. Bold. Fearless. Playful. Fun. All of these can be used to describe this badass blogger who is always pushing the envelope with her style and takes us along the way with her!" Marie shares about Nikki.
15. Jeniese Hosey from The Jenesaisquoi
The Jenesaisquoi is no stranger to the blogging world, Jeniese lands on our list as her style this week has impressively been consistent in her slayage. This Alabama based blogger's style has landed her a feature on the cover of Redbook Magazine.
On her style, Marie shares,"Jeniese always has a sharp polish about her that is tailored but playful. She thinks outside the box and has curated her signature style something to check for!"
And these are our picks for the Breakout Personal Style Bloggers of 2015! Did your fave make the cut? who did we miss? Let us know!
Here's to even more style in the new year!