Strapless bras are the most precarious bra style out here, and for good reason. Us plus size folks need SUPPORT! We need structure and stability so we can be cute in our racerback tanks and our off-shoulder dresses!
A good, supportive multiway bra is PARAMOUNT for the cause, and an entire outfit can be scrapped because of it.
But fear not, your friendly neighborhood bra fitter is ON THE CASE, and we've got several strapless bras for your outfit needs!
Elomi Smoothing Strapless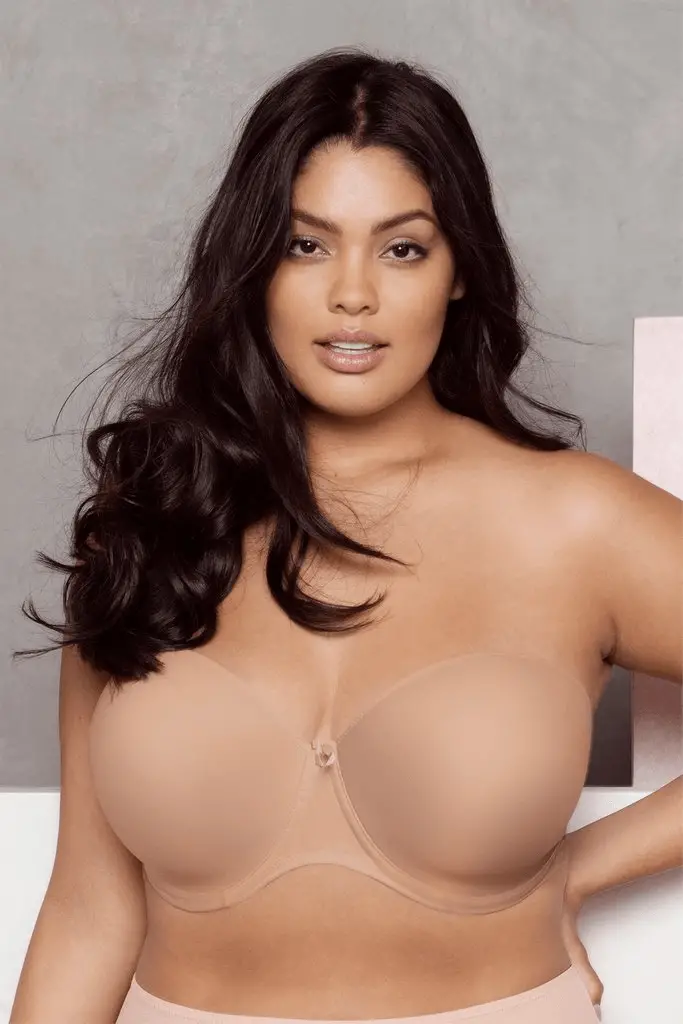 Elomi comes through with the Smoothing Strapless style, in Black and Sahara, ranging from 32-44 DD-J UK cup sizes. The style has 4 hooks in the back, giving a strong hold and a smooth silhouette for your multiway needs.
Goddess Adelaide Strapless
The Goddess Adelaide comes in Black and Sand, giving a very feminine styling with a matte finish on the bottom cup portion and lace detailing at the top.
Sizes range from 32-46 DD-HH in UK sizing.
Panache Sculptress Dana
Dana comes from Panache's Sculptresse collection, which gives gorgeous new styles for plus size bodies. With a 4 part cup and smoothing double layer band, this bra gives great support with removable straps for multiway needs.
Sizes range from 34-46 D-J UK cup sizes.
Curvy Couture Smooth Strapless
Curvy Couture offers its fan favorite Smooth Strapless in a darker skin color for women wanting a darker nude option. With 7 different ways to wear this style, the Smooth Strapless is a good addition to any wardrobe.
Sizes range from 34-44 C-H (FF UK sizing).
Elila Smooth Longline Strapless
Elila comes through with 4 different strapless options in plus sizing, three of which are long line styles for a firm controlled hold under more elegant gown options.
The smooth longline strapless style comes in a darker nude option for brown skin and ranges 34-46 B-I /UK G cup sizes.
Ashley Stewart Butterfly Convertible Bra in Black
From Ashley Stewart comes the Butterfly convertible multiway, designed with not one, but TWO bands in the back for the ultimate support!
The bra can be worn five different ways: traditional, strapless, halter, crossback and one strap for all of your outfit needs. Size range 38-46 D-H US size (up to a FF in UK sizing)
---
When it comes to a great plus size bra, where are you scoring yours? Did you know that these options existed, to hold up your full figured frame?
Which plus size strapless bra speaks to you?
Let us know in the comments?