I need some help. First, I want to thank you for all your posts, they show me that it's ok to have a fashion sense as a plus size girl! I'm looking for some great outfits for my engagement photo shoot! My wardrobe right now consists of SPCA logo shirts and jean shorts. I'd like to look nice since my honey hasn't really seen me in very great clothes!

I'm looking for dresses, jeans, some fun prints. I'm a college girl budget though which makes it tricky. My issue is jeans, I always buy some from low budget places and they rip in the middle. I have huge thighs!

My limit is $350 and I'm pretty flexible on styles. Also, a good bra would work. I appreciate your help though; this will totally get me started!

Laquilla P.
Thank you so much Laquilla for your post and inspiration! I totally understand what you mean about building a wardrobe and the budget to allow for you to do so! To answer your question, I am going to approach this in three steps! With a little patience and careful planning and execution, you can definitely score a great core wardrobe under $350! Before you begin, make sure you book mark this ROUNDUP of Plus Size Shopping Tips!
First, I want to let you know WHAT core items you should have in your closet! Secondly, I am going to share with you a few places that will get you started and lastly a few deal and steal tips!
The Plus Size Fashion Wardrobe Essentials:
Now the core pieces are not to be confused with the uber trendy items you will be drawn to or "it" items for each season. These are items that will last season after season!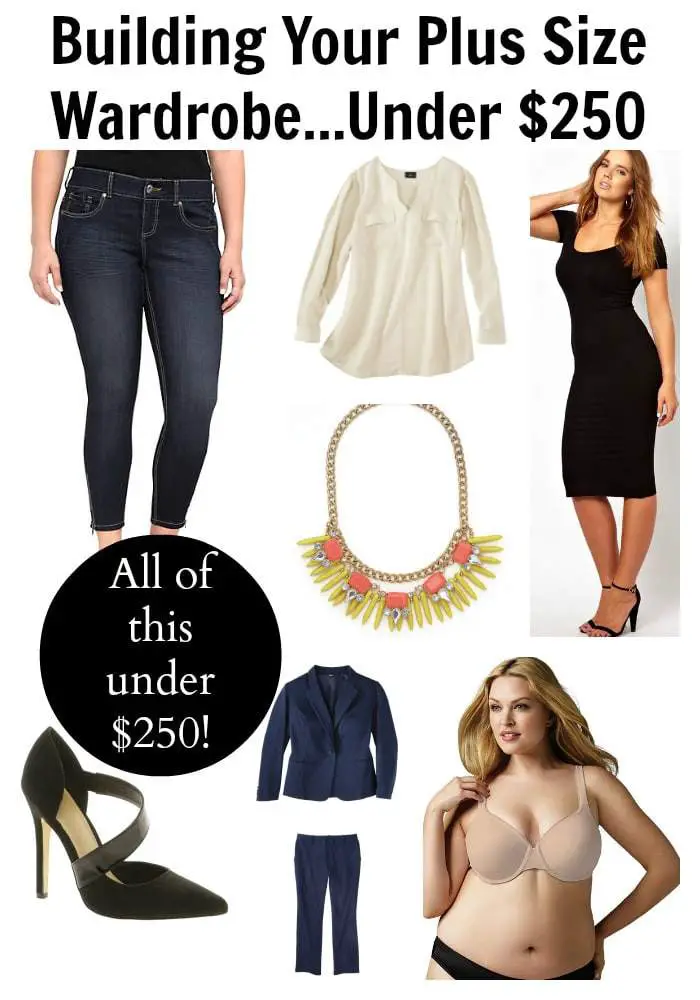 A Dark Pair of Skinny or Boot Cut jeans-these here from Torrid, the Stiletto Jeans for

$48.50

on Sale
A Little Black Dress (LBD)- this dress here from ASOS Curve for

$25.31

A Great Bra- This Curvation Bra for

$15.99

A Chic Tailored Blazer/Suit (preferably a pants suit)- Score yours at Target in Navy, or Black. Blazer

$34.99

and pants

$29.99

A Great White Blouse from Target for

$24.99

Statement Piece of Jewelry from BaubleBar for

$30

Classic Pumps from New Look for

$30.36
Grand Total: $240.13
When you have a bit more to splurge on:
A great trench or a classic outerwear piece!
Playful Skirts and blouses!
Boots! Right to the knee and sleek!
Where to Shop for these Essentials:
There are quite a few places where you can snag a few pieces that will last you longer than one season, especially if you take great care of them. I am sharing with you a few places I have gone that have been a haven for me! Check here for my top ten shopping haunts!
A Few Deal and Steal Tips:
It is easy to get overwhlemed when shopping sales. So before you get carried away, check out this post on What I consider BEFORE I make a Purchase!
Coupons and Sales
Asides from plus size fashion blogs like mine, there is also RetailMeNot.com that offers you coupon deals. Subscribing to your favorite sites also allows the deals to be shared with you immediately!
Shop Off Season
Some of the greatest deals are to be had off season, like buying swim in winter or boots in Summer. Look for the deals in January and in August as this will be the time for clearance sales and the turnover of seasonal items
Sample Sale Shopping Sites
I live by these sites and they get my money religiously. Usually on trend and on season, many brands and retailers have too much stock of an item or trend, their loss, your gain!
My faves:
Outlet Stores and Malls
One could get lost in Ontario Mills and various other outlet stores. Nordstrom Rack, Off Saks, and Last Call Nieman Marcus are a few department store outlet shops where markdowns and season's trends go to live… Some of these you can even shop online for!
Don't forget your Target, Walmart, JC Penny, and KMarts! They always have quite a few jewels both online and in-store!
I hope this helps you out and gives you an idea of where to start! Make sure you also check out the list of plus size designers!
Did this help YOU the reader as well? Where or what do you do to score a deal? Leave a comment and let us know!
Do you have a Style Question? Please do not hesitate to contact me!
Who knows, your question can be featured here!