Hello to all my curvy ladies! Let's start the month right with great plus size fashion news, shall we? Are you looking for new plus size lingerie that breaks out of your comfort zone and makes you feel edgy and seductive?
Well, this time we are getting a little sexy and hot hot hot! All the way from Germany, today we are introducing plus size brand Pique Lingerie, an exotic brand that provides you with unique pieces of sensual and desirable lingerie.
50 Shades Inspired Plus Size Full-Bust Lingerie Label Pique Lingerie
Pique Lingerie offers lingerie in cups E – J, creating their products with inspiration from Berlin's pleasure seeking and sensual underground, giving plus size ladies the chance to feel provocative and sensual.
Their featured product is the Sybari, inspired by Japanese Kinkabu, which means "tight binding", a type of bondage that involves tying a person up using elaborate patterns with thin ropes.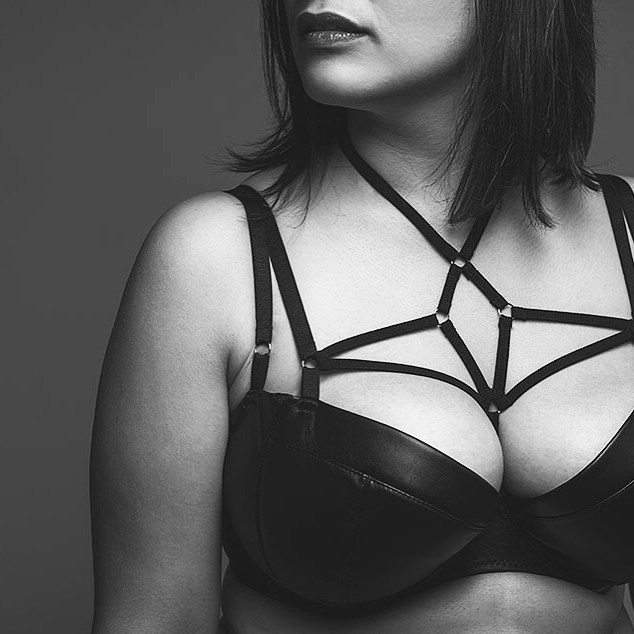 Whether or not you're feeling in command, or choose to cede control, the Sybari unashamedly touches gently your cleavage, setting the stage for whatever you decide comes next.
Some of the main features of the bras includes u-shaped underwire to provide lift, extra low gore for more cleavage, deeps cups and stabilizing lining for more support.
My preferred aspect would be the double straps, give the bra a sophisticated and sexy look!
Our philosophy centers on rousing hidden urges and embracing passion without compromise. It is about the strength to take what you want without apologizing and the confidence that you can have it all.

Our muse is a powerful and deeply sensual woman. Her lips smolder and her gaze disarms. She is intimidating yet magnetic, assertive and defiant.
Because we also deserve to feel sexy and powerful, Pique Lingerie gives us the liberty to be provocative and seductive, to step out of our comfort zone and enjoy essence of pleasure.
And what could be better than this?
To make this project come true, we need your help and support to launch Pique Lingerie and you can help in many ways!
Donate to their Kickstarter campaign, or support them by sharing this on your social media pages, because I'm sure all the curvy ladies would want to have their share of these products!
Tell me what do you think? If you're all about getting très sensuelle, Pique Lingerie is the right place to get new lingerie pieces!
They've got you covered! Now I want to hear your thoughts, let me know all in the comments section! And…
Photography by: Maria Vaorin
Featured Image Model: Sandra G.