Last week, we had so much fun meeting up with Mona of The Smiling Sweetheart. This week, we head to New Zealand, where they're in the winter season, to introduce you to Meagan of This is Meagan Kerr! If you are looking for a plus size fashion blogger for style inspiration, who is over a size 3x, Meagan is it! She represents for the size 24+ bloggers and shares her love of style, beauty, and living a full life. She is a plus size blogger YOU NEED TO KNOW!!!
Meet Meagan of This is Meagan Kerr!
Blog: www.thisismeagankerr.com
Age: 32
Height: 5'6″
Location: Auckland, New Zealand

How long have you been blogging?
Since August 2012 (almost 5 years)

What or who inspired you to become a fashion blogger? What led you to it?
All of the plus size fashion bloggers I followed were based in the US and UK, and I couldn't find anyone in New Zealand talking about what was available here. Inspired by people like Nataliemeansnice, Tess Munster (Holliday), Shawna from Chubby Cartwheels and The Curvy Fashionista to name a few, I decided to step up to the challenge and start writing my own blog.
I want my readers to feel like they can be stylish no matter what their budget, and I don't want them to have to settle for the kind of clothes I wore for so many years because I couldn't afford to spend lots of money (you know, the unflattering, unimaginative, lazily designed clothes from certain department stores that someone decided that fat people should shroud themselves in?).
I think that fashion should be accessible to everyone, and I think that it's important to be able to see clothes on people whose body shape that you can relate to.

Do you blog full-time, for fun, as a hobby? Share your evolution!
My blog started as a hobby while I was doing my arts degree, and when I graduated I started working towards making it my full time gig. I've now been blogging full time for just over two years!

What is your favorite asset? Your legs, arms, waist? How do you play that up?
My favorite asset is my brain. That might sound like a strange answer when you're expecting me to name part of my body, but it's true, and it has a big effect on how I dress. When I get dressed I'm expressing my mood, my personality, my confidence, my creativity, a reaction to an event …
Sometimes I wear clothes that hug my curves; sometimes I like loose, comfortable, oversized clothes. There are times I want to show off certain parts of my body and others I want to cover them up.

What are the challenges, if any, you face regarding being plus size?
I think that one of the biggest challenges is finding clothes in my size that match my style. In recent years there have been more and more companies offering plus sizes, but much of what's on offer is similar to other plus size ranges … and totally different to the fashion forward options we see in straight sizes.
Combined with many plus brands stopping at a size 24, and being located in a small country at the bottom of the world, options are somewhat limited.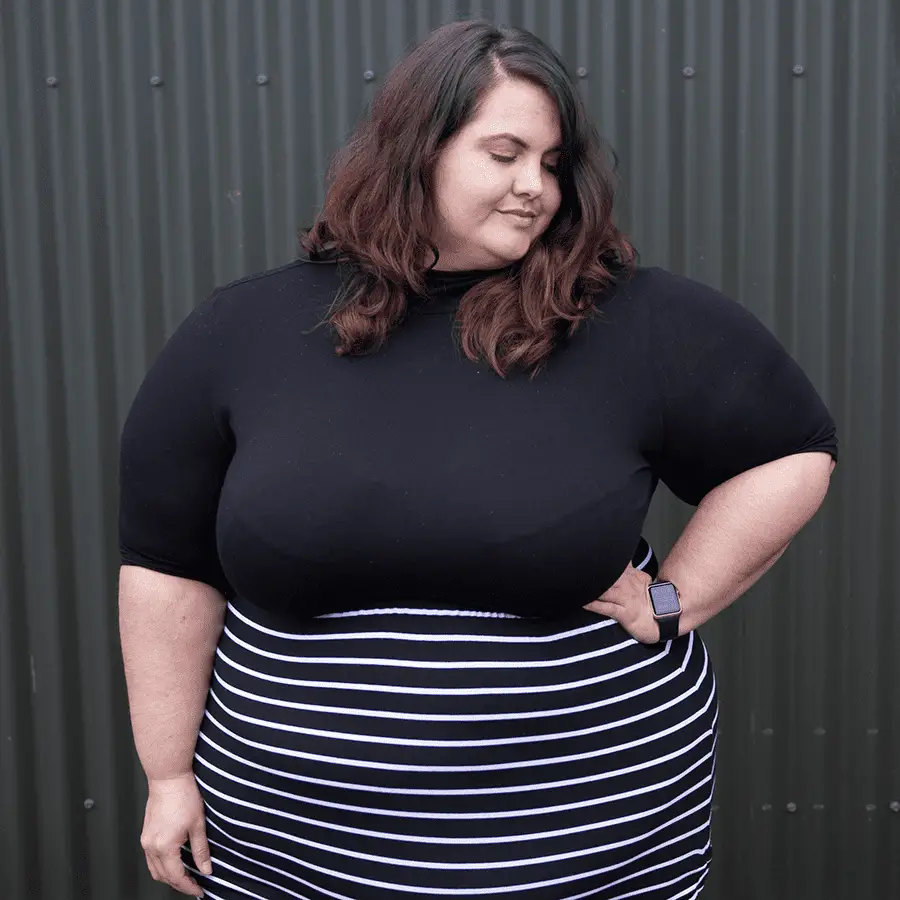 What's your favorite thing about being plus size?
I love my curves and the softness of my body. My body has been many different sizes, both bigger and smaller, but it's only in recent years that I've found an appreciation for my plus size body and developed the confidence to embrace my curves.
What's your favorite thing about being a blogger?
Hearing from my readers how something I've written or shared has given them confidence to wear something, or to think about their bodies differently is definitely a highlight for me. Sometimes it's a mum who has worn a swimsuit and gone swimming with her kids for the first time; sometimes it's someone learning to treat themselves with kindness.

Who/what are your favorite designers/brands?
I love 17 Sundays for casual and street fashion. I've watched them grow and evolve over the years and their clothes are my go to for comfortable everyday outfits. New Zealand label Lost and Led Astray makes some gorgeous clothes that move and flow; I like how they focus on silhouette, cut and texture and they really appeal to my witch aesthetic.
Some of my other favorite brands include Rainbeau Curves for activewear, Society+ and Torrid.

Describe your personal style.
My personal style is constantly changing and evolving and is a reflection of how I'm feeling. Black, stripes and grey all feature often. Sometimes, I wear figure-hugging body-con and sometimes I'm all about the loose and flowy. I'm a creature of comfort, and while people think I'm glam all the time, the reality is that I wear activewear a lot of the time because it's comfy and it's practical.

Which bloggers inspire you? Plus or straight size! Any bloggers currently on your radar?
There are so many bloggers who have amazing style, but there are two that really inform my personal style. Canadian blogger Margot Meanie, wears a lot of black and really knows how to mix textures and fabrics.
Natalie from Natalie Means Nice is another style inspiration for me, she was one of the first people in my life who was unapologetic about her fat body, and the way she breaks so many of the so-called "fat girl rules" when it comes to dressing inspires me to take more risks with what I wear.

What do you think about where plus size fashion is today versus a few years back?
Plus size fashion has definitely changed over the years. There are a lot more places to shop online than there were even a few years ago. I'd love to see more brick and mortar stores, more brands carrying full size ranges, and more plus size clothing in fashion forward options.
When I go to a department store, for example, and see gorgeous on-trend pieces in straight sizes, I want to see them in plus as well!

What do you think or hear from readers, is one of the biggest myths about plus size fashion?
That you have to look a certain way to wear certain things. There are so-called fashion rules that we are taught that we should adhere to, but it's completely made up. You can wear what you want, when you want. I think a lot of people are surprised that my wardrobe includes lots of stripes and bodycon, because they're two (of the many) things that fat girls are told not to wear.
Are you working on anything or have anything to share? Anything else you want The Curvy Fashionista's readers to know?
I have a YouTube channel where I share lookbooks, clothing hauls and other style, self love and lifestyle adventures. I'd love for you to come join me over there! You can also find me on Instagram where I share my daily style journey.

Lastly, what does Curvy.Confident.Chic mean to you?
Curvy.Confident.Chic means rocking the body you're in regardless of size. It means being brave enough to show the world who you are through your style, being your fabulous self, unapologetically.
Do you dig This is Meagan Kerr's style? Which look is your fave? Let's talk about it below!! Do you enjoy these plus size blogger spotlights? We do!
Want to be featured?
Make sure you fill out your deets here,
so that we can feature you!
Looking for more plus size blogger style inspiration?
Make sure you check out all of the other plus size blogger spotlights!