This woman is dear to me, such an inspiration! Catherine Schuller is one of the plus size industry's pioneers to know. Former Ford model, consumer advocate, promoter, marketer, editor (remember Mode? She was the Retail Fashion Editor here), image consultant (Certified by AICI), author, and entrepreneur (owner of Catherine Schuller Enterprises, (Emerging Visions Enterprises and CurveStyle: Reshaping Fashion) as a Plus Size spokesperson, consultant, and liaison), there isn't a stone that Catherine has not turned over.
I recently had the chance to chat with Catherine and catch up about her recovery, her past escapades, and what she is doing now. If you are trying to get into the plus size industry, this woman is one to know and be awre of…
SO without further ado, Catherine Schuller….
Thank you so kindly for taking the time to chat with me! How are you doing?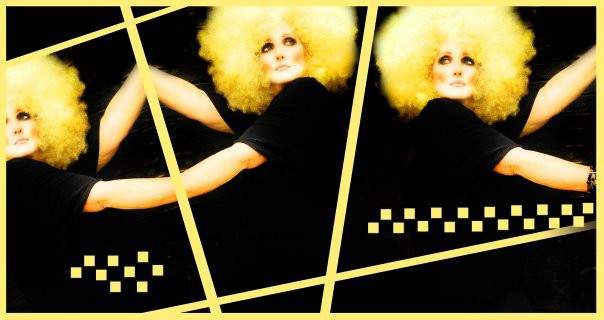 I am fine…now! Phew…. November and December were both challenging for me. Some of your fans may not know me or know that I had a stroke in November. I was on my way to produce my Divabetic charity event that day….I am the Image and Style Director for Divabetic and it was November 14th – World Diabetes Awareness Day when I was literally struck down suddenly and unexpectedly.
In a nutshell, it was life altering and it completely blindsided me. I was left immobile on my right side but only for a few weeks (long enough!) and I had an extended month long stay in the hospital recuperating and had to learn to use my right side again. The reason it happened was congenital…seems I was a ticking time bomb waiting to go off. I had a hole in my heart, a flap that didnt close at birth and a clotting gene factor which all functioned to do me in on that fateful day. Between the hole, the flap and the clot…geez, it was like I won the clottery!!! But, hey, its not what happens to you, its your attitude towards it. I cut my losses and got myself to the emergency room that morning a.s.a.p.
I have now made it my lifes work to give back to the cause of womens heart issues. Little did I realize I would become a statistic. I am working now with the American Heart Association and the Go Red organization and have added that to my diabetes outreach work. I think you should choose charities that touch you personally, so these will be my missions from now on. Building awareness is important.
Women are 30% more likely to not pay attention to their symptoms could this be a function of them not appreciating their own worth or putting themselves second or, thinking that symptoms will pass, that they arent important. I say, Denial's Not My Style!
Oh my! What a strength you pull from! When it comes to plus size fashion, there isnt a stone that goes unturned with you! When did you make your entre into plus size fashion?
I was performing in New York in the early 80s as an actress…to various degrees of success. When the role was right for a big brassy Judy Holliday-type with a heart of gold, I was cast. However, the ingenues were never me. Seems I was too large for the love interest! So, I developed my comedic talents. If I was a sight gag, a larger than life representative of the bombshell, then so be it. It was lucrative and also made me realize the riches and niches philosophy. I realized that my body destiny as an actor would be something I had to contend with.
The demon camera that puts on 25 pounds was my nemesis, so I decided to go do some theatre. I did off Broadway and met three guys, who all decided after our show closed one night, that it would be a great idea to write and form our own comedy group. It was one of the best moves ever. It gave us a regular gig, a creative outlet, and a way to invite agents and casting directors down to see you perform.
I wound up costuming the act and when I went to the local vintage store to find some costumes, I saw these racks and racks of business suits and the idea for The Nerve! basic look was born. It was the dawn of the YUPPIE era, and corporate America was becoming the all-pervasive behemoth it would grow into, as we know it. Those early stirrings made me realize that the individual was drowning in a sea of corporate bureaucracy and I wanted to make a statement that having the nerve to be yourself was something of value and a message underlying the comedy we would do. It really struck a chord as we had a good six year run.
I learned a tremendous amount of writing, producing, creating, directing, and promoting a comedy act in the 80s in the cabaret circuit in NYC in those days. We had wonderful followings and toured colleges as well. I was hired to write industrials and even was courted by Saturday Night Live. They were looking to groom a female comedy writer and thought our group was brilliant Everyone came down to check us out and I distinctly remember a model scout coming back stage and saying I should go see Pat Swift at Plus Models.
Plus and modeling were two words I had never heard together in one descriptive term. I said, "You should write for my act!" However, I checked it out and it turned out I was perfect for the division at Plus Models. By that time, I had been doing standup and acting for five years or so and I realized quite early on that I could be a role model/spokesperson for the full figured woman.
I started shooting with photographers thru the agency and immediately started working in catalogues. Those were the bread and butter jobs in those days before Internet. The industry was just starting out, so it was an interesting time to be the new kid on the block…it was also another retail recession and they were looking at the plus size market to save the day. In many ways, we did show them our purchasing power was significant because it went double digit immediately and proved to them that it was about time.
After that surge, everyone started to pay attention. By 2001, 3.1 billion dollars was being generated and 99% of that from apparel. In the early 80s, Liz Claiborne came on board as one of the first major designers to offer a plus size line and that made such a strong statement about we have arrived. Everyone else started to design for the Plus Size woman and even divisions at department stores opened up.
Lets transition into your work with Mode Magazine, such an inspirational moment in plus size fashion! How was your experience with the magazine?
I remember the day Emme called and told me that there was talk about a plus size magazine brewing…she told me to contact this woman named Michele Weston. I was doing the in store retail thing at the time, and my first husband had just died suddenly. It was such a weird time for me. I was so looking to reinvent myself, to start over, to embrace a new life and Mode just represented this super mega astonishing possibility.
We went to a meeting and I walked out saying, "Wow, this might actually be a great magazine." Then the cover dropped in March of 1997 with the yellow coat and Lauren Pinna laughing joyously and my heart lept for joy. I could not believe how proud I was to be associated with that magazine. There was so much to do, so much response from everyone in the industry and so many opportunities to take advantage of.
When the retailers kept requesting shows at their stores, it was a natural extension of what I was doing already, so I became the Fashion Retail Editor and produced Mode on the Road. At first, I was given a roster of shows in Florida (Burdine's) and I jumped on a plane and thought, I will figure it out when I get there. We had posters, magazines, and I hired local models and pulled the show and we had standing room only at the event. But I would not let the shows start until I had everyone open their gift bags, pull out their Modes and rip out the subscription cards and hold them up as voting ballots and subscribe right then and there. It was a magical time.
When the magazine closed in September of 2001 (due to 9/11 reasons) the subscription circulation was up to 4 million readers. When we started it was a few hundred thousand. It was a meteoric rise. Each cover was a breakout cover for the model who was on it. It literally could make that model's career. Kate Dillon was Mode's favorite. She embodied the beauty and the range of versatility that so represented the Mode lifestyle.
As opposed to BBW magazine, we didn't have articles about insurance and seat belt extenders…we just assumed you were fabulous and fashionable and knew how to dress. You just needed some permission, inspiration and some resources. The internet hadn't really begun so Shop Curvie hadn't really hit its stride before the zine folded, sadly.
After the folding of Mode magazine, where did your path lead you?
I was so depressed after 9/11….I met Darren Trentacosta, I had just produced Curve, the documentary with Constantine Valhouli, and I was ready to jumpstart the business. Darren and I did CurveStyle: Reshaping Fashion, and began working on it in September of 2001. The show launched in March of 2002. I didnt find any sponsors because of 9/11 and the dismal way of the world…so I invested $40,000 of my own money because I wanted to make something/anything happen.
It worked! Catherine Lippincott of Charming Shoppes hired me to be the Media Spokesperson and I was one of the models on the premiere cover of FIGURE. (It was a horrible photo) but it gave me a great ongoing job doing the same kind of thing I had done with Mode for years. I made all the money back in the first few months, so that was okay. It was a chance I took and I didnt regret it. Moreover, I was able to bring Darren Trentacosta to New York and having that crazy guy in my apartment for two years really cheered me up!
I love Darren! So tell me, from then to now, how has the plus size industry evolved?
In many ways, it (the industry) was better in the 80s when we first started out. We were the new kid on the block. All the issues (which we still havent resolved) were fresh and challenging. Body issues, confidence, deservingness, fashion and fat vs. thin models, eating disorders, designers not getting it right, and still thinking we were half sizes were all hot issues.
Many people saw that 45 million women number (it is now 63 million) and thought they could rush in and we would part with our dollars even though they just threw us any old crumb. Some didnt know who this woman was, didnt really investigate what it took to do the sizing differently, just threw it against the wall and hoped it would stick. One thing they learned was that she wasnt just a matronly customer.
When I first started in the late 80s, there was the assumption that she wasnt into showing off her cleavage or being really sexy because she was older. Then we realized that young teens and grandmothers were in the plus size category and couldnt be marketed to in the same way with the same styles or even the same fit. There also was the assumption that she wasnt into fashion, that she didnt want something to complement her figure rather just "cover up."
I designed the Shape Shopping with Figure & Fit after I segued out of modeling and went to Parsons School of Design and joined the Association of Image Consultants International (AICI ) because once I became a professional image consultant and knew how to do applied advice and individual signature style, it was plain that this plus woman was in fashion kindergarten. I used to ask her what her shape was and she would just say, Big. I said, No, that is a judgment, not a shape! I knew it was going to be a whole new approach to dressing with ones figure type as the primary objective along with trend adaptation and appropriation. I came up with all these adult learning ditties Know Your Shape; Show Your Shape.or the "Cling, cinch and hide and you just look wide; Skim, hug and drape and you show your shape!"
Wow, I never looked at it that way! So, you modeled with Ford, have been a fashion editor with Mode Magazine, and started your own fashion consulting business- Curvestyle, (WHEW!) what motivates you to do it all?
My love for people and teaching how to honor yourself thru appearance, behavior and communication. I also know that health is so important and it is intertwined with our bodies. They need to pay attention to themselves in terms of consciously dressing appropriately, doing great makeup, having an updated hairstyle — all the attributes that comprise taking the times to look like you care. As full figured women we get judged harshly and we are seen as having given up – we have to show the world we are worth it. Eating good, healthy, food and a balanced diet with plenty of movement and exercise is as important as dressing well. Women tend to put themselves last and to give up if they put on a little weight and to feel they are less than attractive because they don't see themselves represented in the major fashion magazines.
Also, by looking great and spending money on the full figured designers and manufacturers who have devoted their energies to sizes 12-24W, we need to encourage them all to keep those garments out there on the racks. Buy curvy, ladies! The industry did not happen because we didn't keep demanding and buying.We must learn that we have that commercial power to influence ventures and if we dont spend money on ourselves, these goods and services are going to disappear. There is this misconception that we are bargain shoppers, don't spend a lot on ourselves, or have an eye for designer goods. I teach women to shop for power pieces and also the best quality they can afford.
What advice would you give to the gatekeepers of fashion in regards to plus size fashion?
Do your homework! Dont just size up or interpret trends…it has to be done appropriately for curves and proportion and then adapted to various body types. For example, one dress cannot really flatter an oval, hourglass, pear, diamond, inverted triangle, diamond…there are so few styles that work on every one of those body types. We arent all shaped the same and the differentials are sometimes 12 or even 14 inches different between the bust and waist and hips.
Now that you are back, you are jumping into an amazing project! Catting Around with Cat, tell me more!
Cattin Around is my attempt at trying to give people a glimpse at what I am about and where I like to go. It will be a vlog, a video blog, produced by Veia Enterprises who have these amazing hi def cameras and lighting equipment. I will plan the around part as much as I can, but I will address various topics of interest to me and give my spin on them. I used to be called the go to person in the industry, now I hope this establishes me as the go with person. I am Catherine (Cat) Schuller, so it is a play on my nickname…
I will take everyone with me on my special adventures and introduce them to my comings and goings, whatever strikes my fancy. Ive always had a lifestyle that is very freestyle and freelance. I love when people ask me what I do. I say, Which day? I shot the first webisode and am editing it right now. Hopefully, in a few weeks (end of March)….Cattin' Around will make it's debut.
Last question, what does Curvy.Confident.Chic. mean to you?
Style is being yourself, on purpose. You gotta know who you are and what you want.The self-esteem comes when you are doing that all appropriately for the occasion, your shape, size, age, and proportions…vertical and horizontal. Ride Your Curves, don't Hide Your Curves!!
To find more about Catherine Schuller, go to her charity Divabetic at

www.divabetic.org

or

read the blog about her recovery

, using CatherineSchuller for the site, with divastyle as your password.

Visit Curvestyle

to find out more about Catherine, the plus size industry, and her ongoings.