So. I had the pleasure of interviewing the ever so fierce and amazing JD the Glam Guru from Hanky Panky- the creators of "The Most Comfortable Thong!"
With Hanky Panky now offering its fabulous creations in Plus Size, I had the chance to review them and let me tell you, I am in LOVE! Never had I thought lace thongs and boyshorts would be sooo amazingly amazing- yet THEY WERE!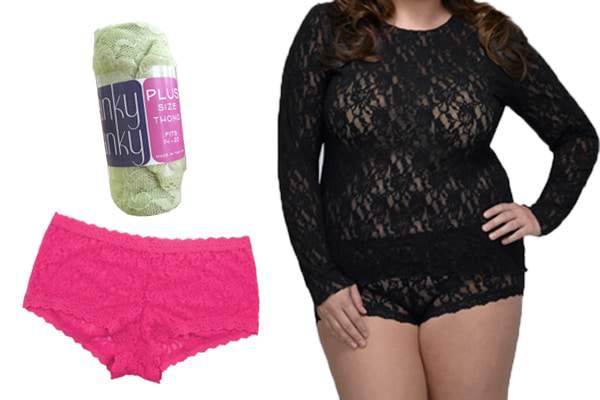 Why I love them:
The fabric: Divine stretch and comfort. The chonies were NOT pinching, rolling over, bunching in the wrong places, my Hanky Panky thongs and boyshorts were extremely confortable! YES! Score for Hanky Panky
The rise: Given that I have a tummy, I loved the fact that these (one size 14-24) Plus Sizes stretch lace panties covered the full bum, the boyshorts hugged my cheeks, and the thong was NOT too low for a (butt) crack intervention!
The colors and patterns: Oftentimes, we are left out of the playful colors and patterns in designer underwear… NOT the case with Hanky Panky! Baby blue, leopard, and a vast array of options- I felt just as saucy and playful as the next girl! Loves it!
Even better?
I get to share this experience with a lucky reader of The Curvy Fashionista!
One lucky winner will receive The Signature Lace Cami and boyshort or thong valued at around $90!
Fabulous yes!
To win, here is what you need to do:
Leave a comment (with your email in your sign in) sharing why your UNDERWEAR IS THE MOST IMPORTANT THING YOU PUT ON!
Make sure you follow on me @MarieDenee and @Hanky_Panky_ltd on Twitter!
---
Extra entry for those who tweet: I've just entered the @Hanky_Panky_ltd #giveaway on The Curvy Fashionista by @MarieDenee- http://bit.ly/k6ZVUc You should too!
---
You have TWO WEEKS to enter! Contest will end Sunday June 5that midnight (PST)! The winner will be chosen via Random.org!
GOOD LUCK!
Marie Denee
I am the Editor in Chic of The Curvy Fashionista. Often goofy. Forever emo. Always a Virgo. You can find me somewhere grooving to 90s R&B.