Have you ever gone shopping and saw the same color palette everywhere and wonder why? A lot of your fashion choices are already decided for you by forecasters. Fashion forecasters are people who predict which silhouettes, colors, textures, materials, prints, graphics, accessories, street style, and other ideas for each fashion season. When it comes to fashion there are reasons behind why things are happening and how to get you the customer to buy.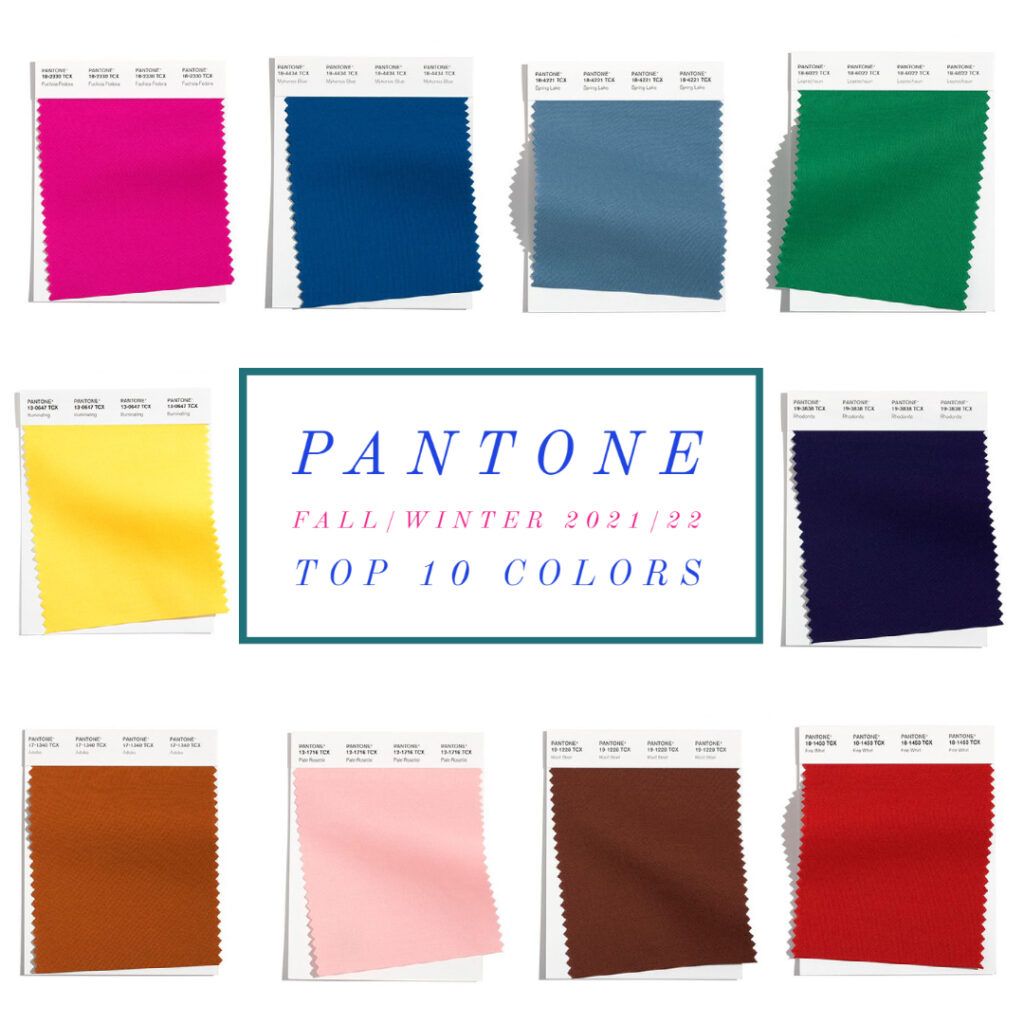 Finding out the latest color palette for each season is simple a Google search. Understanding what colors are in season gives you a great moment to add trendy pieces and keeps your wardrobe current. Trendy fashion signifies a specific look or expression that spreads across a popular at a specific time and place. Trends always find a way to come back around, always. A popular trend of 2021 are platform loafers, 90s fashion layering (pairing your slip dress with a t-shirt), loose-fitted jeans, and sweater vest.
Tip: When online shopping for a particular color you can type the color name in the search bar and all options will appear. Some websites will actually have a color category at the sidebar.
Let's do a little shopping with these 2021 fall/winter Pantone colors. Purchasing trendy items are smart because it gives you a moment to explore your fashion style and even step out of your comfort zone. You knew I was going to say that. 😉 When you do find something you love in your favorite color, make sure it's a staple because to grow with your wardrobe and don't forget to "Treat yourself!"
Fall Pantone Hues that will add boldness to your wardrobe
Fall shopoing can be really fun especially when you start to incorporate Pantone colors.
Photo Credit: www.jibrionline.com
Textured fashion is a must have for fall. It upgrades your wardrobe with any outfit.
Photo Credit: Rebdolls.com
Are you bold enough to add "illuminating" yellow to your wardrobe?
Photo Credit: Nordstrom.com
A joyful tie at the cuff jazzes up an essential dress that's what to wear to most any affair.
Photo Credit: www.eloquii.com
Fushia Fedora is a great color for all skin tones and a bold way to start off the fall season.
Photo Credit: Nordstrom.com
A pale pink faux leather. Yes, please and thank you.
Photo Credit: www.avenue.com
Chocolate color fashion is such a look. It's so beautiful on all skin tones. Pair this dress with a cute pair of boots and leather moto jacket.
Photo Credit: Bananarepublic.com
Maxi dresses are perfect for fall. Pair this dress with knee high boots and a trench coat.
Photo Credit: Nordstrom.com
If wide legs pants are your things. These are a perfetc addit to your fall wardrobe.
Photo Credit: www.eloquii.com
This faux leather trench is a perfect addition to your fall wardrobe. The cognoc hue is perfect and is definitely a staple earth tone color for any season.
Photo Credit: Nordstrom.com
Hoodies are perfect for fall. How much do you love this color?
Photo Credit: www.prettylittlething.us
Olive green is one of my favorite colors and one of Panton's core classics. I usually wear it as a neutral and be paired with all colors. If you don't have have a bomber jacket you should definitely invest in one.

When we're shopping the color of the garment is one of the first things we notice. Color invokes emotions and even memories. We have been told some colors make us appear bigger and others make us look slimmer. Color is literally everything and knowing what colors are popular each season changes your shopping experience. It makes you an experienced shopper. *Dust off shoulder.

It's valuable for our shopping experience to educated shoppers and forecasters to take away the guessing game. There are some colors you'll always be able to find no matter what season we're experiencing. Neutral colors such as black, blues, creams, khakis, reds, and white will always be available. Hence why you will forever be able to find an LBD or a simple pair of black heels. Looking for a particular silhouette is wearing the search gets tricky.

Let's chat: What colors stand out the most to you for fall and winter? Are any of your favorite colors on this list? Did you see anything worth adding to your wardrobe? I can't wait to hear from more for ya'll. Until next time happy fall shopping.