Hi ladies! Are you always on the go? We've all been there, sometimes we just either don't have the time or (to be completely honest) are too lazy to change outfits! So you can focus on your day ahead, the best thing is to already have something on that you can wear for both your day and night activities!
The most important thing (at least to me) is that you're comfortable in whatever you decide to wear. After all you'll be rocking this outfit all day. Your go-to looks would include skirts, maxi dresses, or jumpsuits. A handy tip, if you are a girl who likes to rock heels then keep a pair of neutral colored heels in you car. That way when it's time to go out on the town, all you have to do is a quick change of shoes! Also a little color on the lips goes a long way ladies! A daring red, flirty purple, and a wine maroon will make the statement this season.
Check out the looks you can take from day-to-night.
Are You a Girl On the Run? This is How to Take These 5 Pieces from Day to Night
Blazers
The Bryant Blazer – Houndstooth at LaneBryant.com
Day: Wear with your favorite pair of jeans, a tank or tee shirt, and some sneakers.
Night: Simply changing your shoes from sneakers to heels and your top to a silk chamise you've gone from day to night.
Dresses
Multi-Color Floral Print Mesh Skater Dress at Torrid.com
Day: Now this dress not only gives you neutrality but it adds a lot of fun for the day with the mix of colors. Best way would be to pair it up with some nude flats and a fresh face and your hair down. You know…to give you that relaxed look!
Night: Time to take on the night pair it with a pop of color in your heel, like a red! Or if you want to down play it a black heel is never wrong. Give yourself a high bun and add that flashy lip color and you'll be turning heads!
Tops
Boohoo Plus Chiffon Print Blouse at ASOS.com
Day: This outfit is fun, because you can pair it with your favorite pair of chucks! For example white converse would work perfectly!
Night: Simply tuck in you flowy top and use those heels you have in your car and your done!
Jumpsuits
Plus Size Striped Off-the-Shoulder Jumpsuit at Forever21.com
Day: Now this is one of my faves! Jumpsuits go great with any season. During the day a high ponytail and flats would rock this jumpsuit out!
Night: Give your jumpsuit a little life by adding a dark denim or leather jacket and some cute wedges and you are all set! You will look fashionably on trend and comfortable!
Skirts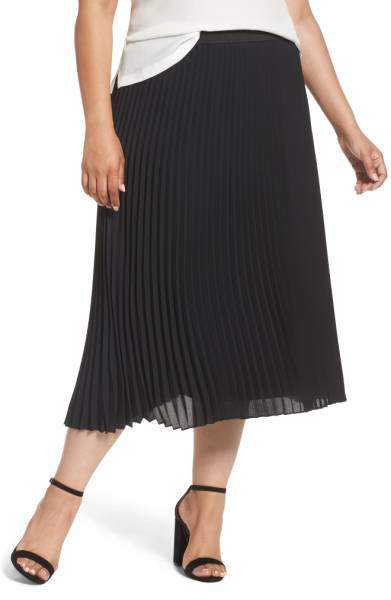 Sejour Pleated Midi Skirt at Nordstrom.com
Day: The great part about skirts is they are great for any occasion. They are very comfortable for work, running errands, and you can pull it off at night. Pair it up with a fun graphic tee and flats.
Night: Take this outfit out for the night with heels and a fun lip color and let you hair down and you'll be set, try it out!
As you can see taking your outfits from day to night doesn't have to be a daunting task! Simply adding layers or switching up your shoes can change your look drastically. You can also switch up your makeup to add an extra pop.You can get some inspiration from these outfits or if you really like it why wait; go ahead and snag it!
So tell us ladies, how do you take your looks from day to night?