We love having fun with our style, so when we spotted the Western Collection from Unique Vintage, we knew we had to share! The charmingly campy collection has lots of western prints and iconic 50's style dresses. Think fringe, swing skirts, and bandanna print!
With these retro Western clothing designs, you can tap into your inner Annie Oakley and become a sure shot when it comes to style. Whether you want a classic Western look fit for a rodeo or something with a cute country vibe, we've got you covered with this collection of vintage Western clothing.

Unique Vintage
There are so many cute looks to choose from in The Western Collection from Unique Vintage! From dresses, tops, and skirts to cute home goods, and accessories, this collection has us tapping into our inner Dolly.
We wanted to share a couple of our favorite fun looks from the collection! All available in sizes XS-5X. (True Vintage lists its size 5X to be equivalent to a size 26)
The Western Collection From Unique Vintage – Our Favorite Picks!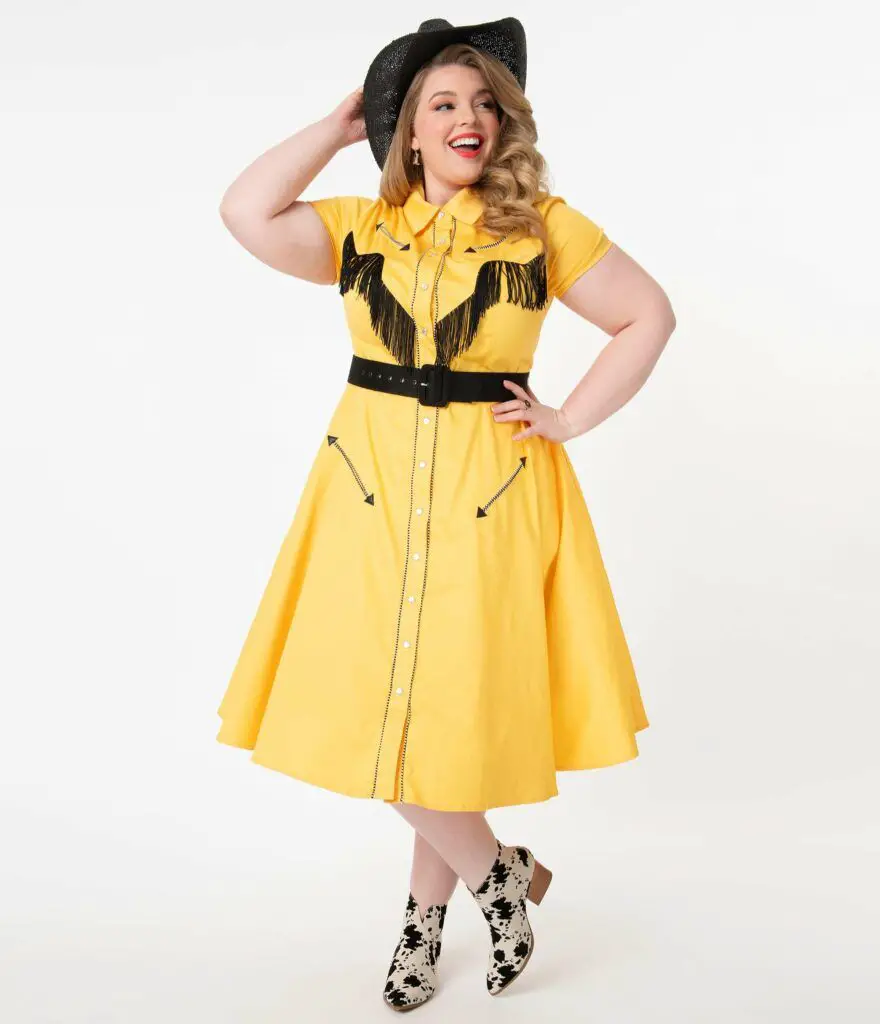 The Madeline Dress is a playful western-inspired swing dress. We love the bold mustard yellow color and contrasting black fringe detailing. The cow print suede booties that the model is wearing are also included in the collection, up to size 10!
How fun is this Western Landscape Swing Skirt?! This skirt features a southwestern landscape. Now we want to arrange a country-western party with a few of our close vaccinated friends, so we have an excuse to wear this beauty! This is most definitely a conversation starter!
If camp isn't exactly your thing, this floral chambray set might be more your speed! This set comes in separates, allowing you to adjust easily if you need to size up or down your top or bottom as needed. The look is super feminine and on-trend! Shop the crop top, and skirt!
Upon first glance, this Black & White Farrah maxi dress looks like a beautiful abstract black and white print. But, take another look… those are horses! This would be a great outfit option for a Kentucky Derby gathering!
Now that we've shared our favorite picks from this fun The Western Collection from Unique Vintage, what are your thoughts on it? Do you like cheeky collections like this? Where would you wear some of these pieces?