Now, if high fashion and style is your thing, then you must definitely check out what Stuart Weitzman has been brewing over on the website. I have been lusting after his MID-THIGH HIGH boots for a minute. The SW x YOU campaign is all about it. Wait. Let me rewind.
If you are not familiar, one of the higher end shoe brands who makes LUXE boots for the fall with the elasticized backing is Stuart Weitzman. I have long paid attention to the execution and evolution of the brand and over the past few years, Stuart Weitzman has piqued my interest in so many good ways and today is no exception. Not for all, but quite a few of you will rock out with this style!
The SW x YOU Custom Boots Campaign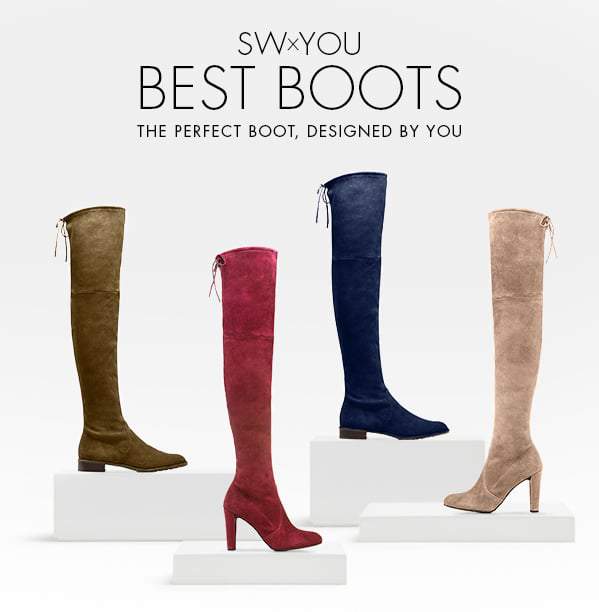 When I caught wind of the latest campaign for fall, I knew I had to share it with you as for the many of you who have asked for a boot that is WIDE WIDTH in the foot and not soooo wide in the calf, or at least the option there, then this is a brand for you to check out and this SW x YOU campaign you may love.
There are two styles to play with: The Highland or the Lowland. One with a high heel (Highland) and a great flat boot (Lowland). Now that we talked about the two options, a 3 ½ inch or a flat boot, we then have TEN shades in a stretchy suede to choose from. THEN choose your size AND WIDTH. EEK! I am all hyped thinking about this divine option. I really love this and want this to work for me.
The window to customize your boots is short. you have to move fast! Here are the details:
This promotion is for a limited time only – promo begins 9.22.14 and all orders must be placed by 10.6.14
All customizable boot orders will be delivered by 11.30.14
Complimentary free shipping with every order
Actually these boots make me think of Ivory Jinelle, ever since she challenged me to find a pair of boots for her. I think we found them. Where is she…
Some have pre-ordered this boot and from the sound of the reviews, it is a hit! I mean a mid-thigh high boot that is not vulgar, that is luxe looking and feeling, and that will last me at least a few years? I am here for all of this.
Customize your boots at www.stuartweitzman.com
Are you a Stuart Weitzman Fan? Have you already made these boots yours? What color combo would you do? I have a laundry list here… LOL
I really want these to work for me! They have to! LOL
What do you think? Which boots can you see yourself playing in? Are you a fan? Let's discuss.