It's cold. For me, me and the cold do NOT mix well! Seriously! I had been asked before, about where to get tights and hosiery when needed. These are some of my haunts and places that offer great selections, styles, and sizes!
I mean, tights are no longer boring, dull, and stale. There are fancy styles and prints, thigh highs that are cheeky and playful, and so much more! Now, know there are more than five places, but I wanted to give you a great place to start!
You ready? Here we go:
Where to Score Your Plus Size Tights!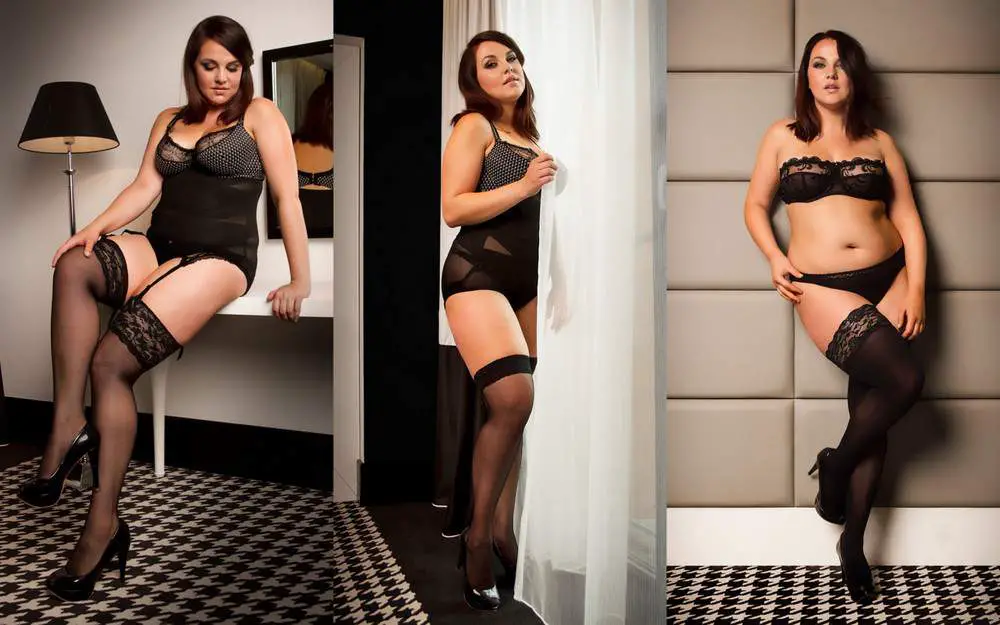 Round 1
Glamory Hosiery (Up to a 32): New to the scene, Glamory is made in Germany, with laces and yarns sourced from suppliers in Italy and Portugal. Glamory Hosiery fashion a total of six size ranges in thigh highs, shapers, and a variety of tights!
Kixies (Varies): Looking for a segzy thigh high that'll give you both fashion and function that will NOT roll down? Kix'ies are guaranteed to stay in place with their unique no-slip grip!
Nubian Skin (Up to a 3X): We just featured them on the blog, but if you are looking for YOUR shade of nude in plus size hosiery and tights then you should take a closer look at this newly launched line!
Pipa Tights (up to a size 28): Their range of high-quality, designer tights includes
designs as diverse and exciting as bold tartan, bright flora, retro-comic strips, cute flamingos and
sinister gothic skulls.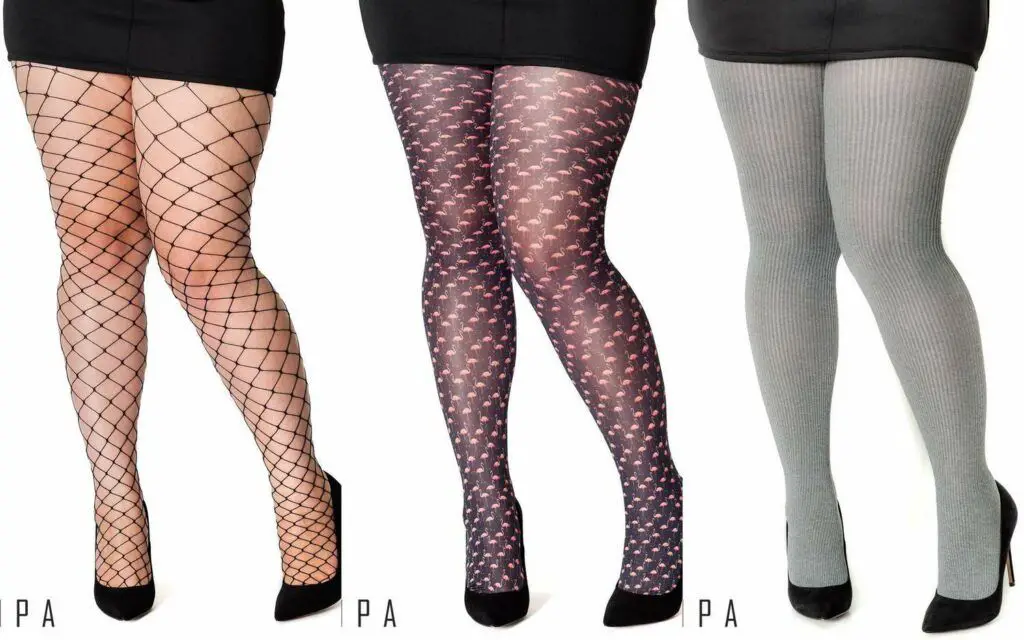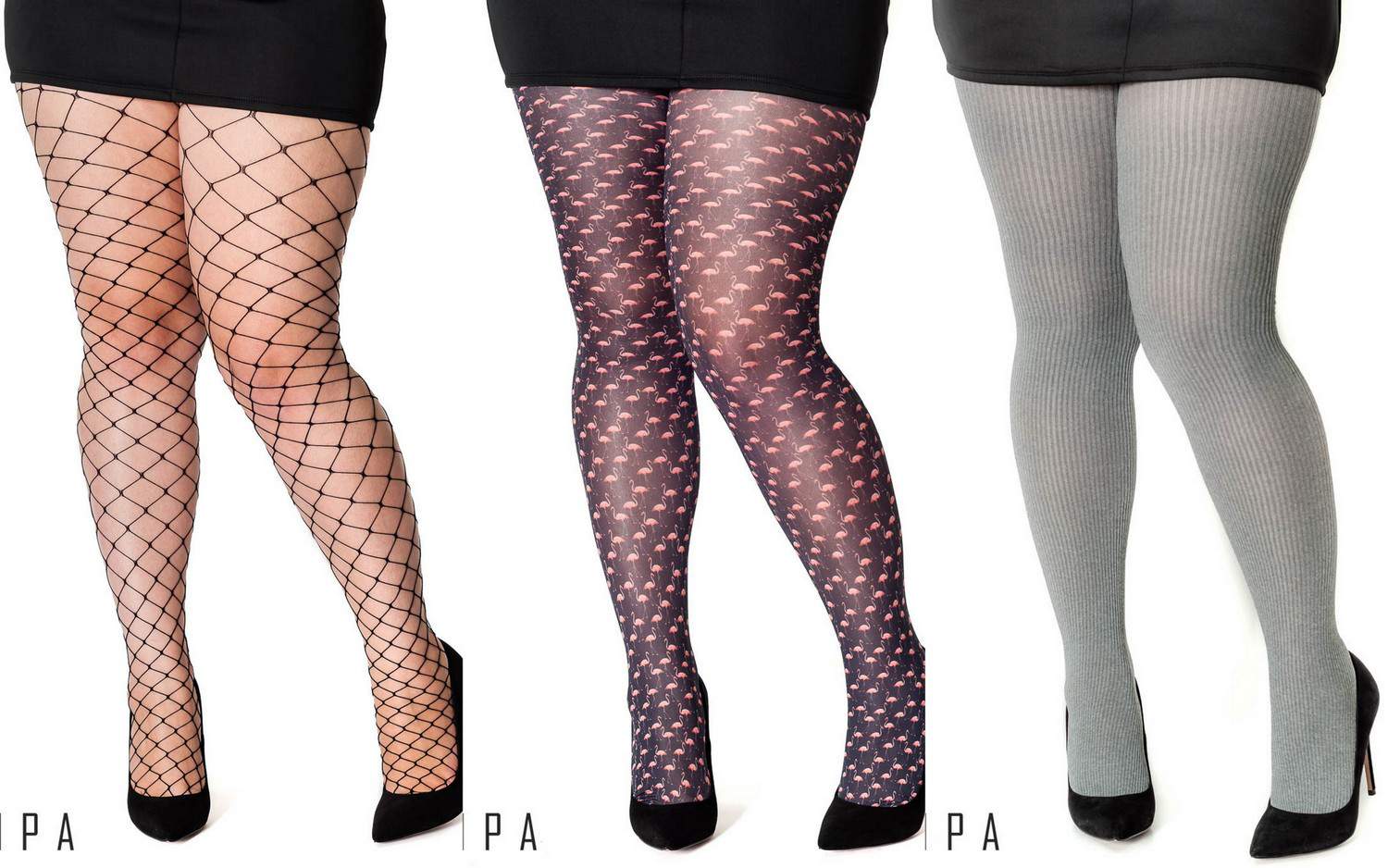 Round 2
Sonsee (Up to an US 24): This Australian company features Italian hosiery that has fit, form, and function. Most recently they launched shapewear to the mix, utilizing their hosiery technology! Definitely one to check out!
Spanx: (Up to a 26-28): Infamous for their fashionable and functional shape wear, Spanx is a closet staple that does double duty! Marry shapewear and hosiery and voila, you have wardrobe gold!
The Big Tights Company (Up to a UK 42): This UK hosiery brand caters specifically to the plus size woman and was a tip as one to follow from a fellow TCF reader! They give great visuals, options, and a range of sizing!
We Love Colors (Up to a 6X): With over 80 hues and a wide variety of styles and patterns, We Love Colors serves up lots of inspiration, options, and style. From fishnet to rainbow Brite tights, I am sure you can find SOMETHING to whet your fashion appetite here!
Where to Shop for Plus Size Tights, Online and In Store:
Round 3
Addition Elle (Up to a 4X): They have a great assortment of options including trouser socks, tights, and bold and playful patterns!
ASOS (Up to a US 22): Love their playful patterns, bold back seam options, and their faux over the knee sock styles. Great fashion forward options!
Avenue (Up to a 7X): Extremely diverse options… They are one of the most diverse range of options that I have seen!
Curvy Girl Lingerie: Think thigh highs, sexy fishnets, and everything to keep it interesting!
Full Beauty (up to an 8X): If you prefer online shopping, this is a great place to go. In addition to their house brand (Comfort Choice) they also offer hosiery from Torrid, Avenue, and others.
HerRoom (Varies): One of the best places online to shop plus size intimates and hosiery from various brands (Hanes, Hue, DKNY, etc.) and extended sizing. There are also quite a few regular sales that happen at HerRoom, so feel free to stock up on as many tights as you like!
Hips and Curves (Up to a 6X): For all things segzy, this is where you go when you're goal is to shut it down and warm things up…
Just My Size (Up to a 6X): Are you more of a classic chic chick? This is the spot for you.
Round 4
Lane Bryant (Up to an E and F): Great options and great quality and so many options. You can't go wrong here! Online and in-store!
Nordstrom (Up to a Size 24): If you're looking for a few designer options, then this is where you need to go for a plus size hosiery finds.
Simply Be (Up to a 28): If you are looking for fashion forward and classic options, not only does Simply Be offer fashionable clothing, but they do have an array of plus size tights and hosiery to keep your legs warm and your look together!
Target (Up To 3X): I have a nice array of patterned tights, a few in various hues, and they rock out for me! In stores you will find some great choices up to a 3x and Merona has a few too online!
Haute Hosiery Edgy, bold, playful and not for the shy, this brand definitely is going to be on my list this winter!
Torrid (Up to a 5X): If you are looking for all things playful, sexy, and bold – you are in the right place.
Walmart (Up to a 4X): Don't sleep on Walmart, especially if you are on a budget and want great value. Definitely worth a look for a few classic options to your closet!
What kind of tights do you play in?
How do you layer your style and personality on your legs? Do you just bypass tights and head straight for the plus size leggings? Have you shopped any of these brands and retailers? Have we missed a few of your favorites?
I have questions!
Let us know your thoughts in the comments below!