Hey there, have we got a roundup for you! It's the dead middle of summer and this heat has been getting to us! Do you dare to bare plus size shorts? Listen! It's time to get that last bit of sun on those legs, and there's definitely a look for all of you to rock.
In this heat, we want to wear as little clothes as possible (or is this just me?) and to help you out, we've come across some of the best plus size shorts to end the summer.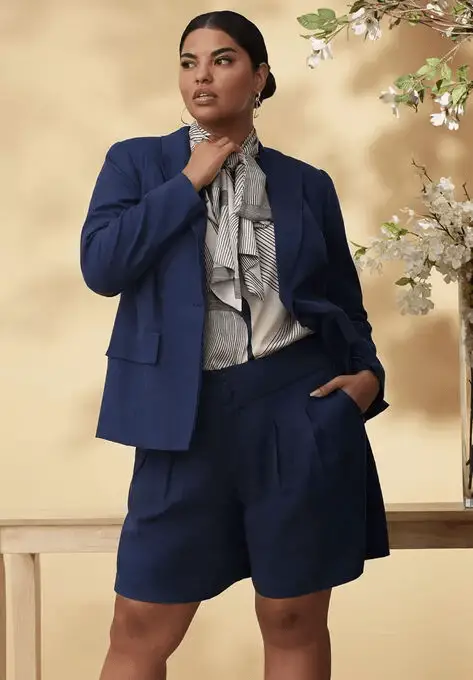 We went searching deep across the internet and guess what? There are so many more choices for shorts, than the average old cotton drawstring. You know what I am talking about… From lace to floral prints to suiting options? There are so many styles to choose from and a little embellishment never hurt anybody.
15 Must Rock Plus Size Shorts to Keep it Cute this Summer
As The Curvy Fashionista editors, we write about stuff we love, and we think you'll like too. We often have affiliate partnerships, so we may get a share of the revenue from your purchase.
How do you feel about wearing plus size shorts? Well, today we have rounded up a few fun and playful shorts that are sure to keep you cute!
Shorts are an easy way to go from day to night with just a switch up of flats to heels and let's face it, those curves are going to look great in them, too!
With trends like short suits, florals, and frays, this summer's must rock shorts allow for the versatility of playing up the ultimate summertime outfit.
A Few Tips for Playing in Plus Size Shorts: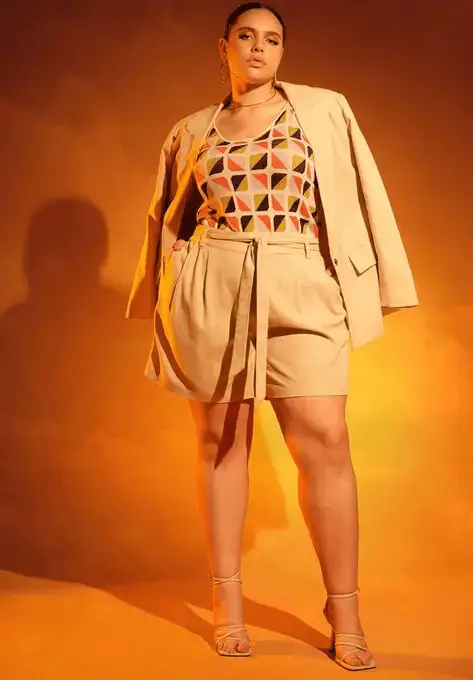 If coverage is your concern, then Bermuda shorts are just for you. You have a few options, some shorts also come with a dress option. Try them in denim with a fun print or you can keep it cool with a dark rolled cuff stonewash embellished classic.
If you are looking to dress up your shorts, then play with fabrication and structure. This is a playful way to take your look from backyard fun to evening out chic.
Since we know we have some daring fashionistas out there and this is all about rocking the dopest pair of shorts, don't hesitate to shorten that length or add a pop of color to kick it up a notch! Or did you see those fringe details that Good American was playing with?
To elongate the leg, opt for a nude-to-you heel or sandal! This allows the eye to keep going without any interruptions.
Are you a fan of shorts? Love them? Hate them?
Sound off and tell us what you think about our picks. Did you find a few to add to your shopping list? What's your favorite why to style your shorts or is it a no go for you?
Let's discuss!
Don't hesitate to show us your fav looks!