I don't know about you but Fall is my favorite season for dressing. The weather is cool so I can layer up a cute outfit, but not so cold that I have to cover it with a coat. I can break out my leather and suede booties, I'm sorry y'all but I just can't get with the sundress and suede boots look in the summer but you do you, Boo. Yes, I'm a Fall girl and I've amassed quite a collection of cardigan sweaters and moto jackets to layer over skinny jeans or ponte leggings. And don't get me started on the boots. Riding boots, moto boots, Ugg-style boots, oh my!
Imagine my delight when I hit up the local Lane Bryant store, you know LB has been caping for the plus size girls for years, and I must say that they are doing a lot of things right for this Fall fashion season. Even though it's still a thousand degrees in the shade in Atlanta, ok maybe it just feels that way, I'm still having pleasant dreams of how I will put these Fall finds to work when the sun stops trying to melt us all.
TCFTop10 Plus Size Fall Finds from Lane Bryant You've Gotta See
Leopard Print Belted Overpiece
They should've just called this the Teresa outfit because it has my name written all over it. I do love a good big cat print and this one is done just to my taste. The waterfall silhouette is cute open and flowing or buttoned and belted as shown. Me being the matchy-matchy type, I might even put this with a pair of faux leather leggings if I can find a pair that doesn't sound like 2 birthday party balloons rubbing together when I walk.
Forest Green
So the next find is less of an article of clothing and more of a hue. Green is popping up a lot for Fall but Lane Bryant has offered up this lovely shade of forrest. It is a deep, rich, jewel tone that will carry you all the way through to the holiday season. They rolled out many pieces in this shade including their signature Allie Skinny Ankle Pant with a twist, a versatile, feminine sash. There is also the Lace Mock Neck Top shown here.
High-Low Faux-Wrap Fit & Flare Dress
Remember what I said about the animal prints? Yeah, we're back. Such a cute dress. It's fun and flirty and will take you to so many events from work to cocktails to a weekend wedding.
Suiting
We get asked almost daily where plus size women can get clothing to wear in an office environment. Well here you go. Lane Bryant has a wide variety of suiting coordinates including this tailored Bryant Blazer With Stand-Up Collar and Allie Sexy Stretch Straight Pant in Houndstooth. They're bringing you the menswear vibe in stylish, feminine silhouettes.
Velvet Floral Burnout Kimono
I like texture. I think that's why I'm animal print crazy, its a visual texture. This kimono has tactile texture. It has a romantic, vintage inspiration and is bringing us another of the deep, jewel tones that Lane Bryant is doing so well this Fall.
Boots
Another question that we get a lot is where can you find wide-calf riding boots for the ladies with the full-figured legs? How about right here? I am so loving this High Heel Ankle-Strap Riding Boot in the lovely cognac color. I'm not sure my cranky ankles can handle that heel but I'm willing to give it my best shot! Oh yeah, heeeyyy, leopard print booties.
Mixed-Fabric Ankle-Strap Heel
I can not wait to get my hands, or feet, on these cuties! Snake print (another visual animal texture that I love) is everywhere for Fall, do you hear me? Snake is a neutral and the black and nude colors of these mixed fabric heels are neutral so you can wear these with EVERYTHING. The modest heel is a plus for me, too.
Jewelry and Accessories
Lane Bryant has always been a place where I could find nice jewelry to compliment my outfits and they are coming in on trend with all of the resin and faux tortoise shell pieces. They range from petite, understated pendants and studs to dramatic statement necklaces and dangly earrings. There's a belt with a tortoise shell buckle that I have my eye on as well.
Livi Activewear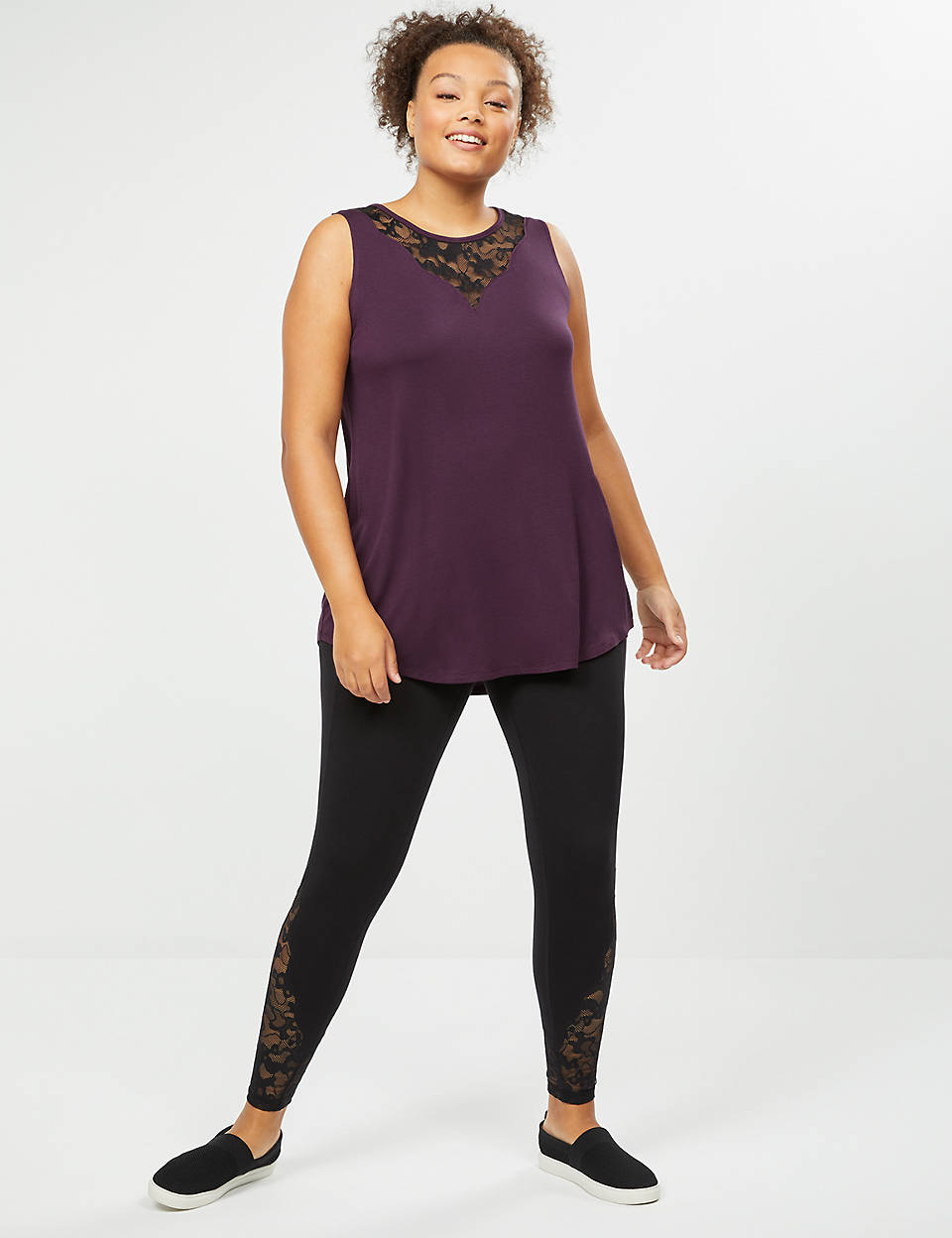 Lane Bryant's Livi Activewear line is really setting the bar in plus size activewear. I love this particular set because of the lace, which also has visual texture. See, its a theme. The black lace insets turn a utilitarian workout outfit into a slightly sexy athleisure, maybe I'll work out or maybe I'll just be cute, ensemble. A great thing about Livi Activewear leggings is that they all feature a wide waistband that helps control your core while you are working out and smoothes and flattens while you're just being cute. Also they all have key pockets and most have phone pockets.
Cacique
Before we go, can we talk about this Cacique lingerie? We've featured some sexy lingerie on The Curvy Fashionista and this is right up there with the best of it. This Lace Playsuit in plum is gorgeous and the Bra Top and Cheeky Panty are so much fun! The lace is unique and the details are incomparable. While my Cacique cotton hipsters will remain my go-tos, I might have to treat myself to something Seriously Sexy.
Shop the Fall collection at LaneBryant.com.
This is just a small selection of what's new and what I want in my closet from Lane Bryant. So what to you think of my picks? Have you seen what's new at Lane Bryant? What do you like? We want to know!
As The Curvy Fashionista editors, we write about stuff we love and we think you'll like too. The Curvy Fashionista often has affiliate partnerships, so we may get a share of the revenue from your purchase.