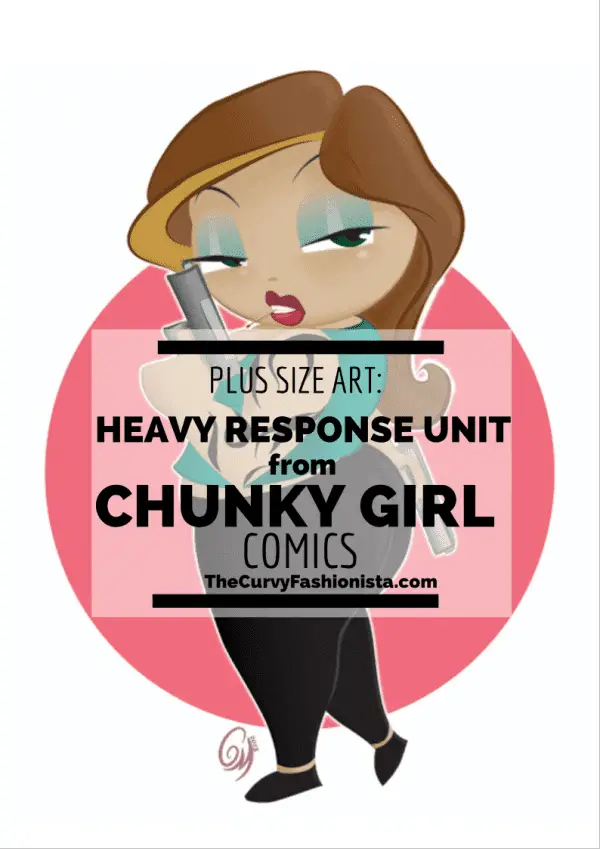 A while back we did a plus size feature of plus size superheroes, and the response was amazing! While I was looking for the next plus size art feature, imagine my surprise when I stumbled upon a Bay-Area-based Comic Book, Heavy Response Unit from Chunky Girls Comics?
I did not know was better, the fact that this comic book existed or that it was written and drawn by a WOMAN? You know, there are quite a few feats to fight in the comic industry (Well… in many male dominated industries, but I digress) and she is one who is vocal and making a hell of a statement! Marisa Garcia of Chunky Girl Comics with illustrator Grant Miller have fashioned a group of four fearless and feisty women (In real life too!) to make up the Heavy Response Unit!
Take a Peek at Heavy Response Unit from Chunky Girl Comics
Candy

Rosie

SweetPea

Sage

About Chunky Girl Comics:
"Who says superheroes have to be skinny? Rosie, Sweet Pea, Candy and Sage are ready to take on the world!

Chunky Girl Comics is breaking down barriers and introducing the world of comics to Rosie, Sage, Sweet Pea and Candy, a group of ladies with curves in all of the right places that are determined to break the standards of what a typical superhero should look like."
Please like and check out Chunky Girl Comics on Facebook!
Of all the varied illustrations, I happen to like this style the best! Oh, and over on their Facebook Page, they share their events and happenings and interviews not only with the creator, but the real life women who make up or who are the characters! I love this!
How cool is this? Which Heavy Response Unit character from Chunky Girl Comics can you see yourself as? Let me know below!