UK Plus size brands have come and gone in the US over the past few years and today, we want to circle back with one that has been constantly catching our attention. Have you shopped the Never Fully Dressed Curve range?
Let's back up… Are you familiar with Never Fully Dressed? This UK based fashion line created by Lucy Aylen, started with her sewing pieces and samples in her parent's attic! Well, two years ago, the Never Fully Dressed Curve line dropped and we shared a few favorites from the launch collection!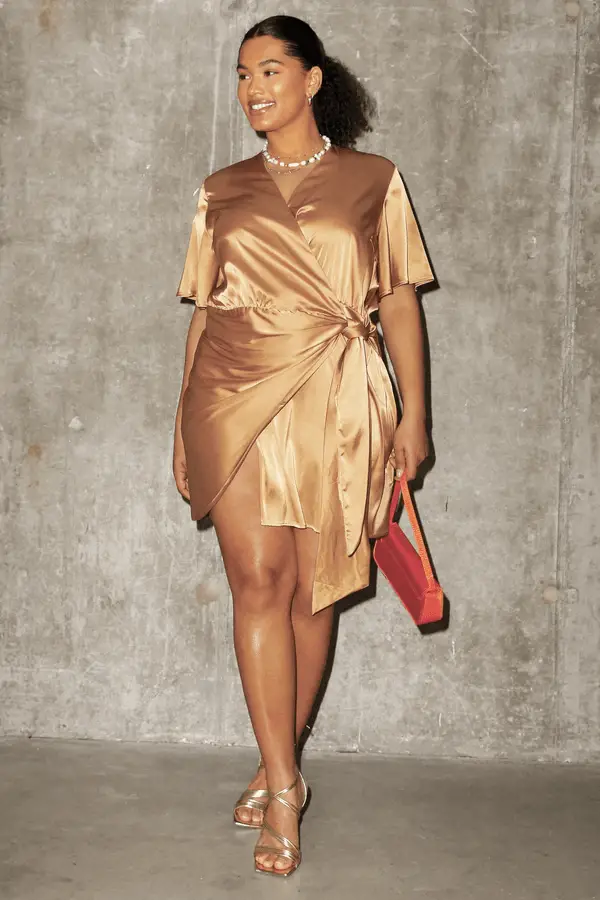 And today? We took a peek (to share with you) their newest arrivals, as we itch for all the spring plus size fashion newness. And if bold prints, fun color-blocking, or shopping from a brand that has plus size sustainability in mind speak to you, then keep scrolling!
8 New Fashion Finds from the Never Fully Dressed Curve Line
Photo Credit: www.neverfullydressed.co.uk
"A dreamy button up blazer in our favorite color combo, vibrant red and pink. So chic and elegant for all occasions. Wear with jeans and heels for brunch or dress down with trainers... Don't forget gold jewelry."
Photo Credit: www.neverfullydressed.co.uk
"A classic and sophisticated silhouette in a luxurious gold shade, with dainty metallic gold flecks. A fitted bodice falls into a floaty asymmetrical hem, with delicate straps and a cowl neck feature. Perfect for weddings, graduations, birthdays ect. Pair with a gold necklace and hoops. "
Photo Credit: www.neverfullydressed.co.uk
"We're going crazy for this Coral Sleeveless Wrap Dress! In a bright, sunny coral shade, this satin-feel dress is a guaranteed mood-lifter and the perfect pick for any social occasion. Features a flattering wrap front which creates a v neckline, and a midi-length skirt. Style yours with clashing fuchsia pink heels."
Photo Credit: www.neverfullydressed.co.uk
"Our signature color contrast in a gorgeous Linen wrap. Sleeveless silhouette and ties at the waist for a super flattering shape. Adjust how you tie depending on how low/high coverage you want. Accessorize with wedges and jewelry."
Photo Credit: www.neverfullydressed.co.uk
"Be as bold as you can be! 💙🧡 The classic and flattering Vienna Silhouette decorated in a vibrant psychedelic print, elegantly tying at the waist you can style with with heels or even tucked into leathers!"
Photo Credit: www.neverfullydressed.co.uk
"The cherry dress of dreams 🍒. A bubblegum pink base scattered with cherries to make the perfect print for our midi wrap. With a waist wrap you can adjust to compliment your shape, as well as inner ties for added security, your confidence will shine. Pair with trainers for the daytime or pink strappy heels for an evening look."
Photo Credit: www.neverfullydressed.co.uk
"A playful summer dress perfect for picnics or pub gardens. A shirred bodice that falls into a floaty midi, and shoulder ties for the ultimate feminine details. The black base dotted with embroidered white daisies will match any of your accessories. Add a pop of color with chunky heels or a clutch"
Photo Credit: www.neverfullydressed.co.uk
"Need a dress for an occasion? Go for green with the gorgeous Olive Linen Wrap Dress 🫒🌿 with a wrap front, full sleeves and a mini length skirt. Style with gold jewelry and some heeled boots!"
How fun were those finds? Which pieces stood out the most to you? There were a few that caught our attention online, but they were already sold out in most sizes!
And for those who are curious, the sizing goes up through a UK size 30 or a US size 26. While we did not find many options at the top of the range, we do hope this change (from their initial launch) is a sign of things to come! Make sure you reference their size chart, to make sure that you are able to rock with a few finds in your best size.
From bold, positive prints and chic soft styles to figure-flaunting and oversized fits, browse our newest fashion innovations in the iconic NFD designs you love. With an increasingly sustainable collection crafted with soft, flexible fabrics, our clothing is designed to support your lifestyle.

Never Fully Dressed
But can we circle back to the sustainability focus at Never Fully Dressed? It is one thing to offer and include plus size fashion to the mix, but another to also provide a few ways for plus size people to shop a bit more confidently, when it pertains to the environment.
The team at NFD has brought in more sustainable fabrics into their line, with options like recycled polyester and biodegradable textiles such as organic cotton and linen. Most recently, they shared that they are working on adding in a viscose range, to keep innovating with sustainability in mind.
Pretty cool, right?
Soooooooooo, we are dying to know. Have you found a new place to shop? Have you tried them? How did you enjoy the line? Do you have a few new faves to score?
Let us know what you think in the comments below!