Have you been a longtime fan of the UK based Never Fully Dressed clothing company, and wished you and all of your curvy glory could rock those fun prints, too? Well, if you are a size 22 and under, you're in luck! The fashion brand announced its new Never Fully Dressed Curve range, which comes in a UK 18-26 (US 14 to 22).
What Never Fully Dressed founder Lucy Aylen had to say about launching Curve:
Adding Curve to our range encapsulates what we are about as a brand, embracing the fact that every woman is beautiful, every body is beautiful. We are super proud of being able to offer a wider size range" – Lucy Aylen, Founder of Never Fully Dressed.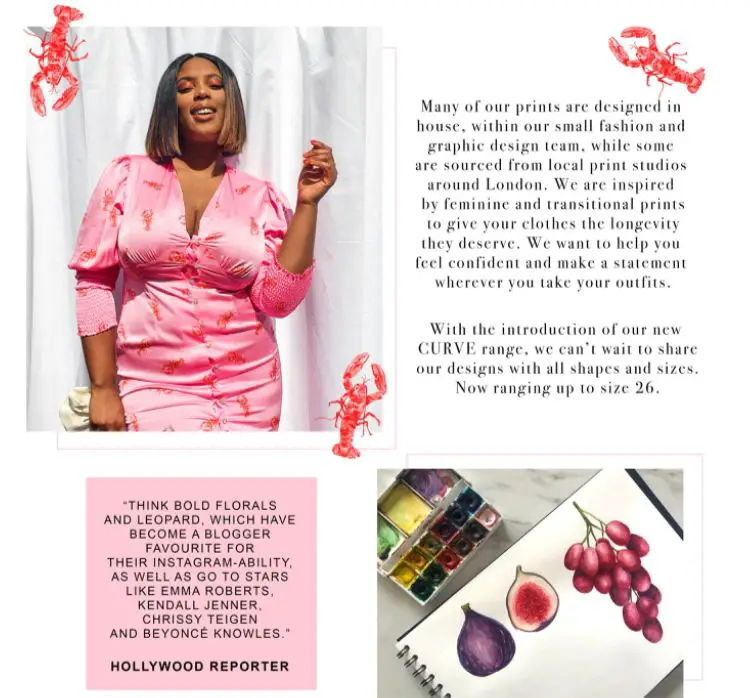 This brand has many celebrity fans, including Chrissy Teigen, Emma Roberts (seen in their 'boob' tee), and Beyonce (spotted vacationing in a head to toe Never Fully Dressed look).
In addition to its Insta-famous boob tee and celebrity clientele, Never Fully Dressed also boasts a sustainable mindset regarding how they design pieces.
In their most recent attempt to reduce their carbon footprint, they now create, source, and produce most of their a wide range of their garments in the UK (where they are based).
They are also introducing more sustainable fabrics into their line, with options like recycled polyester and more natural, biodegradable textiles such as organic cotton and linen.
Now, let's get into the Never Full Dressed Curve collection!
Here are some of our fave picks from the line!
We. Are. DROOLING.
Loving the boldness of the prints and color!
Another cool thing that they offer is a chance to buy and sell your pre-loved Never Fully Dressed Curve pieces! You can sell your preloved items for loyalty points to put towards new pieces, and in turn, someone else can rock that item they've been searching for, for less!
Check out the Never Fully Dressed's Depop
Super cool, right? We love the push for plus size sustainability. And now, curvy girls can get their hands on some pieces, too!
We hope to see more brands extending their sizing. We believe that EVERYONE deserves to feel beautiful and have access to fashionable clothing. We are loving that our size 22 and under fashionistas now can shop at Never Fully Dressed, but what about us 22 and over babes??
We know that Never Fully Dressed is very receptive to customer feedback, so hopefully, they hear us out and continue expanding their sizes!
Are you excited about this Curve range?? Which pieces are on your Must Buy list??