Alright fashionistas, show of hands who loves lingerie? UK based hosiery and lingerie brand Miss Naughty has expanded their plus size range! Music to our ears! The brand is notorious for its luxury feel at an affordable price point.
All of their other products are available in plus size as well, and the brand does not separate their straight size and plus size.
The brand is committed to quality and fit, and yes, the two do co-exist!
Have You Heard? Miss Naughty Has New Styles In Plus Sizes!
Miss Naughty certainly lives up to the name. The tights are sexy, with options like metallic, fishnet, opaque, and all of them crotchless.
Ooh la la! The suspender belts and stockings are a classic Bettie Page style.
What I love about Miss Naughty's products is that they can be worn on their own in all of their sexy glory, or under your date night outfit, so they look stylish from the outside, but it's like having a sexy secret to uncover later. *wink wink*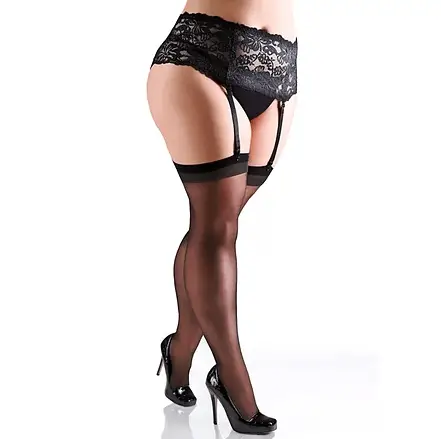 New Inventory For Thick Thighs
They have added Lace Top Fishnet Hold Ups and High Shine Stockings to their plus size hosiery range, to fit up to UK dress size 30 and thigh circumference of up to 80cm (for those who need that in inches, it's 32 inches).
Below are the complete details of the two new additions.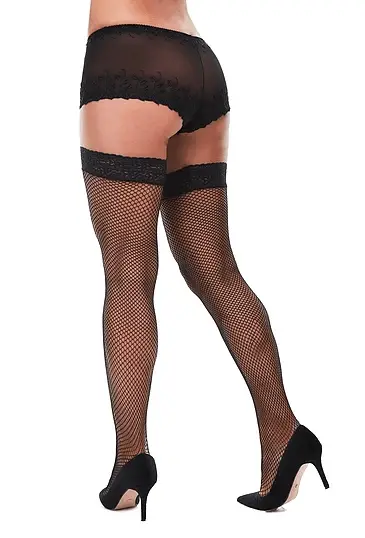 Lace Top Fishnet Hold Ups
How sexy are these?!? These beauties fit a thigh circumference of up to 30 inches or 78 centimeters. They feature a secure silicone bands on the insides of the thigh cuff for maximum hold.
While they are secure, they're also dainty having a delicate lace top design. These are a complete fishnet style that are in that soft, stretchy net that molds around the leg perfectly.
These sizes go from one size fits most – XXXL (UK size 30).
Gloss Stockings
If you're looking for something a little less risque and more along the Mad Men style, these gloss stockings are it!
They fit a thigh circumference of 32 inches or 80 centimeters and have a beautiful, shiny finish. These feature a simple top design and are available in black, natural and tan.
The sizing on these is from one size fits most – XXXL (UK size 30).
You can purchase Miss Naughty lingerie from TheTightSpot.com.
Do you love lingerie?
Do you usually save it for special occasions or do you like wearing it regularly, even just for you to enjoy?
Let me know your thoughts in the comments!