Crystal Renn is featured in the 90th anniversary of Vogue France, styled by Carine Roitfeld and photographed by Terry Richardson for an artistic perspective of a "festine"- or feast for translations sake. To say that this campaign shared a perspective, is an understatement. We do not think that you are going to be ready for this one…
While Crystal looks stunning as usual, there was such an interesting and thought-provoking feeling with this fashion spread. Her shoot even sparked a delightful debate of tasteful and offensive feelings on Twitter.
Here are the looks from Festin featuring Crystal Renn in Vogue France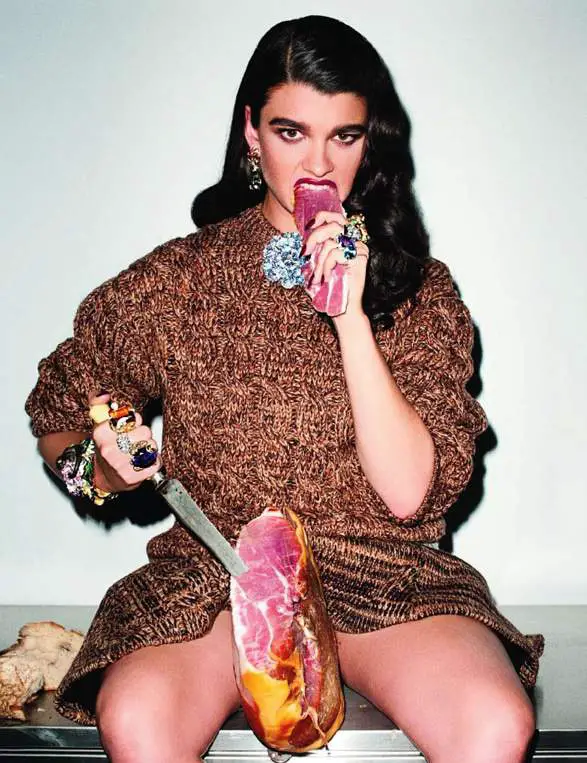 All images from Fashion Indie
My thoughts?
While I lusted over the jewelry, I found it odd the play on food, a model whose book title is Hungry, and the gluttonous motif portrayed in this shoot. Yes, totally tongue in cheek, but this was one shoot that we will definitely remember. Wouldn't you?
Personally, I was taken aback. Not one of my favorites, but fashion and beauty is in the eye of the beholder. BUT I did love the jewelry– which I suppose is the point?
But when will we move from this trope? Or will we have the chance to be shot and styled by fashion's elite in a deliberate way? When will we have the chance to celebrate fashion and it's imagery? How long will THAT take?
When will we take part in fashion's imagination and aspirational style? I think that there is so much room here for innovation and inclusion… We need and deserve more options and platforms here, right? At 67% of the population, the pls usize woman has to have a voice somewhere. Right?
What are your thoughts about this photoshoot? Are you a fan of this imagery or are you as taken aback as we are?