Raise your hand if you remember the name, Madame CJ Walker. If you do not, know worries, I will happily remind you! Before #BossBabes and the #BossGirls of the world, we had Madam C.J. Walker.

Known as America's first female self-made millionaire who popularized the use of the hot comb, Madam C.J. Walker was also a visionary, entrepreneur, and philanthropist!

And today, her legacy and brand is back with the help of Sundial brands and Sephora with Madam C.J. Walker Beauty Culture.
"We're bringing back more than a brand – we are introducing a new beauty culture."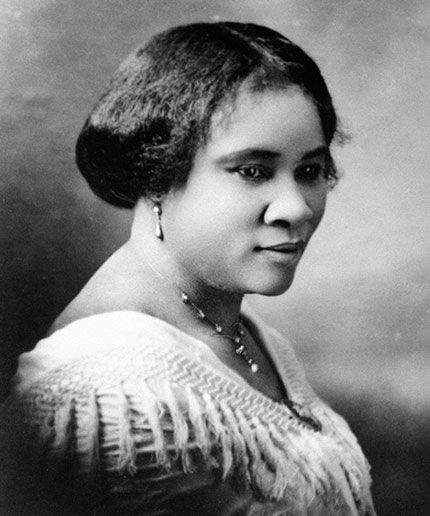 Why is this amazing and important?
Madam C.J. Walker inspired not only the people in the beauty world but in business as well!
So this brand revival is quite impressive and perfectly timed as Madam C.J. Walker Beauty Culture introduces four collections, featuring 25 new items AND two new first to market technologies for hair care!
"Madam C.J. Walker was the first person to devise and scale a business model that addressed the haircare and beauty needs of women of color, while also challenging the myopic ideals of the beauty industry at that time.

Today, Madam C.J. Walker Beauty Culture is poised to challenge those same ideals in the prestige category with our revolutionary new products and cutting edge formulations that provide women with any hair texture with a new standard of beauty – their own.

In partnering with Sephora, this launch represents another step forward in our rich history and continues Madam C.J. Walkers' legacy to help every woman feel confident to embark on the life she desires…

We aim to give this brand back to the world in the elevated, iconic manner deserving of a woman who defied the limitations of her time and accomplished what no American woman had done before – in haircare, beauty or business.

That spirit of audacity, inspiration, empowerment and ingenuity still lives in women today and is reflected in every part of this brand." Richelieu Dennis, CEO of Sundial Brands
This hair collection, that has my attention has been created "to inspire every woman to be unapologetic in the expression of her individual beauty" and I can get behind this.
I can see myself playing with this for my protective styles, my weaves, and everything else in-between.
Plus, I am so curious about this edge control they have in there…
But let me share the collection!
The Madam C.J. Walker Beauty Culture line consists of four collections that address the cleansing, treatment and styling needs of all hair textures. These include three styling collections formulated with six multi-tasking oils that help nourish, condition, detangle and seal in moisture:
Brassica Seed & Shea Oils Collection (Smoothing/Style-Extending)
Coconut & Moringa Oils Collection (Frizz Fighting/Humidity Blocking)
Jamaican Black Castor & Murumuru Oils Collection (Curl-Defining/Moisture Sealing)
aaaaaaaand one treatment collection, the Dream Come True Collection (Scalp & Strand Nourishing). <— This is the one I have to try.
With this line, it does not matter if your hair is kinky, coily, curly, wavy, or straight/heat-styled! The treatment collection is designed for all hair types to "help restore and maintain health."
Staying true to innovation and as a leader in beauty, the Madam C.J. Walker Beauty Culture Collection delivers two new beauty breakthroughs! Check these out:
Dual Encapsulation Oil Technology: The Dual Encapsulation Technology infuses hair with two natural oils – one reparative, the other, style-enhancing – delivering nourishment exactly where hair needs it most. These tiny microspheres infuse hair with targeted, time-released nutrients to rapidly boost conditioning benefits.
Natural Silicone Alternative: Brassica Seed Oil's excellent antioxidant profile results in a natural shine, smoothness and silky softness without the potential for buildup.
"Greatness begins with confidence. Powerful. Beautiful. You."
Sounds cool right? I know that I cannot wait to get my hands on this one!
The Madam C.J. Walker Beauty Culture Collection launches exclusively in Sephora stores and on Sephora.com on March 4, 2016