Have you noticed a change in your hair and scalp health these past few months? Stress could very well be the culprit!
I wanted to get more information on how stress affects our scalp, how to keep your hair healthy, as well as learn about the fundamental differences those of us with textured hair (Black and other POC) and straight hair has, and why that's important to know when purchasing products to wash and style your hair.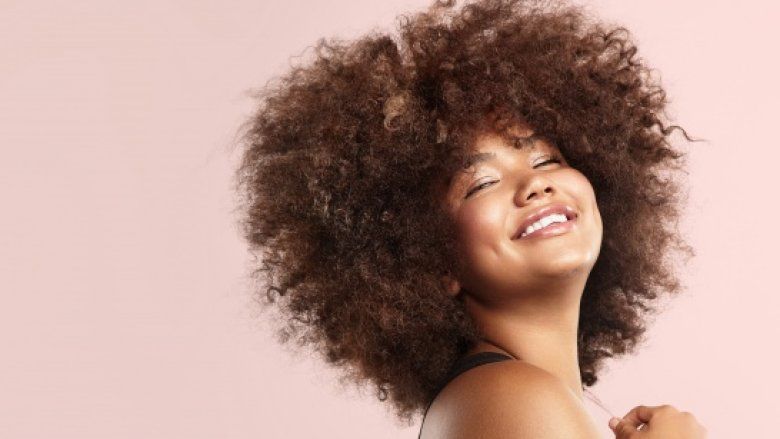 Recently, I had the pleasure of speaking with Dr. Yolanda Lenzy, who partnered with Dove to help women of color combat their hair issues.
Keep Reading to Learn Tips on How to Keep Your Hair Healthy and Strong
The Curvy Fashionista: How does stress affect your hair?
Dr. Lenzy: Stress can affect your hair in a variety of ways, including hair loss. Telogen Effluvium is a temporary hair loss due to excessive shedding, which occurs 3-4 months after a stressful event to the body – which could stem from major weight loss, having a baby, major surgery, certain medications, or even from experiencing trauma.
In fact, a recent study demonstrated that almost 68% of COVID-19 survivors have been experiencing hair loss.

Dr. Yolanda Lenzy, Dermatologist.
Dr. Lenzy: It's important to remember that hair thinning can be triggered by several additional factors, including genetics, medical conditions such as hormonal deficiencies or imbalance, anemia, vitamin deficiencies, thyroid problems, and more.
The Curvy Fashionista: What's your advice on how to keep your hair healthy and avoid hair loss?
Dr. Lenzy: To stop hair loss, I recommend first figuring out what the cause behind it is because it could be a variety of conditions, including anemia, vitamin deficiencies, major stress, or other factors.
For example, if the cause is from a thyroid deficiency, the treatment would be thyroid supplementation to address that. The thinning can also result from excessive shedding or female pattern hair loss, or even a form of inflammatory, scarring hair loss.
It's important to get evaluated by a dermatologist to determine the cause followed by the appropriate treatment.
The Curvy Fashionista: For those that may not know, could you explain the differences between the hair of persons of color and what makes it unique?
Dr. Lenzy: Ultimately, the cross-sectional shape of the follicle will determine the hair's curl pattern. The shape of the follicle varies by ethnicity.
In people of color, the follicle is more elliptically shaped on cross-section, which produces a curved follicle leading to curlier or coily hair.
In Caucasians, the follicle is more round to oval-shaped and therefore produces straighter hair.
Further, one of the major differences is in the amount of oil or sebum production. For example, the scalps of persons of color tend to produce more sebum than Caucasian hair. Based on the characteristics I just mentioned, the conditions and types of hair loss are different for textured and Caucasian hair.
For instance, individuals with textured hair can develop more dandruff because the hair shaft's curly nature prevents the oils from traveling down the shaft. They stay trapped at the scalp level producing more flaking and itching or a condition.
The Curvy Fashionista: What ingredients should those with textured hair avoid?
Dr. Lenzy: Women of color with tighter, curlier, and drier hair should avoid using products containing sulfates regularly.
I recommend using sulfate-free shampoos like Dove Amplified Textures Hydrating Cleanse Shampoo. Its aloe-infused formula gently removes product build-up while restoring shine and moisture. By opting for a sulfate-free shampoo, will prevent the excessive dryness that sulfate products typically produce.
For best results, follow up with Dove Amplified Textures Super Slip Detangling Conditioner. Its coconut milk infused formula adds extra moisture and provides maximum slip to comb through your hair with ease, resulting in less breakage and soft, healthy hair.
I advise my patients that it is OK to use a sulfate-containing shampoo maybe once monthly as a clarifying shampoo.
Another ingredient that I recommend my patients to avoid is alcohol-based products, especially if your hair is already experiencing breakage.
Alcohols can be drying, so I recommend alcohol-free formulas like Dove Amplified Textures Shine & Moisture Finishing Gel, which doubles as a styler and finishing gel and reduces frizz while leaving hair more defined and moisturized.
You Can Shop and Learn More About the Entire Collection at www.Dove.com
We appreciate Dr. Lenzy taking the time to speak with us on how to keep your hair healthy! It's so important that we treat our hair with lots of TLC, especially during times of stress!
Did you learn anything new about the health of your hair and scalp and what it means? Find out new ways on how to keep your hair healthy and strong?
Let us know any of your tried and true tips and tricks in the comments!