Hey boos! So, everyone's been talking about Dietland and how in the first episode the confident AF Janice stole the show. Well, guess what? You know the kickass new show featuring plus size actresses, Joy Nash among others?  Well, do you know Badass Janice, Bethany Kay, from the show?
We've got an exclusive interview with Janice, actress Bethany Kay, from Dietland!! She's a confident, curvy and chic badass in real life too. She was so excited to share with our Curvy Fashionista readers. Read on for what she has to say!
Up close and personal with Dietland's Bethany Kay! 
So, you are a multi-talented rising star as an actress, singer and improv performer. When did you discover this is what you wanted to do? How did you get started?
Bethany Kay: Well oh my goodness thank you! I started performing because I followed my sister and her best friend to drama camp when I was maybe six and had a knack for playing villains: seriously there's a VHS of my 9yo Poor Unfortunate Souls out there somewhere and it needs to be found. But, I've been singing and performing ever since and the fact that I get to do this now still makes me giggle.
HA! That's hilarious. Let's talk Janice. I first discovered you as the awesomely confident Janice on Dietland. How did you get that role and what drew you to it?
BK: Oh Janice is the dream, really. I auditioned! Like every curvy gal in the industry I read the pilot a good long time ago and it was sure on my and my reps' radar. When Kate at Chrystie Street called me in…well c'mon Janice is just such a passionate badass and getting to play in the room…it felt good. So much of what we do as actors is seed planting and learning how to walk away: I tried to do that but man did I want to get to play in her world for real. So lucky me!
Will we see Janice again on Dietland?
BK: Hahaha I can't say! Keep watching! I sure as heck hope so! Let's get us a Season Two, AMC!
Crossing my fingers! Now, you've been on quite a few amazing shows other than Dietland, such as Seven Seconds, Boardwalk Empire and Gotham. What has been your favorite role to play so far?
BK: Well they're all so different! Boardwalk Empire has a special place in my heart because it was the first TV set I ever got to work on, and in quite the explosive way…not many people can say their first TV role was as a barking mad mental patient in the 1930s right? And they brought me back to play some more as Marjorie and so…she's a special. But, Gotham had the hair and Seven Seconds is where I met Dietland's first AD Shelly and so it was great to have that intro then of course.
Gotcha! There's so much conversation in society surrounding how women should look, especially in Hollywood, how do you stay confident?
BK: It's a near daily check-in, to be honest. But just like in dating I think we Actors need to set clear NOs when possible. I have a very clear NO to playing anything that makes me the butt of the joke and thankfully I haven't had one of those NOs come my way in awhile. That and friends and reading recaps like the one you wrote that gave me a KILLER shoutout which captured so much of what I wanted to bring to Janice…that really meant quite a lot!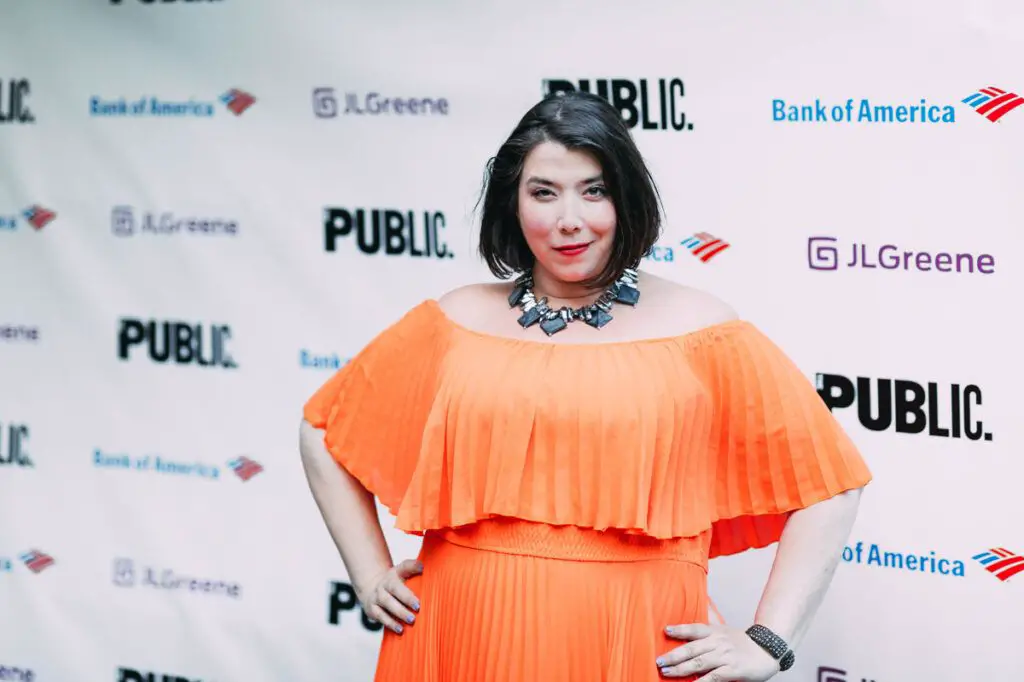 I'm so glad you liked it! You really killed that role. I was like who is this woman?? What is your advice for our Curvy Fashionista readers who want to become an actress?
BK: Hahahaha oh lots. I coach actors on the business of the business so…lots. I think it's important to know what makes you different and even if the world tends to shade that different thing in a negative light, like in my case with the extra pounds, to run with that difference and carry it like a banner for your own unique humanity. And remember that everyone in the industry is human: don't treat them inauthentically, it doesn't feel good to them or to you.
That's great advice. Let's get to know more about you. What 3 things do you never leave the house without?
BK: Oh God, I hope my keys, I really do hope. Haha. And for sure some red lipstick and a great bra…it's important!  😉
Yes! OMG a great bra is ridiculously important. Especially for those of us who have quite a bit to hold, ha! Speaking of clothing, how would you describe your fashion style?
BK: Sassy and elegant. My all-black New York go-tos have definitely gotten a boost of color since Janice! I love myself in this off-the-shoulder trend, loooove it, never leave!
I too love the off-the-shoulder trend. You get to show just enough. So, from where or who do you draw your fashion inspiration?
BK: I looooove a good classic pinup look. Curves and pencil skirts and a great 1930s heel can never go wrong. Anything that Christina Hendricks wore on Mad Men too. YES PLEASE.
I can do see you in that look and killing it! So, here's the scenario. You're going to the Oscars and need a fierce dress. What designer would you want to dress you?
BK: Remember that designer Kitty had Plum cover on the show, Rene Tyler? She lent me a gown for an opening at The Public Theatre and it was just STUNNING and colorful and made me feel like a goddess. I'd love to work with her again. And you can never go wrong with Ralph Lauren, simple and chic and great for us fat gals.
Yes, I do remember her! That's awesome. We can't wait to see more of you. What's up next for you?
BK: I get to play this August at The Shakespeare Theatre of NJ in Blithe Spirit! Noël Coward and British humor and at the first professional theatre I ever worked at: lucky gal. And, Erin Darke (Leeta) started a women's group called Women to the Front that I'm proud to be a part of: we have a fundraiser on August 19 at Island Oyster in NYC to raise money for Spread the Vote.
Doing our part to #JointheRevolution – please join us if you can!  
That sounds amazing! I know you're going to kill it. And Women to the Front sounds like such a great organization. I will definitely be learning more about it and #JoinTheRevolution. Thank you so much for your time!
Ladies, how awesome is Bethany? I know we'll be seeing a lot more of you on a screen near us real soon.
Make sure you check her out The Shakespeare Theatre, if you're in the New Jersey area and keep your fingers crossed that we'll see her again on Dietland!
Learn more and get caught up with Dietland at AMC.com! 
Dietland comes on AMC, Monday nights at 9PM EST. Check your local listings and get caught up on our latest re-caps!