Girl. Have you been watching Dietland? If you aren't, you really need to be. Each of the episodes keep getting more and more insane! To recap episode 7 quickly… Jennifer killed a bunch of guys, Plum got arrested, she and Steven are beefing and then she reveals to the world that it was her–not Kitty–responding to Kitty's column. Whew! After that ending I knew Dietland episode 8 was going to be bananas!
Dietland Episode 8: Rad Fatties
Are you a good witch or a bad witch? Are you an outtie or an innie? That's how Plum starts off this episode of Dietland. Which side are you on? In this episode its all about the Penis 100. A list published of awful men you should avoid sleeping with at all costs. Plum says, "these bad penises shall not enter any woman any time any where". Jennifer is now coming for the peen. LOL.
Plum Gets Sued!
Jack is begging for Plum to give him another chance. Plum yells 'bitch please' at Jack's video apology. I cackled so loud! She is all about empowering folks and being loud and proud. She's wearing makeup and doing her hair; she's talking mad ish; and her outfits are cute now. I see you with your school girl plaid skirt, fishnets and leopard coat girl! Things get real, real fast when Plum gets served them papers though.
Kitty is suing her and says she's not allowed to blog or talk to or about Kitty's girls ever again. But, if she does an interview with Daisy Chain, maybe all of this can go away. On Plum's way to Daisy Chain she watches a news conference on a stranger's phone. In response to the woman talking at a news conference saying Jennifer is not going to tell her who she can sleep with, Plum says this classic line:
"You bet your skinny White ass they are."
I ain't even mad at this new Plum.
What Happens In The Dark…
Meanwhile, Julia is over here creeping around like a serial killer. She meets with a member of Jennifer in the bathroom. The girl threatens to kill Julia, her sisters and her kids. Well damn, those are fighting words. These Jennifer chicks are gangsta! After going back to confer with her sisters, Julia offers the girl from Jennifer $500K to stop the killing. We don't see if she decides to take it or not in this episode. I hope they dive into that further next week.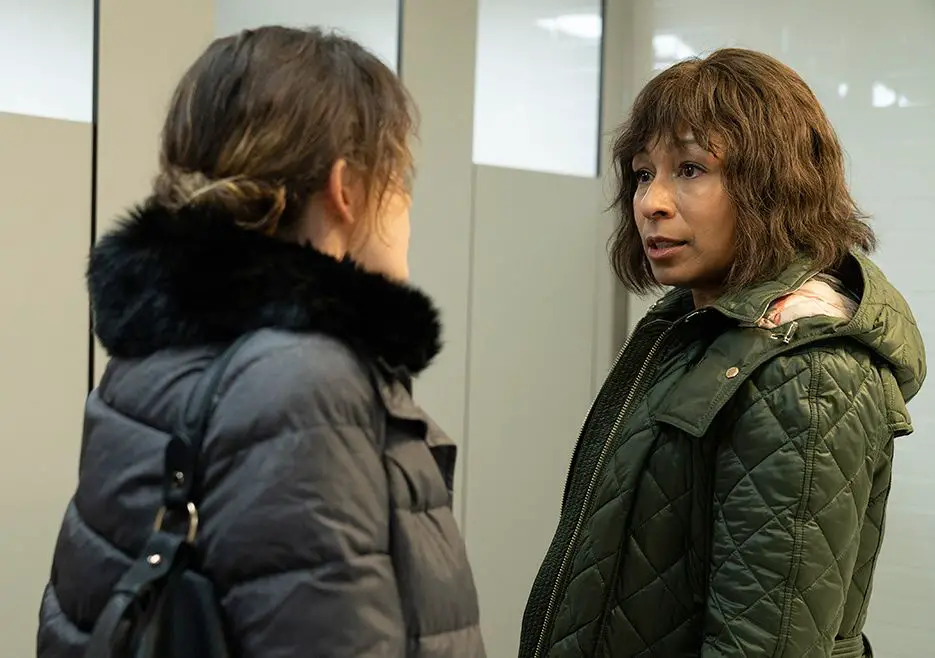 You Go'n Learn TUHday!
Men folk are losing their minds over this Jennifer movement and the Penis list. Stanley Austen over there talking about men are being brought down for acting like a man. EXCUSE ME. So what he's saying is, it's okay to grope and assault women because that's what men do?? BOY BYE!
Plum Is Getting Too Big For Her Britches!
In order to get Kitty and her lawsuit off her back, Plum does the interview at Daisy Chain. But, in her interview she name drops Calliope House and says that its a place where abused women live. When Plum goes back to the house them girls are ready for that ass! They sitting in the circle waiting on her like:
Rightly the women are PISSED. Their lives are now in jeopardy. They are grilling her. Plum isn't getting it. She has really let the attention she's been getting go to her head. Her empathy and judgement has gone out the window. Verena gives her the ultimatum to respect the house or get the steppin. Plum ends up leaving…into Jack's arms.
Major Violation
Plum gives Jack another chance and goes out on a date with him. They end up back at his place where she is drunk af. I was all hype because it looked like Plum was finally going to get some. They're making out on the couch and as things get hot and heavy, Plum shuts it down. She gets scared and runs away towards the door, but he stops her. He convinces her to stay and they start kissing again, but that's when things take a turn for the worst. Jack pushes her up against the wall and pretty much rapes her.
Plum is visibly upset while this is taking place and ashamed. When he's done, she bolts out of the door crying. This jerk had the nerve to ask if she wanted to sleep over. No he didn't. THE EFF I LOOK LIKE! He would've caught these hands. I feel so bad for Plum. She thought he really liked her and all he wanted was some ass. Plum is ANGRY. I have a feeling Plum is going to set it off in next week's episode. Whew child! I'll be watching.
What did you think? Do you think Plum is going to join Jennifer and seek revenge?