Remi Ray is breaking ground on the runways and making history in the books! Remi took time out of her crazy busy schedule to answer a few of my questions about her tips on Rocking our Curves and her beautiful brand created just for Curvy women! Thanks so much to Remi Ray for this interview!
A Little About Remi Ray
28 year old Blogger and Fashion Designer from London UK!
Remi is all to familiar with growing up curvy and not having a place to shop for her figure. Remi decided to change that.
Trapped in a Skinny World Boutique and blog since 2010
Founder of British Plus-Size Fashion Weekend est 2010
RemI Ray's Contemporary plus-size clothing brand– 1st Collection:
From London With Love 2014
Featured in Cosmo embracing the term plus size 2015
Up Close and Personal with Blogger-Turned-Designer Remi Ray
What does Plus Fashion mean to you?
Plus-size for me is an extension of clothing from the mainstream offering. It is a product that is made for women (or men) that are in need of clothing that is not readily available in all retail outlets.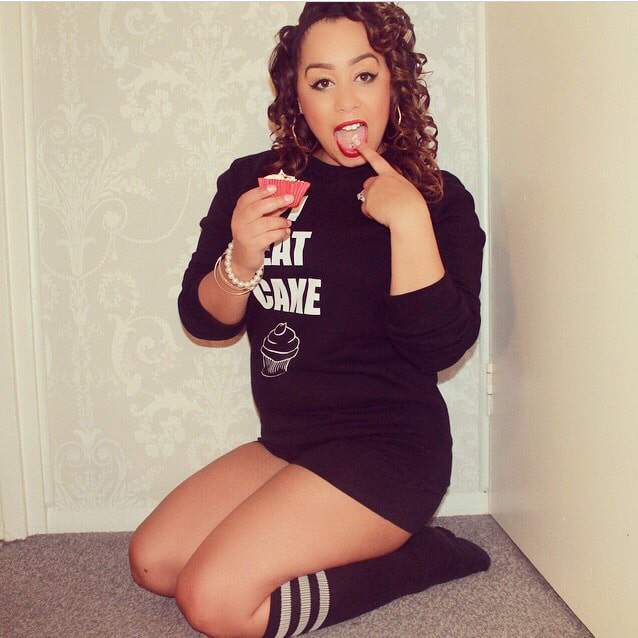 What designers inspire you?
I am inspired by a multitude of designers be it mainstream or plus-size. For me, plus-size designers, such as Monif C, for her drive for and to change the industry, her entrepreneurial spirit, and the fact that her product speakers to her consumer so well. I also love ASOS Curve as their offering is classic and can work with other items in your wardrobe. For mainstream designers, I've always admired brands such as Balmain, Chloe and Chanel.
What is your most proud accomplishment as a plus designer to date?
My proudest moment was being able to show my collection, which had been in the making for more than 2 years! With launching the British Plus-Size Fashion Weekend, I was unable to put the time and effort into the collection. I was so proud, when a few other designers said that I had a good collection! For me that was all the certification I needed. Oh yeah! and when my 4 year old nephew reported to his classmates that he had seen his aunties fashion show! lol

Who is Your Plus Size role model?
I adore all the plus-size bloggers, brands and generally plus-size woman all over the world as a whole. I really do know exactly how it feels to struggle to find clothing or to feel uncomfortable, but still have to push on. I think we are some of the most amazing women to have grace this earth and it really does show that from adversity, you can still succeed.
From reading some of your past interviews and looking at your pics you exude confidence! Do you have any advice for women on how to be more confident like you!?
It would seem that many of us believe that confidence is something that can be purchased, unfortunately it, like style, it has to come from within. When i started out doing bits of fashion it was a risk, a risk that someone else may just be looking for was what I was offering!
I wholeheartedly believe that confidence is already apart of your DNA its just the way you channel it!
Let's talk about Your statement Shirts First "Fat is The New Black" has been a big hit, and sold out as well as your newest Statement top "I Eat Cake," has sold out twice in two weeks!!
What inspired you to create these tops, what do you think makes them so popular?
Since 2010 i had been trying to launch my fashion collection i.e #FromLondonWithLove, however due to time restraints, it was always super hard. So initially I started creating just my "Trapped in a skinny world" t-shirts with just my logo from my blog/boutique. This is an image of a PS lady looking into a mirror and feeling trapped and they also sold out! But I needed to come up with other punchy ways to keep my customers entertained, but still market my brand without spending loads in marketing. With FOTNB, bang that was it! It was an idea that was inspired by a Chanel campaign I saw, about the little black jackets, and i thought how important the color black was to me. Black is also a go to color and that's how I came up with punchline.
"I eat cake" is just as it says on the tin! Every year, by the grace of God, I will continue to bring out a punch tee or jumper to express myself and an add a little humor to our industry.
What are some fashion pieces every plus woman should have in her wardrobe?
A classic black dress that fits amazingly well in all the right places, a pair of cool kicks that can show your edge, great shapewear/underwear and a pair of classic stilettos! I would also say it's important to find your core brands that you know has the core pieces or even a statement brand that you blend into your wardrobes well.
This one is for fun: What's in your bag?
Cocoa butter hand-cream, mac ruby woo, diary, folder with my collection sketches, iphone, my purse, My grandad cap (Vintage) to hide out in (my bags are always big), backpack or big holdall- Prada or Givenchy at the moment!
Learn more and shop at Remi's Website: www.remiray.bigcartel.com!
How cool is she? Gotta love seeing another chase their dreams! Go Remi!
Guest Blog interview by Tormented Sugar for The Curvy Fashionista