Or maybe you did, but just did not know where to get them… Over on Twitter last week, designer @MichaelKors joined the Twitterverse. In reply to my tweet, welcoming him, I received a tweet saying:
@MarieDenee I would be more welcoming if Kors did plus sizes. *sigh*
To my surprise, I did not realize that people did not know his diffusion line, MICHAEL Michael Kors was fashioned in plus sizes. So, to remedy this, I thought I would fashion a list of name brand contemporary and high end designers who carry plus sizes, but do not heavily advertise it! Mostly, these designers are found at the higher end department stores, in which some of these designers fashion a plus size range specifically for them (i.e. you will NOT find them outside of the department store)!
So I fashioned this list and looks of better sportswear designers who DO fashion plus sizes, BUT would NEVER know! Now, you have to use some imagination when looking at some pics, as they are not styled to its full potential (which I am used to by now), BUT with a little visualization and creativity, know that you can fashion your own designer duds!
ENJOY!
7 Mainstream Designers Who Make Plus Size Fashion
Adrianna Papell
Elie Tahari

MICHAEL Michael Kors

Melissa Masse

Rachel Pally White Label

Tadashi Shoji

T-Bags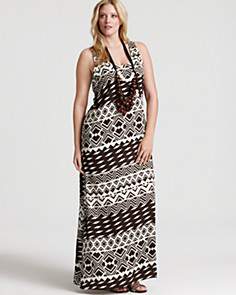 Also, know that for your designer duds, you will pay your designer prices- as your straight sized sisters would. Already predicting some of your objection to price, know what you are paying for, wait for end of season clearance, and do a little research about the designer as to why they command a premium price.
It is also important to note that these department stores that cater to the plus size woman will NOT always have these styles INSIDE their store, rather in an online setting. Evidenced by Bloomingdales lack of a plus size department in San Francisco or Saks nonexistent plus size department in Atlanta, HOWEVER, shopping online is one avenue that the discerning Curvy.Confident.Chic. plus size woman can get her designer duds!
What do you think?
Did you know these designers catered to your curves?