Hey, it's Sugar!! Today we are wide width shoe shopping ladies! Let's put some spring in our step with some lovely sandals, heels, and wedges!! I totally did some digging for WW shoe's and found there are an amazing array of options online! I narrowed it down to my five favorite online spot to shop for wide width spring shoes and I am excited to share them and a few pairs that I found that have me excited!!!
The great thing about these shops is that they are all well within anyone's budget! No lie, we have a great range of style and prices to cater to more than a few of us! Check out the illustrations of each shoe I am obsessing over and click the Pic to go shop that specific shoe!! Happy shoe hunting and may the odds be ever in your favor! (Sorry, I watched Hunger Game's recently lol)
'If your hair is done properly and you're wearing good shoes, you can get away with anything.' – Iris Apfel
5 Places to Score Wide Width Shoes for Spring
1. Lane Bryant: sizes 7-12 Wide

ESPADRILLE WEDGE SANDAL
This is a cult classic wedge with a nice nautical navy blue that could be paired with Denim shorts, skirt or a nice flowy maxi dress!! This is a spring / summer go to shoe that can jazz up any outfit. Lane Bryant has a ton of options for Wedges if that's your thing!
2. DSW: sizes 5.5-11 Wide

Kelly & Katie Isabel Floral Fabric Pump
OHEMGEE. This colorful spring heel is everything! It's literally some art on a shoe! Let's take a moment to appreciate this fine heel! Heeltastic! This would be perf for Sunday Brunch with the ladies or a date night out with your Love! Shop these and more at DSW!
3. Simply Be: Sizes 6-11 wide
We talk about Simply Be a lot on the site, but have you shopped their shoes? They have a fun selection of shoes to shop from! The ease of shopping is nice, there are super cute heart emoticons with the words "Love The Price" throughout your wide shoe options, and the prices are affordable!! Loving their sandals and flip flop choices!

Loving the Sole Diva Strappy Sandal
This sandal plays on the variety of shades of pink! There is also a tan multi option, that has some gold in it! There is also a white and tan strappy sandal option too! I would choose a sandal similar to this style because I have awful heels in the summer and in this Cali drought, I need to HIDE my heels!! Get these and other fab options at SimplyBe.com!
4. ASOS: Size 5-11 Wide
ASOS is always a fun upbeat shopping experience! My favorite part is "View The Catwalk" option below any item. A cute pop up screen of the shoe being walked in to fun trendy cool girl music! It literally makes your shopping more than a task, it's an experience. You can kind of get lost in ASOS because there is the "Shop the Look" option! So if you're looking at a shoe on a model, in jeans and a top, you can turn around and buy that entire ensemble… Smart! You had me at'Press Play,' ASOS!!

New Look Wide Fit Glowing Yellow Embellished Flat Sandals
This sandal is a slingback style embellished with beads and sequins on top of smooth leather! Definitely for the boho luxe trend and for a laid back and fashion forward vibe, these are a great staple for the spring into the summer! Shop these and all the other really cool options at ASOS.com!
5. Torrid: sizes 7-13 Wide
Torrid is my favorite local Plus size store. I can always find something to fit my Inner Rocker Chick needs.

Leopard Flat Sandal
I am crushing on the animal print with real buckle feature, and of course Flat's are basically all I can wear. I think a washed Denim short would be very cool. The color theme in this sandal make's me think of a certain Rock Chick Icon, Debbie Harry. "One Way or another I'm gonna getcha!" You can get these shoes and peruse the others at Torrid.com!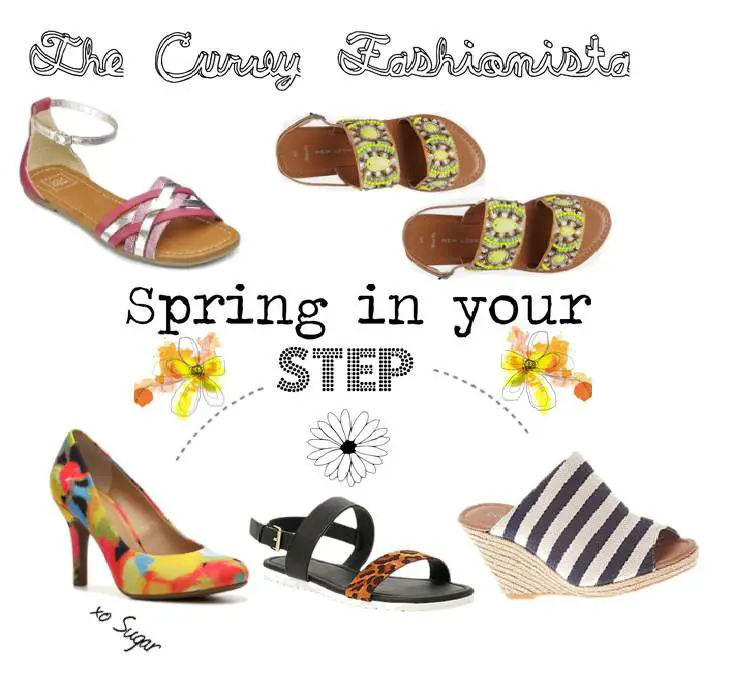 What is your favorite Spring shoe trend? Where do you usually shop for shoes? Do you prefer Online or In-Store?
Thanks for reading!!
Xo Sugar