Disclosure: This post contains affiliate links. I may earn commission from any sales made or actions taken as a result from users clicking the links on this page.
I must admit, Good American has been on a roll with their product launches and rollouts, especially when it comes to staying true to size inclusivity. With the launch of their denim, their maternity line including plus sizes, Good American shakes things up again with the launch of their Good American Activewear collection available up through a size 7, which translates to a 4X (there is a waitlist, but still)!
The GOOD AMERICAN activewear collection will support, sculpt and enhance your shape. It will provide unmatched performance for the most intense of workouts, and then carry you comfortably and stylishly into your post-gym activities. Like everything we do, it will serve women of all body types along their journey to a stronger self.
The collection is quite diverse, featuring workout tops and bottoms, jackets, hoodies, jumpsuits, all coordinating with each other- many making bold activewear statements! Gone are the days with boring, uninspiring plus size activewear.
Are you ready to see what they are working with? Keep scrollin for the launch of their activewear collection…
First Look: Good American Activewear In Plus Sizes!
Sooooo, what did you think?
Thanks to brands such as Good American, we have more than a few options to play in, for all of our fitness and style motivations. Whether you are an athleisure fan, looking for more than a few options to train in, you have to admit, cute activewear that is ALSO functional is always a plus!
And you know what I appreciate about the site? You can switch views with the models throughout the site. Whether looking at an individual product, category, or all items, you can choose to view Rachel (our plus model) who is a size 16/18 instead of the straight size models, who are a size 2 and 10.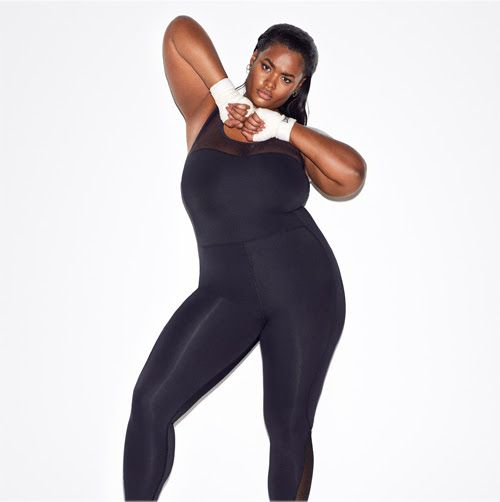 You can shop the full activewear collection now, at GoodAmerican.com!
Do you have pieces from the Good American Collection? I do, and I appreciate the fit for myself, loving the jeans style, silhouette, and wear.
I do need to add a few more items to my collection, to include the bodysuits, shorts, and now? Activewear. What items are you a fan of from the collection?
Let's discuss in the comments below!