Have you been shopping and adding the latest fashion finds to your fall wardrobe? Well, how about a few plus-size thigh-high boots from Nadia Aboulhson at Fashion to Figure?! Yup! This duo is back for another boot collaboration!
Now, we've shared a few fancy wide calf boot options, recently, but this is sliiiightly different. While we have been pining for more fancy wide calf boots and the loss of Simply Be and their boot options in the US, Fashion to Figure is coming for their spot!
With the Nadia x FTF boot collab, they bring the bod, playful, and edgy plus-size thigh-high boots that has been missing from our shoes wardrobe.
We can never have too many, right?
"I challenged myself to perfect the plus-size thigh-high boot silhouette," said Nadia Aboulhosn. "We used luxe colors, prints and textures with an adjustable lace-up and literally the most perfect heel height."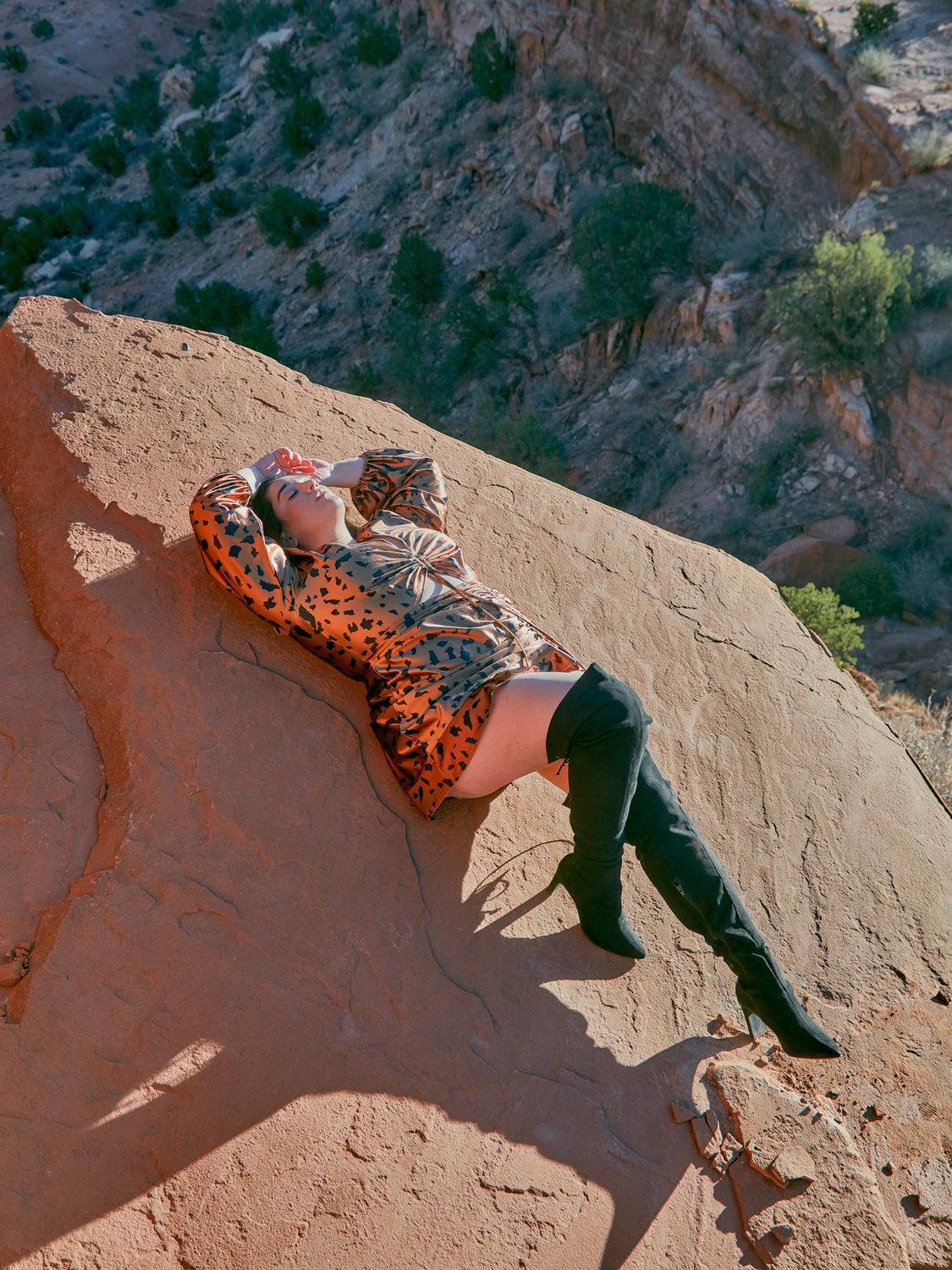 What to expect from these Plus-Size Thigh-High Boots?
Well, for starters, we have 4 options in this capsule. These boot options give you a great foundation to add to your knits, jeans, and plus size sweater dresses for fall.
If these boots look familiar, it is because this capsule has taken the best-sellers from her fall 2019 collab with Fashion to Figure, and switches things up with updated and on-trend colors and prints.
We've got a few new classics to play with! Snake print, leopard print, chocolate brown and black suede all in the must have boot silhouette!
And you have to move fast! For these plus-size thigh-high boots, you can expect a comfy 3-inch heel. You also get a lace up back detail, to ensure a comfy and ideal fit for BOT the calves and them thighs.
Do you remember the times where finding wide calf boots was the hardest challenge ever? Now!? We have a few options when it comes to plus-size thigh-high boots.
For those who are curious, the boots in this collection are BOTH wide width AND wide calf, available up through a size 12W at $129.
Shop these Plus-Size Thigh-High Boots by Nadia at FashionToFigure.com!
And the options vary! From bold and audacious to the sleek and chic, finding your perfect pair of boots for the fall no longer has to be a dream.
Tell us, does a plus size thigh high boot excite you? Are you ready to snatch up all four? Or two?
It does for us, especially since it is all about the option to own and rock a trend- right?
Better yet… Where do you get your boots for the fall seasons?